Warm people, inexpensive food, beautiful culture – Uzbekistan truly is a treasure trove of wonders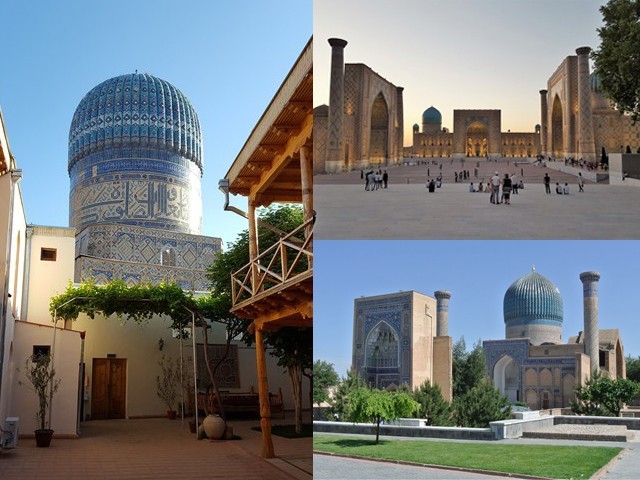 We were at the Tashkent train station at around seven in the morning, on our way to Samarkand. I knew that the best way to travel in Uzbekistan was by train, and had found the schedule from the internet, but was not sure if any seats were available in the high-speed trains. Though a couple of ticket counters were open, there were no signs in English and no one who seemingly understood our language. I stood there, clueless as to how to go ahead with our planned trip.
It's difficult to find people who understand or speak English in Uzbekistan. As opposed to going with a group or a tour guide, my family and I had decided to go on our own, thinking that with the information available online and in travel books, it was worth taking up this adventure.
We encountered the first test of my decision at the Tashkent airport immigration counter, where all instructions were in Uzbek and Russian. This happened to us throughout our trip, as wherever we would go we would not easily find people who spoke English.
Just when I was questioning my decision of carrying on with the trip on our own, I found a local gentleman who could speak English. He proceeded to the ticket counter with some money and our passports and got us three tickets to our destination. Sensing our helplessness about what exactly to do next, he even helped us carry our luggage to the security entrance and onto the platform. With his job done, he shook my hand and quickly departed without even giving me a chance to ask his name, leaving me with a sense of gratitude which I could not return in exchange.
Uzbekistan's official language is Uzbek, which is spoken by majority of its population, while some also speak Russian and Farsi (Persian) too. People who are familiar with Urdu will find many similar words in the Uzbek language; though they are pronounced with a heavy Farsi accent and thus spelled in that fashion in the Latin script. Bazar is bozor, Bukhara is Boxoro, and Char Minar becomes Chor Minor.
The people in Uzbekistan, however, despite the language barrier, are effectively able to convey their warmth and courtesy toward tourists. In Samarkand and Bukhara, where we stayed in family-run hotels, our hosts were extremely courteous and went out of their way to accommodate our needs.
At the Chor Minor hotel in Bukhara, the owner could only communicate with us with the help of his 12-year-old daughter, and yet he remained a model of hospitality. He not only allowed us to check-in early and check-out late, he even insisted on taking us to the train station in his tiny Chevrolet Spark and packed some bread for our overnight journey. When I tried to offer some compensation, he refused and instead held my hands and raised them up, requesting a prayer instead.
Uzbekistan gained independence from Soviet Union in 1991, after a prolonged period of occupation. As a result, its literacy rate is very high and the participation of women in the labour force is significant.
The people are also environmentally conscious and are very responsible when it comes to keeping their city clean; a fact evident when one visits public monuments or public parks, all of which are very well-kept, with manicured lawns and no strewn garbage anywhere.
The state plays a key role in shaping the taste of the public – from identical Soviet style, old apartment buildings to newly-built low-cost indistinguishable homes in the suburbs. Most of the cars and taxis on the street are the smallest hatchback models of either Chevrolet or Daewoo, produced locally and white in colour.
The currency of Uzbekistan is Som. At the official exchange rate, $1 is equal to about 4,000 Som. However, we exchanged the dollar freely on the street at about twice that rate right outside banks or in the bazaars. The problem is that the maximum denomination of Som is 10,000; so if you convert $100, you will literally get a bag full of bills, difficult to fit in a pocket. The locals though are swift at counting their bills, almost as swift as machines. Thus, whenever I took some money out and started counting, invariably I was offered help, with a smile.
The food and transportation, like most things in Uzbekistan, are cheap. In Samarkand, we ate a multiple-course lunch in an upscale, busy restaurant. The total bill for four people came to about $15, including the gratuity, which left us shocked. Similarly, the fares of the buses and underground trains are also next to nothing.
Uzbeks love their plov (Pulao), which is a rice dish with meat, rice, carrots and onions. Restaurants also serve different types of kababs, grilled meats and shurpa (soup). The food is served with their traditional round breads called non (naan), which is baked and delivered fresh by a fleet of delivery boys to homes and businesses starting around five every morning.
The population of Uzbekistan is 90% Muslim, which is probably why we received the response "Wa Alaikum Assalam" from almost everyone to our salutations of "Assalam alaikum". However, there are a few neighbourhood mosques where organised prayers are held. During the Soviet occupation, religion was brutally suppressed; all mosques and madrassas were closed or used for non-religious activities and many Muslims suffered mass deportation. After independence, a rather gradual acquaintance with the precepts of the faith is going on under the watchful eyes of the government.
I didn't hear an Azaan in Tashkent, Samarkand or Bukhara. In one of the big madrassas in Samarkand, we saw a small group of young people gathered for the Maghrib prayer. Shahroz, our taxi driver, interpreter and guide, took me to a small mosque in Samarkand for Friday prayers. However, I didn't see too many people going for prayers and the usual hustle and bustle associated with jummah namaz in a Muslim country was missing.
The Imam Bukhari Mausoleum, some 30 kilometres from Samarkand, is one of the most important pilgrimage sites in Uzbekistan, and is visited by a throng of mostly local visitors.
The Moo-e-Mubarak Library, which we visited next, contains a hair strand which is said to have belonged to the Prophet (PBUH). Also on display is the world's oldest Holy Quran, produced in 656 AD, which is said to have the blood stain from the assassination of Hazrat Usman (RA).
The people are proud to identify themselves as Muslims, but overt religiosity is discouraged and preaching is strictly curbed. Shahroz informed me that I could invite strangers to drink vodka but if I invited them for prayer and they complained to the police, I could land myself in prison. Even while searching my daughter's handbag at the time of leaving the country, the security official found an English translation of the Holy Quran, which prompted him to question her regarding where and when she bought the book and what her profession was. While this wasn't an entirely troublesome event, it certainly pointed out the sensitivity of the government regarding matter of religion.
At times, the taxi drivers, shop owners and passersby would ask us where we were from. When I said I was from India, they responded,
"Namaste, Raj Kapoor, Shah Rukh Khan."
Sometimes when I said I was from Pakistan, they said "Salam Alaikum" with a smile.
One of our most pleasant memories from the trip is at a small shop near Registan in Samarkand, where we were flocked by an extended family from Andijan, another city in Uzbekistan.
They took pictures with us and the young ones tried their best to communicate, undeterred by their limited proficiency in English. They asked a lot of questions and giggled innocently at our every answer. In the end, the women embraced my wife and daughter and invited us to their homes in Andijan, far away to the east.
Uzbeks are very proud of their history, culture, language and their country. They hold their ancestors in high esteem, as in every city we found countless streets, squares, buildings and institutions named after famous Uzbeks such as Amir Timur, Bibi Khanum, Imam BUkhari, and the Mughal Emperor Zaheeruddin Babar. People demonstrate their skills in engraving, carpet weaving and painting tiles without any pressure to sell. They are more interested in demonstrating their heritage and culture to visitors than turning on the hard sell.
We were drawn to Uzbekistan by its treasure trove of Silk Road wonders – the elaborate mosques, towering minarets and lapis-blue madrassas. While the architecture is outstanding – some of it really does have to be seen to be believed – aside from the turquoise tile work, it truly is the country's people that provided us with lasting memories that we will cherish forever.
All photos: Saad Mallik