Have you heard about the "Chinese" dish called Chicken Manchurian? Because people in China haven't!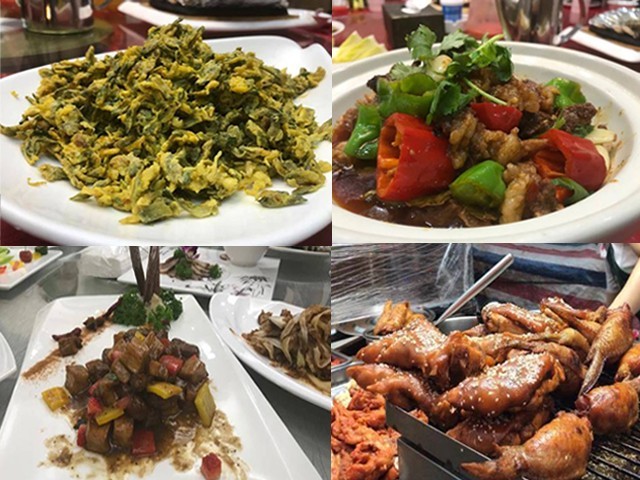 Pakistan is known for its desi-flavour infused Chinese dishes. Chicken Manchurian is a popular dish in Pakistan but funnily enough, people living in China have never heard of it, let alone consume it.
This came as a surprise to me when I was visiting Beijing, China for a documentary shoot. My hosts from China Central Television took great care of my needs, including my meals and accommodation. At the end of the first day, when we were sitting in a halal restaurant in Beijing, my hosts asked me if I had a specific dish I wanted to have for my dinner. Since the menu card was written in Chinese, one of my team members assisted me in selecting the dishes.
Like many other Pakistanis, I like Chinese food so I immediately asked for good old Chicken Manchurian. To my surprise, the response I received was "what?", combined with a puzzled expression from the waitress.
My first thought was perhaps it's pronounced differently here or they had a hard time understanding my accent. So I tried to make my accent sound a bit Chinese and uttered in a rather ridiculous way,
"Manchurian, Chicken Manchurian."
She shook her head while going through the menu and replied,
"Sir, there is no such dish available here."
I thought to myself that maybe this particular restaurant was not serving the dish.
"You don't serve the dish but you must have eaten it?" I asked, wanting to see their reactions.
The response I got amazed me again. None of them had ever tasted or even heard of the dish before. But then suddenly a thought came to my mind, that perhaps the dish goes by a different name here. Compelled with my reporting instincts, I started describing the look, taste and the peculiar way of its presentation on the table. But at the end of that short portrayal, I was presented with the same expressionless faces of my hosts.
China is a huge and diverse country. People from different areas in the country have variation in their language, traditions, cuisine and eating habits. Our team comprised of more than 10 people – most of them belonged to different provinces of China and yet nobody showed any familiarity with the dish known as Chicken Manchurian in Pakistan. This was unbelievable.
I got the same reaction when I asked them about another famous "Chinese" dish in Pakistan called Shashlik. Surprised and given up, I decided to rely upon the recommendations of my hosts.
I was aware of the fact that certain Chinese dishes we commonly eat in Pakistan are modified to suit our taste, but I had no knowledge that a famous dish in Pakistan like Chicken Manchurian was absent from menus in China. This led me to do a quick search on Google regarding this dilemma. I found out that Chicken Manchurian was invented by an Indian chef of Chinese descent, Nelson Wang, in 1983, who termed his cuisine as Indo-Chinese.
The word "Indo-Chinese" intrigued me and upon further research, I discovered that due to immense popularity of Chinese cuisine around the world, various countries have invented their own version of the dishes since these dishes were nowhere to be found or heard of in China.
In another instance, during dinner with my Chinese friends, I decided to share the names of Chinese restaurants in Lahore since I was curious to know what they meant. It turned out that the names of most of the restaurants in Lahore had no connection to China or their language whatsoever. My generous Chinese hosts listened to those names with expressionless faces and I had no choice but to infer that most of the restaurant owners in Lahore had randomly coined Chinese sounding words and used them as names for their restaurants. This situation left me appreciating the "innovative" entrepreneurial skills of my country men and decided to not discuss this matter any further.
Another misconception we have in Pakistan about Chinese food is that people in China mostly eat bland food with hardly any spices and their food is usually boiled. On the contrary, during my 10-day trip there, I came across numerous dishes that were not only deep-fried but fiery hot as well. The dishes that were relatively less spicy were served with sidelines and sauces to complement the flavours.
Hence, I came to know about the diversity in Chinese dishes, which originated from China but had been modified in our country according to our liking.
One may wonder which food is better in taste – Indo-Chinese cuisine, the Chinese cuisine served in Pakistan, or the authentic Chinese cuisine which is consumed in China. Since I have tasted both, I can claim that authentic dishes are way tastier than those we eat in Pakistan under the guise of Chinese food.
In China, one finds a great variety of dishes and every dish has a distinct taste, aroma, style and presentation, and this is the main difference between authentic and Pakistani Chinese. Here in Pakistan, regular "Chinese" restaurants serve a very limited range of dishes and those few dishes also prove to be a variant of each other with similar taste and style.
Chinese food, no doubt, is one of the most popular cuisines of the world. On the basis of my first-hand experience, I am confident that if authentic Chinese cuisine is introduced in Pakistan, it will gain more popularity than the cuisine average Chinese restaurants offer here.
All photos: Shahid Wafa