7 reasons why Pakistanis should be extremely proud of Kumail Nanjiani
For anyone who doesn't know who Kumail Nanjiani is, he's a Pakistani-American comedian, writer and actor. Nanjiani was born and raised in Karachi, graduating from Karachi Grammar School before moving to the United States to attend college.
If you're still reading this, you're probably wondering, so what? Why do I care? What has he done for Pakistan? Well, he's doing the impossible – he's representing Pakistan, in a positive light, in Hollywood.
Wondering how? Well, keep reading!
1. A Pakistani hosting Saturday Night Live (SNL)… wait, what?!
Your host for the evening: @kumailn! ✨ #SNL pic.twitter.com/5P0RzSiEmn

— Saturday Night Live (@nbcsnl) October 14, 2017
For anyone familiar with American TV, SNL, a late night sketch comedy show that's been on air since the 70s, is a very big deal. Hosting SNL is a sign that you've made it in Hollywood. Only the who's who of celebrities get a chance to host it, which is evident since this season alone has seen episodes hosted by Ryan Gosling and Wonder Woman Gal Gadot herself.
Nanjiani is the first Pakistani and only the second brown actor, after Aziz Ansari, to host the show, making this a truly historic moment for both him and diversity in Hollywood.
.@kumailn hosting #SNL tonight. Pakistani American dudes representing on late night. Break a leg.

— Wajahat Ali (@WajahatAli) October 15, 2017
#SNL Review: @kumailn Helps Deliver The Season's Strongest Episode Yet https://t.co/PJ6PYZvuRP pic.twitter.com/CLUHgmdW7g

— IndieWire (@IndieWire) October 15, 2017
2. Pakistani and proud of it!
It's no secret that Nanjiani is Pakistani – in fact, he keeps reminding people that he is, even in several of his sketches on SNL. His monologue focused on being a Pakistani and issues he has had to deal with in America, such as racism and Islamophobia.
Oh man, @kumailn's life-as-a-brown-person monologue is fantastic. #SNL

— Hemant Mehta (@hemantmehta) October 15, 2017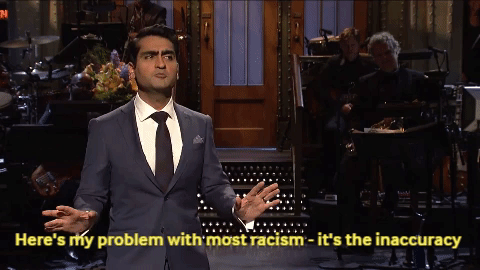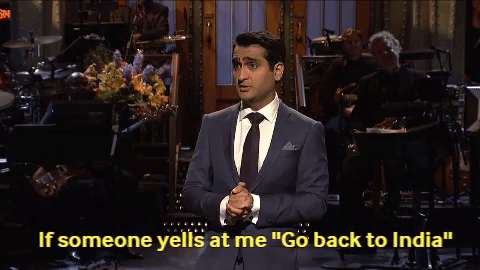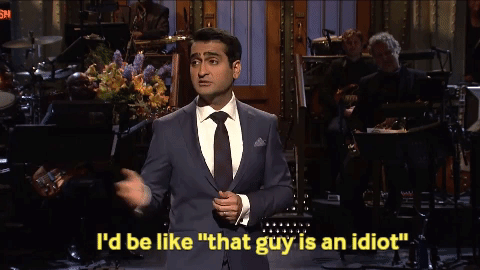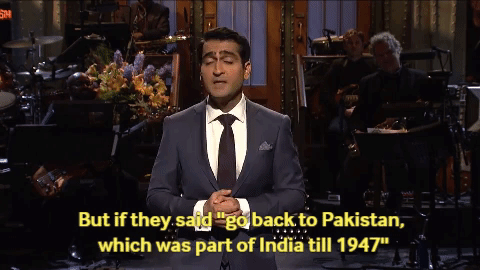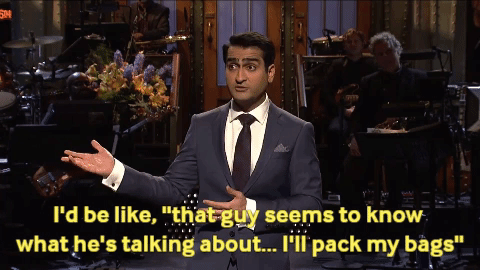 3. A movie about himself, a Pakistani Uber driver, which became a hit… what a guy!
Nanjiani is so vocal about his Pakistani roots that he wrote and starred in a movie about himself and how he met and fell in love with his wife Emily, who happens to be white. The movie, called The Big Sick, was based on the first year of their relationship and was surprisingly a hit in the tough Hollywood market where bigger movies with more famous stars failed to please audiences.
With this surprising hit, Nanjiani probably surprised Hollywood audiences with a story of a Pakistani man on TV romancing a white woman instead of doing whatever it is Pakistanis do in Homeland.
The Big Sick became one of the highest grossing independent films of the year.
4. Silicon Valley-ing it since 2014
Nanjiani stars as Dinesh Chugtai, one of the main cast members on Silicon Valley, which has now been renewed for a fifth season.
And he's not a cab driver or a pawn shop owner!
5. Owning Twitter since day one
With almost two million followers, Nanjiani has amassed a great and loyal fan following on Twitter, where he continues to be funny and fights white supremacists at the same time.
A great way to really get under the skin of Trump supporters is to not be white.

— Kumail Nanjiani (@kumailn) August 18, 2016
"Let's wait until we hear his name before we label it terrorism or not."

— Kumail Nanjiani (@kumailn) October 2, 2017
6. Actually funny, unlike Zaid Ali T; yes, I said it!
The fastest guy in the world's last name is Bolt. This is some bad comic book level writing.

— Kumail Nanjiani (@kumailn) August 15, 2016
Which makes him a very rare breed – not just a Pakistani, but a Pakistani comedian in Hollywood?
Pakistani comedians rarely make it in Pakistan – Saad Haroon is an international stand-up comedian who went on to become the second 'Funniest Person in the World' but never really made it big– so it's great to see one doing so well outside the country for a change.
Those faces in the background of every Trump speech have become the recurring extras in my nightmares.

— Kumail Nanjiani (@kumailn) August 5, 2016
This is a terrible time for aliens to find us.

— Kumail Nanjiani (@kumailn) August 30, 2016
7. Pakistan's very own Priyanka Chopra
He put Pakistan on Hollywood's map, just as Irrfan Khan and Priyanka Chopra did for India. Nanjiani hosting SNL came as a surprise to no one – in fact, his fans were eagerly waiting for it.
When you remember @kumailn hosts #SNL this weekend. pic.twitter.com/Am82IzKz46

— Saturday Night Live (@nbcsnl) October 13, 2017
He's become a regular on American late night TV shows; he even hosted the 2016 Film Independent Spirit Awards with Kate McKinnon.
It's a good time to be a brown man in Hollywood. Nanjiani has joined Aziz Ansari, Hassan Minhaj and Riz Ahmed as actors of Pakistani or Indian descent who have gained popularity and recognition in Hollywood. Minhaj hosted the White House Correspondents' Dinner this year, while Ahmed and Ansari both recently won Primetime Emmy Awards for their respective shows.
Here's hoping we get to see more of Nanjiani representing Pakistan in Hollywood!