When vets in Pakistan have no remorse about losing or killing your pet because "animals don't feel pain"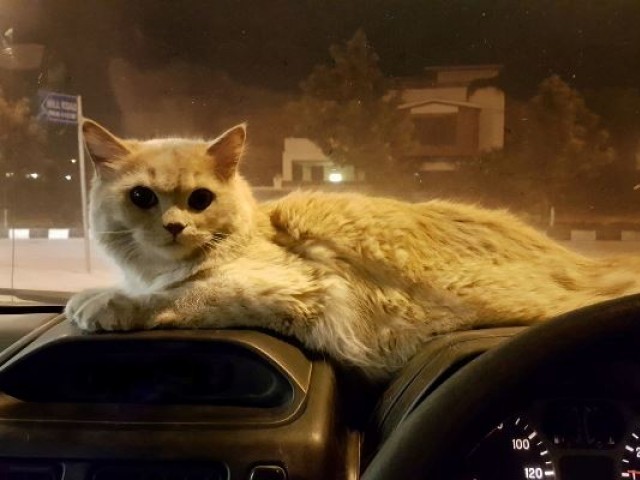 The issue I would like to address might not resonate with each and every one of you, but that does not and will not make it any less significant.
I'm not a proponent of bringing others down or spoiling their reputation just because they made a mistake, but I believe one has to put their foot down at some point, if not to redeem the loss, then at least to prevent it from happening again.
I was recently faced with a traumatising situation where I witnessed crudeness, insensitivity and unprofessionalism in the purest of forms.
A few days ago, I admitted my cat Biskey at Dr Khan's clinic (E11, Islamabad) as it was suffering from constant high temperature. When I went back to pick it up, I was casually informed that it had ran away; that he somehow managed to crack open the lock and escaped. Moreover, the doctor had the audacity to claim that I was the one at fault because I did not "warn" him about my cat's devious capabilities. Following the incident, I, along with my friends, looked for my cat in every nook and corner of nearby buildings and streets, but all in vain.
When we went back to the clinic the next day to check up on their search team, to our surprise, they were going about their day without paying any heed to what happened the day before. As soon as we became more forceful in asking them to step up their search efforts, things took a turn for the worse.
What followed was nothing less than abuse and aggression in the crudest of forms. In an effort to maintain respect and dignity, I did not stoop to their level, but I did threaten to sue their clinic to which they responded,
"Police cannot do anything. What do you even think you can achieve by suing? We are not going to look for your cat. To hell with you, go do whatever you can, we don't give a damn!"
I was left speechless; not only was my cat lost due to their incompetence, but they felt no remorse and instead were attacking me. I went back and shared my experience on Facebook, receiving support as well stories from people who had similar experiences.
Soon enough, the story picked up and I started hearing from more and more people about incidents where their pets were mishandled or misdiagnosed, causing them severe illness and even death.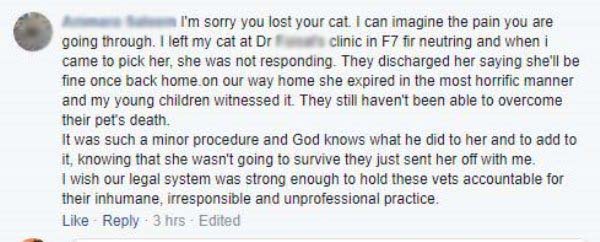 In none of these cases did the doctors take any responsibility or feel any remorse for their actions, as the main objective is and always has been simply to make money.
It is extremely heart-breaking to see veterinary clinics running solely for the sake of money, without any regard whatsoever for animal care and the affection that people have for their pets. The vets here fail to fathom the fact that pets are treated and loved like family members.
My question is, how do these vets get licenses and certification to run and operate medical clinics? More importantly, why does the Pakistan Medical Veterinary Council (PMVC) exist if there is no monitoring or checks and balances? Just because they are animals who cannot speak for themselves does not make it okay to be negligent. Forget living creatures – if you give your cell phone to a repair shop and the shopkeeper loses it, wouldn't it boil your blood? Wouldn't you make him pay? A cell phone is an object; animals on the other hand are living creatures. Why, then, is this simple fact so hard for our people to fathom?
The belief here is that only the privileged class have pets and thus its a good business to make some money, without any due consideration to the emotional investment people have towards animals. Had this incident happened somewhere in the US or Europe, the vet would have been fined heavily or at the very least lost their license.
My sole concern is to speak up against this cruelty towards animals and take initiative to amend the processes in animal health care organisations in Pakistan. A similar case happened back in 2015 to Sundus Hoorain, who lost her cat due to the mistreatment of another clinic and sued the vet for Rs25 million, accusing him of carelessness that resulted in the death of her cat. She also made a plea to the veterinary council to have CCTVs installed in the clinics to keep an eye on how the animals are being treated.
I believe there should be a central complaint management system in every city enforced by PMVC to check and monitor veterinary clinics. While I say that, I am aware that government institutes rarely take initiatives, which is why I am working on setting up a complaint and feedback system for vet clinics of Islamabad and Rawalpindi and am going to continue to raise my voice until it is heard. With the resources at my disposal, I would feel equally responsible if I simply do nothing to bring about a change, or even the first ripple of it.
Update: I ended up finding Biskey five days after it went missing, and it was nothing short of a miracle!
Though he is not in very good shape, as he was hiding outside with a cannula and stitches, I can't describe how happy I am that he's back. Upon taking him to another vet, I found out that he was given an overdose of anaesthesia which led to fever and he has now developed kidney infection as well. Biskey is a member of my family, and I pray he gets well and healthy soon.
My horrible experience with the vets in Pakistan has taught me to never trust the so-called doctor blindly, and to never ever leave the animal unattended.
Given that, I will continue to take legal action against Dr Khan's clinic. Just because I was able to recover my cat (without any help from them, whatsoever), it does not mitigate the irresponsibility and negligent behavior from their end. I will continue to speak up against the unfair practices of animal clinics in Pakistan till there are some form of checks and balances, simply because someone needs to or there will never be a change.