10 reasons why we cannot wait to watch Padmavati
The trailer for Sanjay Leela Bhansali's Padmavati released on Monday, and it broke the internet. From a layperson to celebrities like Amitabh Bachchan, no one could stop raving after watching it.
#PadmavatiTrailer is very terrific. Looking forward to 1st Dec! Good Luck @SanjayLeelaB & team! @FilmPadmavati

— Ninad Kamat (@iamninadkamat) October 11, 2017
Awstruck by the padmavati trailer.#fanart #PadmavatiTrailer #Padmavati #deepikapadukone #ShahidKapoor @shahidkapoor @deepikapadukone pic.twitter.com/y94cDe80SI

— Masroor shah khan (@Masroorsk) October 11, 2017
T 2573 – HOW DOES HE DO THIS ..?? Sanjay Leela Bhansali, 'Padmavati' and the trailer .. the gift of extraordinary vision !👏👏👏👏🙏🙏 pic.twitter.com/9UvVzEqO3Y

— Amitabh Bachchan (@SrBachchan) October 9, 2017
With over 21 million views on YouTube in two days, it has become the most watched trailer in the shortest time for a Hindi movie. After all this hype, we gave in and watched the trailer and we must admit, having finally seen it, we're excited for the movie. Here are 10 reasons why we are excited and cannot wait to watch Padmavati:
1. Deepika Padukone as Padmavati
Not only does Deepika look stunning, as usual, she looks like a true Rajput Queen. How can a uni brow look so good?
We don't nearly get to see enough of her in the trailer, but from what we do see, she looks fierce and we love it.
2. Ranveer Singh, enough said!
That's it. That's the whole reason.
There is intense and then there is Ranveer. If you thought Ranveer could play passionate characters before this movie, then there are no words to describe his performance here. It is safe to say that he has not only dominated the conversation but has also stolen the show.
We recently read that both Ranveer and Deepika will be seeking psychiatric help after this film. After watching him in the trailer, it's not hard to imagine why.
3. Ranveer's antics 
Ranveer always has some 'diva' moments in his movies that reinstate his image as truly self-obsessed (and rightly so). The hair flip in the trailer is one of those moments where one can only smile and think, "this is so Ranveer".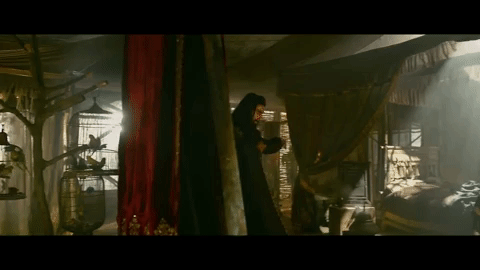 Can Sanjay Leela Bhansali (SLB) cast the king of flirtatious expressions and not take advantage of it? No, and we are glad he does. With a simple eyebrow lift, Ranveer lightens our mood, which only darkened in the first place due to his intensity.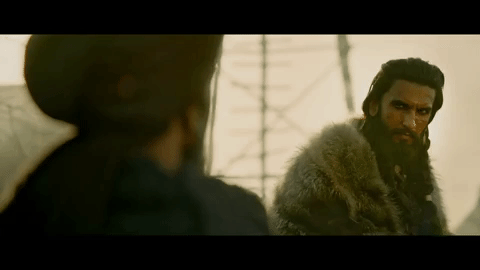 4. Alauddin Khilji – the man himself
There's so much mystery surrounding the character, and seeing him being portrayed so has only piqued our interest. Did he really have a male love interest? Was he as arrogant as he seems? Is he eating raw meat here? If yes, why? We can't wait to find out!
Khilji & the seven deadly sins depicted without dialog in #PadmavatiTrailer. Master stroke. @RanveerOfficial @ShobhaIyerSant #SLB #Padmavati pic.twitter.com/SCEKONhDrF

— Strider (@StriderEl) October 10, 2017
5. Deepika and Shahid's chemistry
Both are two of the most sought-after actors in Bollywood and neither has worked with the other before. And they look so good together!
Shahid can't take his eyes off of her – and we can't either, to be honest.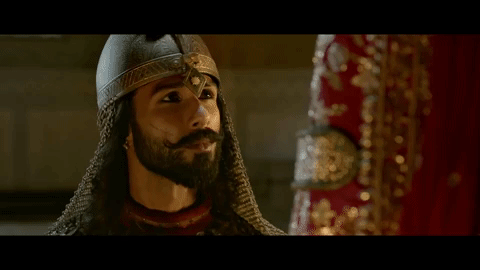 6. Shahid Kapoor as we've never seen him before 
Ranveer and Deepika may have taken more than their share of the limelight, but Shahid looks like he belongs on screen with them. If you're a fan of Shahid, it's nice to see him in a period film. He's channeling his inner Hrithik from Jodhaa Akbar, and we love it.
7. The throwbacks to previous SLB movies
We've seen enough of SLB's movies to be reminded of earlier masterpieces like Devdas and Ram-Leela, and if this film is anything like them at all, it's already worth watching.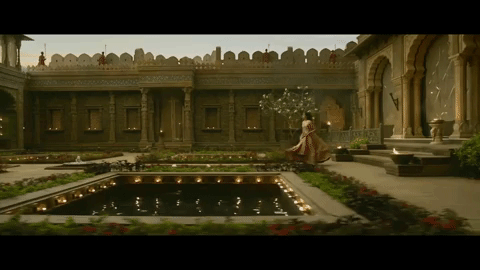 8. The cinematography
What we're pretentiously implying is that the shots, which look historically and culturally accurate, are also visually stunning. SLB is known to be meticulous but this time he has seemingly outdone himself.
9. The battle scenes deserve to be their own reason
Simply because there's not enough cool battle scenes in Hindi movies. Baahubali doesn't count, since it's not a Hindi film.
10. Bonus point
All the movies Deepika and Ranveer have done together have been great, so we're excited about this one. Their chemistry is palpable, which is why we can't wait for it. And clearly, everyone else can't wait either.
Just saw the Padmavati trailer. Visually it looks gorgeous! Looking forward to Ranveer Singh's performance as well :)

— Ajey Nagar (@CarryMinati) October 10, 2017
The trailer of #Padmavati is truly an experience in itself. @RanveerOfficial you look par excellence! Eagerly waiting for the film.

— Surbhi Jyoti (@SurbhiJtweets) October 9, 2017
Oh my goshhh!!! No wordsss. Our very own Game of Thrones!! #Padmavati @ranveerofficial @deepikapadukone @shahidkapoor #SanjayLeelaBhansali

— Parineeti Chopra (@ParineetiChopra) October 9, 2017
Talk about poetry motion!!!#SanjayLeelaBhansali and his magic!!Love the #Padmavati trailer! @deepikapadukone @shahidkapoor @RanveerOfficial

— Shraddha (@ShraddhaKapoor) October 9, 2017
Padmavati is set to be released in December! Two months to go! Tick tock!