They say "women belong in the kitchen" – and that is exactly where I went, professionally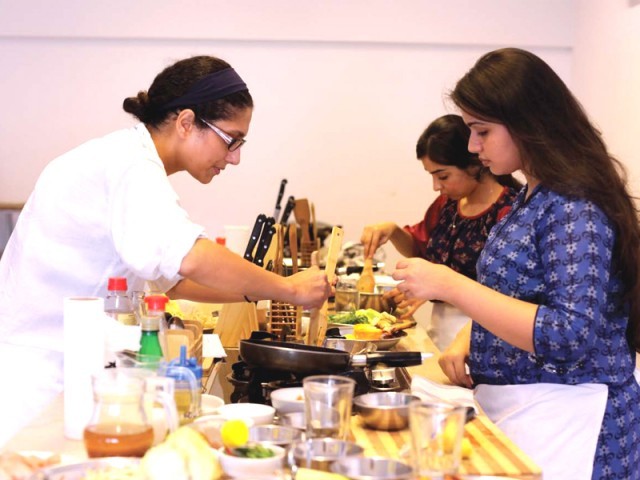 In 1929, Virginia Woolf raised questions that remain relevant about the lives of men and women today. She said,
"In 100 years…women will have ceased to be the protected sex."
Adding that,
"Logically, they will take part in all the activities and exertions that were once denied to them."

"Anything may happen when womanhood has ceased to be a protected occupation."
It all started with my love for food; mixing ingredients together to create a taste that will either blow your mind or your insides. I always saw my kitchen as a lab where I was the mad scientist working with different chemicals to create something that would not only make my tummy happy but put a smile on everyone who tried my food. This was me in my childhood, then life happened, and I lost sight of my little fantasy. As the saying goes,
"If you love something, set it free. If it comes back, it's yours. If not, it was never meant to be."
The same thing happened with me; my food fantasy came back to me in my 'weightiest' hours. Ironically enough, it came back when food became my enemy and the numbers on the weighing machine became a challenge. I fought my urges and lost a lot of weight. Being a chronic foodie, when saying no to food is never easy, I surrendered to my love for food and food did not give up on me. This time, instead of making me weak and cave in to the cravings to indulge, it helped me master the art of enjoying it, to play with it and to begin my journey of becoming a chef.
I earned a foreign Diploma in culinary arts and landed a training opportunity at Avari Hotel in Lahore. Before getting there, I was apprehensive about working in a male-dominant place and how I would be treated, assuming that I would be the only female enrolled in the program. Even my mother was not pleased at the idea of me stepping into a commercial kitchen where "God knows how women are treated". Her exact words were,
"Beta, pata nahi waha kitnaay banday hon gay or tum wahan akailee kaisay kaam kero gee!"

(I don't know how many men will be there and how will you work there being the only woman in the kitchen!)
Women, not just in Pakistan but generally, do not opt for the culinary profession even though they are expected to handle the kitchen department at home. But professional, high-status cooking has remained the domain of men despite the fact that women have entered into and been a vital part of other traditionally male-dominant careers for a long time now.
However, one issue that female chefs do have to deal with is the pressure to conform to the culture of professional kitchens. There is a fine line distinguishing what is considered an acceptable behaviour for women in this 'macho' environment and what isn't. Women described themselves as invaders of the male chefs' turf, and their male supervisors often had preconceived ideas that women were not physically and emotionally strong enough to work in kitchens and would give them fewer important jobs.
The aforementioned issues might be true in a lot of places in Pakistan and abroad, but my experience has been of the contrary. I have female chefs and male chefs working in the kitchen with me. The statistics of my commercial kitchen experience have been of the odds but they exist.
The day finally came and I put on my chef coat, tightened my hijab, put on my chef's hat and entered my first commercial kitchen – and what I saw blew me away. A calm, clean and friendly place welcomed a student like me with open arms. My shock was multi-facet; I was openly welcomed and accepted, there were other women in the kitchen, and the place was not just spotless but also airy and comfortable.
I then realised that even though male chefs are more prevalent in professional kitchens, particularly at the highest and lowest rungs of the industry, a new vanguard of women like myself are coming up slowly but surely. The sporadic outburst of culinary schools across the country has more women enrolling for such courses. More than ever, women are filling the second or third-tier jobs that will hopefully produce the next generation of female leaders in the nation's best restaurants.
Considering the amount of knowledge flowing in the kitchen, I am nobody and my childhood experiments with food were a joke, least to say. The kitchen works in a symphony where food is the instrument and the aroma is the music. I cook at home more than regularly but cooking in a commercial kitchen is an experience beyond all. One ceases to exist entirely while the palette of the customer reigns supreme.
Grilling on big, hot plates, stirring the gravy in a pot bigger than yourself, and cutting vegetables at the speed of lightning are some of the exceptional skills I gained. I did not know I had it in me, but the chefs at Avari had been very patient, considering I had to be taught from square one, and guided me at every turn. Siddique Sahib, the man who was mentoring me, had been in the industry for over 40 years. He would figure out the missing ingredients just by observing the colour of the gravy. His insistence that everything that is prepared should be tasted was not a welcome suggestion for my weight troubles.
"Jo log apnay poun per kharray, apnay hath se kaam kartay hai, unko weight ka masla nahi hota."

(Those who stand on their own feet and do their own work, they never have weight problems)
Well, that definitely is advice for all the weight watchers out there who also cook. Especially since Siddique Sahib issued a new rule for me:
"Chakna zaroori hai!"

(Tasting the food is important)
Taste and understand the different ingredients and the process, and then you can play Master Chef. All the giggles the kitchen staff shares at the expense of my hesitation to taste are barely unkind; they just show me how naive those of us are who try so hard to shun food.
When I was joining the kitchen, I had nightmares about working long hours in a damp place, cutting onions and what not, but needless to say, once I was taught the tricks of the trade, I cannot imagine myself doing anything else. I still do sometimes cut countless onions but I do it under conditions far better than I imagined!
If the love is strong and the forces of food are with you, you find a place where you are not just taught but feel at home.
Happy cooking!