How to avoid hair salon drama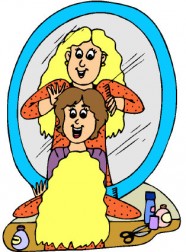 From years of experience with bad haircuts and encountering hair colors from all spectrums of the rainbow I decided to write the ultimate guilde to deflecting the pain of trashy hair. Lets face it, we live in a country where the literacy rate is low and the service industry, when it comes to fashion, seems like it is run by drag queens. So when you  walk out of a salon you are ready to pay someone to tell you the ugly truth about your new look.
1.Know the basics:
If you ask the question "what do you suggest?" you are going to be robbed. This excludes most stylists who have taken courses from well known institutes like Toni & Guy and Paul Mitchell. Most hairstylists in Pakistan tend to learn three or four basic haircuts and cut your hair according to the one they personally had fun learning. That doesn't necessarily mean the haircut will suit you. One girl at my institution would tell all her clients that "their hair lacked volume" or "you have a lot of split ends!" just because she wanted to do the same haircut over and over again. These are some basics you should know when you enter the salon:
-If you have fine hair stick to blunt cuts and regular trims to add volume
-The spiky look involves thinning your hair with a razor, cutting is unnecessary
– Length can be retained by choosing long layers
-Avoid bangs if your face is round as they can make your face look plump
2. Whom to go to:
Now here is a bit of a controversy.  There are those who claim (but never have solid evidence) that if person says they received professional training from make-up companies like MAC then they are probably lying. Apparently, MAC does conduct personal makeup training courses and seminars. They also train their own employees. But personal makeup training means that they are not qualified to know what is good for your face type. I have personally asked at the main office in New York if this was true or not. There are schools like MUD out there which collaborate with MAC but most makeup companies require you do to a whole program like Aveda which takes up to two years. Usually most make-up artists are naturally gifted but if they have to lie, you have to wonder why they are doing that.
3. Tone it down:
Every hair color that dyes your hair 'blonde' has bleach in it. This is not necessarily a bad thing but make sure you know the risks. Make sure your hairstylist knows how to tone hair color. If they don't and you are of Pakistani skin tone, you are going to end up looking like trailer trash. Toning is a simple diluting of color to make blonde hair less yellow or orange.
4. Split decisions:
If you can't see split ends then you are really not at the stage where you have to cut them. Use a deep conditioning mask once a week and hide your styling tools away. Most hairstylists in Karachi take a comb to show you how damaged the texture of your hair is. The truth is people go to the salon to get their hair done. If I walked in with perfectly brushed and blow-dried hair why would I need to go? Of course it's tangled, I didn't have time to brush it to make it look good for you!
5. Products: less is more
If your hairstylist put too much product in your hair grab a hairspray (I'm sure your mom or aunt owns one can) and check the ingredients. If it contains alcohol then spray it in your hair and brush out a bit. The spray will bring life back to your hair and make it look less flat and greasy. However, try avoid hairspray that says "heavy hold."
6.Bad bangs?
Grab a paddle brush, hairdryer and brush them way from the face while blow drying your hair. Mousse for wavy hair is a personal lifesaver of mine.
7. Dying to dye:
Stick to colors three shades close to your natural hair color when considering dying your hair. Lighter shades tend to wreck hair more than dark colors. Red colors have weak molecules so they tend to wash out easily. If you have to bleach your hair before dying its usually not worth it.
8. Straight as an arrow:
Run away from re-bonding! And remember Japanese straightening is not the same as re-bonding. Re-bonding uses more chemical content than Japanese straightening does. In most Pakistani salons you will end up with Brazilian straightening which is quite harmful. Also, Keratin is not the same either – it just de-frizzes hair temporarily.