Five years of Napa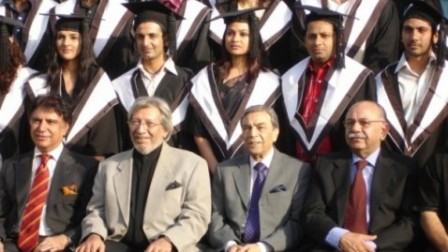 The so-called city of lights did have plays on and off before, but the establishment of Napa made the theatre movement what it is today – a series of full acts with no intervals.
The National Academy of Performing Arts (Napa) was inaugurated in February, five years ago by then President General Pervez Musharraf. Run by acting veteran Zia Mohyuddin, the academy churned out its first batch of more than 40 students in theatre arts and around 20 students from its music department in 2005. However, almost 50 per cent of the students enrolled in both departments fail to cope with the four to five hours long class schedule and drop out. The consequence is that only around 20 to 25 of Napa's first batch graduated with a diploma or a certificate in hand. The ratio of graduating students decreased with the next batch, and the problem continues to haunt the academy's administration.
Since its inception, the academy has been through various highs and lows. It faced a lack of funds for almost a year (from July 2008 to June 2009) when the current PPP-led federal government cut their grant short — from Rs50 million to a mere Rs17 million. The grant was restored in the next fiscal by order of Prime Minister Gilani.
The academy is also in court with a stay order in hand, to fight a case to retain its premises, the Hindu Gymkhana. The case began when Napa was served a notice to vacate the premises by the Sindh government last year. It said the Napa administration made changes to the architecture of the historical place by erecting pillars of its in-house theatre which is under construction off the main building. It is interesting to note that the provincial government also receives its monthly rent from the academy.
The fresh roots of theatre culture in Karachi owe a great deal to prominent Karachiites such as Sheema Kirmani, Khalid Ahmed, Sania Saeed and Nida Butt. With their respective theatre groups these individuals have led the theatre scene into a direction where bomb blasts and ethnic clashes were responded to by realistic plays on the stage. But the establishment of the Napa Repertory Theatre Company (NRTC) appears to have over shadowed all things non-Napa. It has staged more than a dozen first-rate productions within two years.
Established, organised and run under the supervision of Rahat Kazmi, the NRTC kicked off in April 2008 with an adaptation of Shakespeare's King Lear. Adapted by maestro Aga Hashr as Sufaid Khoon the play was the company's first and most expensive production. NRTC recruited 13 students from its first batch of graduates on a decent monthly salary, following the tradition of national theatre academies across the world. But it sacked them all in February 2009. Now the NRTC hires their services, if deemed necessary, for each upcoming production. A few graduates feel this practice is inappropriate and unjust
When Napa started off faculty were not experienced in formal teaching. They included well-known theatre and TV artists but only a few of them had training. Arshad Mehmud, Director Programs at Napa says "Initially, we didn't have proper texts and curriculum for either the music or theatre arts faculties. After a lot of hard work and experiments, we now have a complete curriculum in place. This is our biggest achievement so far."
Is the Napa faculty happy with what they have produced in the field of acting? "Now that I look at the work our graduates are doing in the media, I feel we have done something good. You can see our first batch, which is by far the best, doing good work," Mahmed says. Saqib Khan, Rabab Hashim, Paras Masroor, Ali Rizvi, Uroosa Masroor, Aimen Aly, Mohsin Ali and a few others are now making waves across our TV screens and on stage. Taal Karisma, a band formed by Napa music graduates appears to be the latest big act on the music scene.
With only a handful of resources and a passion to see the culture of performing arts flourish, the Napa administration now dreams of forming a national orchestra, says Mehmud. "Almost every country in the world has a national orchestra. Even the Sultanate of Oman! It may take us ten to fifteen years. But I have a dream to give Pakistan a symphony orchestra, which would by far be our greatest achievement."
Arshad Mehmud also hopes to start a students' exchange program with performing arts institutes and academies abroad.