Will 'Daddy' glorify Arun Gawli's crimes or his reformation from gangster to politician?
As a passionate movie fanatic, I am always on the lookout for upcoming movies. A few days ago, I came across the trailer for the Bollywood film Daddy.
Based on a true story, Daddy explores the life of a gangster who reforms into a politician. Arjun Rampal, who is also one of the producers of the movie, plays the lead role of Arun Gawli, the gangster.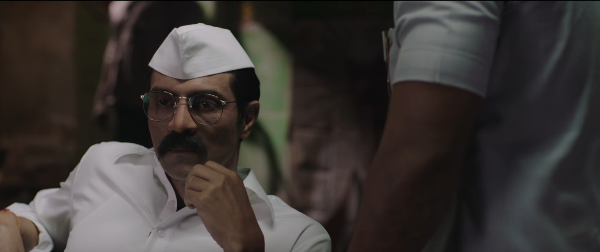 Indian movies portraying gangsters from the underworld have always attracted an audience and Daddy is expected to meet the same fate. On another note, Rampal's presence definitely adds to the hype of the film.
Apart from Rampal, the cast also includes the South Indian actress Aishwarya Rajesh as Asha Gawli, Nishikant Kamat as Inspector Vijaykar Nitin, Anand Ingale as Babu Reshim and Rajesh Shringarpure as Rama Naik.
Here's hoping that the director, Ashim Ahluwalia, narrates Arun's story through a truthful lens. Firstly, since this is a biopic, the story must be realistic. Secondly, it must not glorify the crime, but the reasons that compelled Arun to become a gangster, and later, a politician.
It also reveals that the Mumbai of the 70s was a breeding ground for gangsters. The reason for this was because numerous textile mills were closed down, and workers had to find other ways to support themselves. Arun joined the underworld due to these reasons as well.
Initially, Arun was a part of the BRA mafia gang. However, Arun was always different; he wasn't like the other criminals as he wanted to make a name for himself in Mumbai. After reaching the top of the underworld, Arun, as highlighted in the trailer, reforms and enter politics. Due to his past, it is pretty evident that he has got many enemies who he must fight in order to keep his pedestal intact.
The trailer further discloses that out of all the gangsters who escaped India, Arun was the only one who decided to stay and become a political leader. We still do not know why Arun is referred to as 'daddy' but I'm sure it is an interesting tale which will be illustrated in the movie.
The movie has a very realistic appeal to it primarily because of the setting – the slums and streets of Mumbai. However, time will decide if Rampal, who has the knack of delivering robust dialogues, can embrace the character of Mumbai's dreaded don. Personally speaking, I am looking forward to seeing Rampal clad in the character of a gangster. Apparently, he has also adopted a Marathi accent for the film.
Many actors in Bollywood have portrayed dons including Vivek Oberoi as Mahindra 'Maya' Dolas in Shootout At Lokhandwala, Ajay Devgan as Sultan Mirza (based on Haji Mastan) in Once Upon A Time In Mumbaai and Emraan Hashmi as Shoaib Khan (based on Dawood Ibrahim) in the same movie.
Moreover, I believe that Rampal's fans will eagerly be waiting to see how his character transitions from gangster politician. Perhaps we will find some similarities between conmen and political leaders through this shift.
This movie also marks the Bollywood debut of Aishwarya as Arun's wife, Asha. Will she be able to withstand the shift from working in Tamil movies to appearing in a major Bollywood production?
The notion that there is good and bad inherent in everyone will be highlighted in Daddy. This is one of the movie's strongest selling points – showing a humane side to a gangster who is otherwise known for his notoriousness.
Rampal rarely appears in dark roles, so this may add another accolade to his name. Here's hoping his performance is as brilliant as the audience expects
All photos: Screenshots