Maria Sharapova, the phoenix who rose from the ashes, is still a force to be reckoned with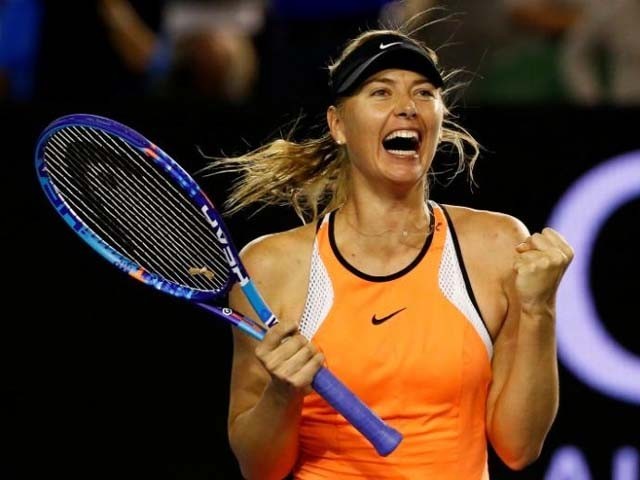 This might sound silly but the first thing that struck me about the Russian tennis star Maria Sharapova was not her technical or tactical prowess but in fact the 'grunt' which was part and parcel of her game and particularly, the serve.
Although grunting is normal to an extent in tennis, but when you crank it up to 100 decibels, it is bound to attract attention and this is precisely the reason why it caught my eye. Little did I know that this young lady will go on to become one of the finest players of all time.
Young Sharapova
Her interest in the game developed from seeing her father play tennis which slowly brewed the desire to pursue a career in this field of sports. She started playing tennis at such a young age that even the racquet was too big for her and they had to cut the grip by a few inches to ensure she could hold it properly.
It was Martina Navratilova, a legendary female tennis player and interestingly not a fan of grunting, who first recognised five-year-old Sharapova in a children's tennis clinic in Moscow. Navratilova told Sharapova's father that his little girl was extremely talented. This eventually triggered Sharapova's move to the US even before her seventh birthday in order to materialise her dream of becoming a top tennis player.
Nick Bollettieri Academy
In the US, Sharapova trained at the famous Nick Bollettieri academy, where she was one the youngest players of the academy. However, her age did not prove to be a hindrance because of her will and desire to outperform her opponents. The likes of Andre Agassi, the Williams sisters, Martina Hingis and Jim Courier all trained and developed their game at this very academy, so Sharapova was fortunate enough to be in the right place with the right people.
Early days in the US
As a young girl, Sharapova had a hard time settling in the US. Due to visa rejection, her mother could not tag along and she had to remain solely with her father for two years, which is quite difficult for a girl at such a tender age. It was also awkward for people around her as many thought it was crazy for a young girl to come all the way from Russia to become a tennis player. Despite feeling like an outcast, Sharapova did not give up and never once felt that she was pursuing something wrong.
Breakthrough
Sharapova's breakthrough came in 2004 when she caught everyone by surprise. She defeated Serena Williams in the Wimbledon final at the age of 17 and that too in straight sets. More than a decade later, the Russian golden girl has two French Open titles and a triumphant campaign at the US Open, Wimbledon and Australian Open, along with many other singles titles to her credit. She also bagged a silver medal for Russia at the London Olympics. Furthermore, according to Forbes, she had held the record for being the highest paid female tennis player for the past 12 years.
Game analysis
Sharapova plays the game with an extremely aggressive mind-set. This is often reflected in the way she hits the ball as hard as possible which helps her dominate her opponents. Furthermore, it also keeps the game rallies short.
She always had a pretty decent forehand and an even better backhand, both down the line and cross-court, which made her such a potent player in world tennis. During her peak, Sharapova's serve was the best part of her game as she perfectly utilised her height and speed to put her opponents on the back foot from the beginning of the game. Due to regular shoulder injuries, the venom of her serve gradually diminished but nevertheless, it still is a force to reckon with.
Doping ban
With 2016 came the lowest point of Sharapova's career. She was banned from playing for two years because she tested positive for the drug, meldonium. The banned drug was found in her system during the Australian Open. The ban was later reduced to 15 months after she lodged an appeal in the court of arbitration for sports. In April 2017, Sharapova was back in action.
Sharapova was immediately sent invites and wildcards to feature in upcoming tournaments which sparked controversy as many players thought that she was granted an easy way back in.
Top players including Andy Murray, Caroline Wozniacki, Eugenie Bouchard were against her coming back into the fray. On the other hand, there was some who supported her return including former world number one, Kim Clijsters. They believed that Sharapova had served her punishment and there was no reason why she should not be allowed to compete.
US Open 2017
Sharapova was granted a wildcard for the on-going US Open. She ousted world number two Simona Halep in a captivating three hour contest to make her comeback in Grand Slam tennis.
Even though Sharapova was knocked out in the fourth round, for a player who is making comeback after a long lay-off, she did pretty well. Sharapova showed signs of her old flare during the game as well and it is only matter of time before she regains her previous form.
One of the greatest aspects of Sharapova's life and tennis career is her relentless spirit which brings out the best in her, even with her back against the wall. It won't surprise me one bit if she makes it back amongst the top ranked players.