Give Pakistani women a solid tech platform and watch them break every glass ceiling in sight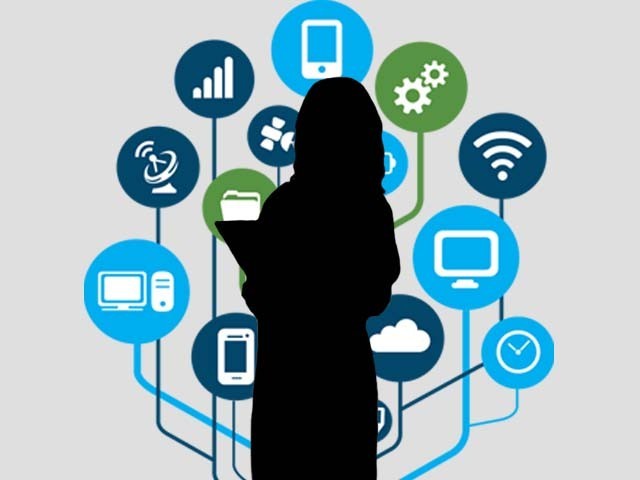 The empowerment of underprivileged women in the absence of technology is hard to imagine. After all, a basic understanding of programming can encourage them to identify new market trends and eventually embrace entrepreneurship.
Similarly, exposure to data analysis and web development skills can afford easier penetration into Pakistan's booming Information Technology (IT) industry. The industry is home to some of the highest paying jobs in the country, but a dearth of technological training has denied females a level playing field. Therefore, HerDomain has the perfect strategy in place to change that.
HerDomain is a non-profit technological startup that provides coding skills and professional development to women from low-to-middle socio-economic backgrounds. A batch of 10 girls constituted its pilot coding boot camp last month and the results indicate a major leap towards female innovation.
Students used the fundamentals of HTML, CSS and JavaScript languages to create automated bots. These bots could perform mathematical functions and respond to countless user queries on demand. Within a span of a few weeks, they designed 3D car simulation games, practiced Global Positioning System (GPS) navigation and even constructed their own webpages.
The message is very clear – give Pakistani women a solid tech platform and watch them break every glass ceiling in sight.
One fascinating aspect of tech training is that the level of education one possesses can never determine their learning potential. For instance, Momna Shafiq, a matric student at the boot camp, learned with the same finesse as Anza Yusuf, a master's student. How about that for collective empowerment?
All skill-based learning initiatives must accomplish their true objective – giving underprivileged women a competitive edge over their market counterparts. Otherwise, much is of little use. After all, why should employers prefer these girls over others?
To address this, HerDomain incorporates cutting edge artificial intelligence topics as part of its coding program. Techniques such as sentiment analysis help students analyse countless public statements and determine whether the human sentiment regarding a particular issue is positive, negative or neutral. For example, are Pakistanis more content when they talk about education or employment? Or is the social media opinion about Imran Khan more favourable to Nawaz Sharif? What factors determine this outcome? Girls can address these questions by both analysing text as well as facial expressions.
It is important to note that most companies today depend upon such data analysis to generate customer value. It is the perfect gateway to female entrepreneurship in the market. A telecommunication giant may want to grasp public sentiment regarding competitive cellular prices before altering its own. Similarly, an analysis of consumer buying patterns could help firms identify niche markets, back profitable investments and bolster market share. Imagine the amount of opportunities it can hold for our women.
In order to exercise full faith in technology-led empowerment of women, however, one fundamental question requires answering – what makes HerDomain's approach stand out from other programming initiatives? First of all, it is the quality of instructors; majority of them are expert Silicon Valley programmers that have previously worked for companies like Twitter, Facebook and Uber. Their ability to offer a superior standard of programming to the girls exceeds that of their local counterparts.
Secondly, students enjoy a professional development component to help market their credentials. They learn how to develop cover letters, resumes and persuasive writing techniques to win over the ever-increasing competition. Girls with inadequate exposure to English receive formal training. Furthermore, a combination of critical thought and analytical skills is used to maximise their presentation skills.
Ultimately, the empowerment of disadvantaged women depends on how well they are integrated into the most rapidly growing part of the economy. An arsenal of front-end coding, professional development and artificial intelligence techniques is the key to such economic mobility. The beauty of tech training is that girls no longer rely on the market to select them. Instead, firms rely on these girls to create market value which is the true measure of empowerment.