Gratitude in itself does not honour legacies, and so it is time for Pakistan to give back to Dr Ruth Pfau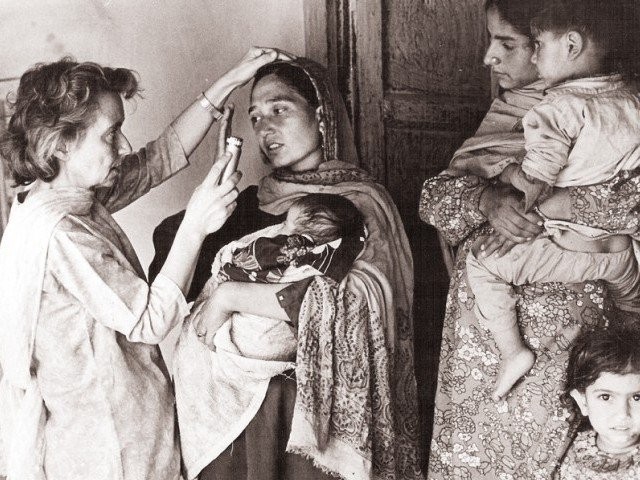 This week, Pakistan lost one of its most modest, humble and underappreciated national treasures. Dr Ruth Pfau, after having dedicated her entire life to the service of this country, left us a few days short of the nation's 70th birthday at the age of 87.
In a country where the phenomenon of brain drain is quite common and talented men and women consistently depart in their pursuit for greener pastures, Dr Pfau was a breath of fresh air. At the age of 30, the German doctor was sent by the Order to India, but due to visa issues, she landed in Karachi, Pakistan. Touched by the suffering she saw of leprosy patients in the country, she decided never to leave.
I recall having met Dr Pfau during my childhood at various events hosted by the Marie Adelaide Leprosy Centre or the Ministry of Health where my father served. Since both were doctors, they would often sit down to chat about the medical conditions and the future of the country. There was little room in such discussions for a young child.
However, that did not stop Dr Pfau from making me believe I was the most important person in the room. She did this with every other child and introvert human being she met in her life. Dr Pfau had an art of bringing out the best in those around her and a magic that I was fortunate enough to witness first hand.
The nation owes Dr Pfau all its gratitude, now and always. But gratitude in itself does not honour legacies. A lot more is warranted to truly cherish the beacon of light a human being was during their lifetime and to ensure the flame they set ablaze does not flicker and crumble to ashes with their inevitable death.
This is a tribute to the invaluable contributions Dr Pfau made towards Pakistan and how the government and citizens of Pakistan can cherish her legacy.
1. Thank Germany
With all the lack of resources, difficulties of physical relocation and cultural barriers she had to overcome, Dr Pfau persisted in her service to Pakistan. In a hut in a slum on II Chundrigar Road in Karachi, she began caring for patients suffering from leprosy.
It was much later that she founded the Marie Adelaide Leprosy Centre with all its amenities and comforts. One cannot begin to imagine the manner with which Dr Pfau may have contributed to her motherland, with all its existing infrastructure and resources, should she have decided that Germany and its people were her life's calling. For allowing her such ease of access and for aiding the transformation of thousands of lives, the citizens of Pakistan sincerely thank Germany and its people who contributed financially towards her work in Pakistan.
2. Present an accolade to the Daughters of the Heart of Mary Order
A member of the Order, Dr Pfau was a nun. It was via the Order that she was asked to travel to India, thereby finding her way to Karachi. While the Order itself honours Dr Pfau as one if its members who must be recognised for her extraordinary and extensive humanitarian efforts, other Sisters too rejoice in their life's efforts "to be close to those who are lost, helpless, and shunned by society".
Individuals, organisations and the government of Pakistan must reach out to the Order with notes of gratitude and accolades. They must also ensure that the Order understands how welcoming its contributions have been and will continue to be for this nation.
3. Build a Germany-Pakistan volunteer exchange program
While Pakistan and Germany already enjoy various educational exchange programs and strong diplomatic relations, in honour of her legacy, a "Ruth Pfau Volunteer Exchange Program" should be initiated between the governments of both countries, aided by social welfare organisations if needed.
As one beacon of light vanishes, it is crucial to open the door for many more. A program to honour her services by encouraging young and old citizens to embark on a three to six-month journey and contribute towards social causes in each other's countries would mark a most befitting tribute to Dr Pfau.
4. Contribute to the Marie Adelaide Leprosy Centre
Last year, the death of Abdul Sattar Edhi saw a screeching halt in the regularity and volume of contributions made towards the Edhi Foundation. A year before that, Sabeen Mahmud's death left a similar impact on T2F's sustainability efforts. Both events remind us that Pakistan honours people more than the institutions they established.
However, the show must go on. With the passing away of each national hero, we cannot afford a setback of 10, 20 or 50 years to create an institute from scratch, especially one they dedicated their life to build. Citizens of Pakistan must continue to contribute to these ventures, in this case the Marie Adelaide Leprosy Centre. The government of Pakistan must support these steps, and schools and colleges must encourage young students to volunteer their time therein.
5. Attend the state funeral in Karachi
On Thursday, Prime Minister Shahid Khaqan Abbasi announced a state funeral for Dr Pfau. This will be held on August 19, 2017, at St Patrick's Cathedral in Karachi. All citizens, for whom this is possible, should endeavour to attend and pay their last tributes to a woman who knew no bounds – cultural, religious or political – in her services towards humanity.