Remembering Hanif Mohammad: When cricket lost one of its most ardent sons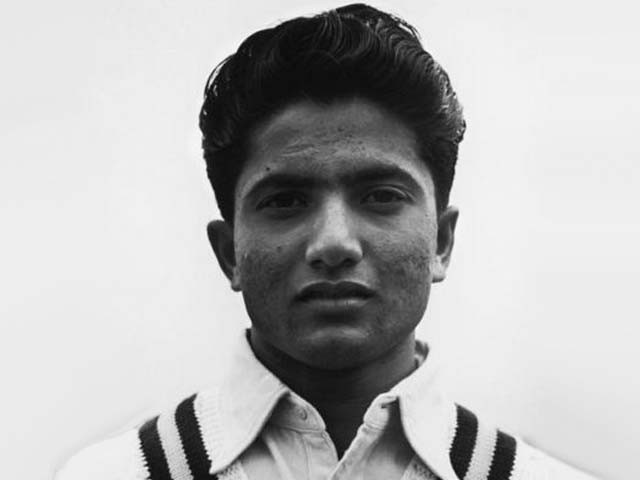 One of Pakistan's most prominent Test cricketers, Hanif Mohammad, left this world last year. With his demise, Pakistan lost one of its most ardent sons.
Due to Mohammad's brilliant cricketing skills, Pakistan achieved numerous Test victories. Mohammad had the honour of scoring the first half century for Pakistan in 1952. He achieved this feat at Delhi's Feroz Shah Kotla ground against India. This was Pakistan's inaugural Test as well as Mohammad's debut Test match.
During the first three Test matches of his career, Mohammad was assigned the wicket-keeping position and he holds the honour of making the first ever dismissal in Pakistan's Test match history.
Two years after this match, Pakistan left for a gruelling England tour, where they lost the Test series. After performing poorly during the initial matches, Pakistan came back strong in the fourth Test match and beat England by 24 runs at the Oval, thus, becoming the second team (after Australia) to win a Test match on its first tour of England.
On that day, Fazal Mahmood proved to be a hero since he bagged 12 wickets. Mohammad managed to secure a run out on the last wicket via a direct throw to secure a memorable victory for Pakistan. And with his 181 runs, he became the most successful batsman for Pakistan in this Test series.
Mohammad's feats didn't stop there, as he went on to score the first century of his career against India in Bahawalpur. After hosting India, New Zealand and Australia from 1955 to 1956, Pakistan embarked on the West Indies tour in 1958. The West Indies team of yesteryears was entirely different as compared to its current team. The presence of tall, fast bowlers and classy batsmen gave West Indies the ability to defeat opponents without even breaking a sweat.
The 1958 tour consisted of five Test matches. The inaugural match of this series was played at Bridgetown, Barbados. During that time, Barbados had the fastest pitch and West Indies scored a mammoth 579 runs in their first innings while Pakistan was dismissed at a meagre 106 runs. There were still three and half days of play left in this match and Pakistan's defeat was eminent.
In the face of adversity, Mohammad stood strong like the rock of Gibraltar. He batted for 970 minutes (16 hours and 17 minutes) and made a record for the longest innings in Test cricket history. These historic innings changed Pakistan's path and allowed them to end the series with a draw.
According to SM Naqi, the host of Radio Pakistan, the Pakistan cricket teams' masseur would sleep peacefully at the start of each session, confident that Mohammad will make a comeback and allow Pakistan to sail towards victory.
Another incident that comes to mind is regarding a spectator, who was watching the match atop a tree but fell off and became unconscious. He was rushed to a hospital and as soon as he regained consciousness a day later, the first question he asked was,
"Is Mohammad still batting?"
The paramedic staff on duty responded saying that Mohammad is still on the crease.
In Test cricket's 140 years, I feel no batsman has ever played such monumental innings as the one Mohammad did in West Indies. Mohammad scored 337 runs and this is still the highest individual innings for Pakistan in Test cricket.
Mohammad was such a brilliant player that he scored a Test century in his first appearance at the historic Melbourne Cricket Ground, one of the most competitive pitches in the world.
Mohammad's Test career spanned over 17 years, during which he played 55 Test matches and scored 3,915 runs with an average of 43.98 including 12 centuries and 15 half centuries. Mohammad has the honour of scoring centuries against all countries that were part of Test cricket back then. He also captained the Test team at one point in his career.
Mohammad is known as the little master in the cricketing world. On August 11, 1959, playing for Karachi in a first class match, he scored 499 runs. His innings remained the highest innings of first class cricket for 35 years up until Brian Lara broke his record in 1994.
His brothers, Wazir Mohammad, Mushtaq Mohammad and Sadiq Mohammad and his son, Shoaib Mohammad also played Test cricket for Pakistan.
However, Mohammad's career ended on an unfortunate note. Board members refused to select his younger brother, Sadiq, unless Mohammad would stop playing cricket. To save his brother's career, Mohammad retired in 1969. His last Test match was, in fact, Sadiq's debut Test match. This is the only occasion in Pakistan cricket when three brothers played a Test match together.
To commemorate his first death anniversary, I request the Pakistan Cricket Board (PCB) to rename the National Stadium Karachi as the Hanif Mohammad Cricket stadium. It is important for us to give Mohammad the due respect he deserves, because players with impeccable skills like his are a rarity in today's cricketing world.
Mohammad was an institution in himself. Unfortunately, we failed to give him the respect he deserved during and after his cricketing days.