If it's unfair to believe an allegation, it is also unfair to doubt Ayesha Gulalai and call her names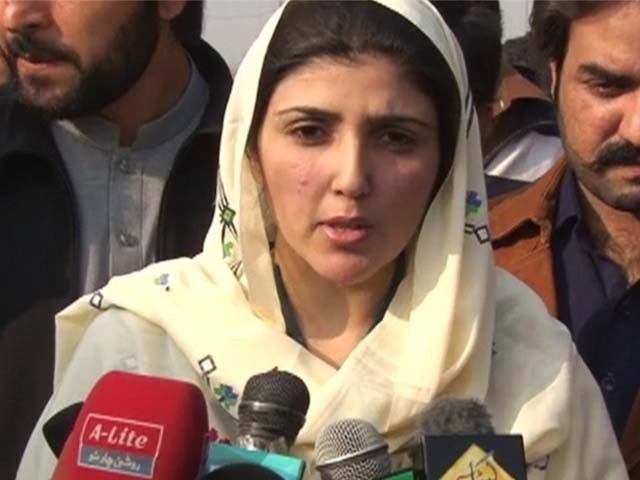 A few months ago, I wrote an article where I pointed out that both the Pakistan Muslim League–Nawaz (PML-N) and the Pakistan Tehreek-e-Insaf (PTI) were promoting a misogynist culture. In the said article, I criticised PML-N leaders like Khawaja Asif and Javed Latif for spewing filthy language against women in rival political parties.
I further argued that PTI was also indulging in the same practice as an overwhelming number of its supporters have repeatedly abused prominent women politicians and also public figures. I cited examples of Malala Yousafzai, Asma Jahangir, Reham Khan and Maryam Nawaz. I also wrote about how Dr Shireen Mazari and her daughter were abused mercilessly when the former had left the party for some time in 2012.
As usual, I was vehemently opposed by a large number of PTI supporters who jumped to the emotional and self-righteous defence of their favourite political party. Some accused me and even The Express Tribune staff of being on PML-N's payroll, even though the article had actually attacked PML-N leaders. Some accused me of making false analogies as they claimed that the behaviour of 'heavy weight' PML-N leaders like Khwaja Asif could not be equated with the online behaviour of 'ordinary' PTI supporters.
Yesterday, a sitting female PTI Member of the National Assembly (MNA), Ayesha Gulalai, made scathing allegations against the leadership of PTI, particularly Imran Khan, in a live press conference. She spoke about sexism in the party, something another female leader, Naz Baloch also complained about a few days prior. But the most damaging allegations were of sexual harassment against Imran.
Considering the seriousness of the allegations, one would have thought that PTI supporters who claim to be more 'educated' would at least question their leadership. However, that did not happen. These so-called educated supporters jumped to the blind defence of Imran and insulted Gulalai in a way that reeked of misogyny. As I write these sentences, the tirade against Gulalai is continuing and sadly, some PTI women are also a part of it.
سب سے بڑی غلطی تو خانصاحب نے خود کی کہ بازار حسن کی مخلوق کو ااسمبلی تک پہنچایا ۔ اب وہ جو بک رہی ھے ہی اسکی اصلیت ھے۔ آئندہ اسی احتیاط کریں

— sardar zafar maken (@x16806073) August 2, 2017
#Ayeshagullalai is nothing but a sick sold out drama queen who was denied a NA1 ticket . she sold herself to Pmln . what a disgrace she is!

— Dr Alishba khan (@DrAlishbaKhan) August 2, 2017
The way #ayeshagullalai is blaming @ImranKhanPTI and #PTI clearly shows that she has been plotted by some one #PTIEmpowersWomen

— Pakistani (@sirf_Pakistani) August 1, 2017
I don't know what's the agenda behind #Ayeshagullalai accusations but the dirty game has been started to accuse each others' supporters.Alas

— Ayesha Ajmal (@DrAyeshaAjmal) August 2, 2017
The worst effect of this has been the 'official' response from PTI's Fawad Chaudhry. In his response, Chaudhry called Gulalai an opportunist and a sell-out. Furthermore, he went as far as claiming that she was being used by PML-N. But he did not stop there either, as he went on to make derogatory remarks about Gulalai's sister, Maria Wazir Toorpakai, the famous squash player. He accused Wazir of "maligning" Pakhtun culture by wearing shorts.
Predictably, his crude and vulgar response was labelled brave by PTI supporters. Here, I would like to make several points. First of all, PTI supporters should remember that Chaudhry has also made some 'interesting' remarks about Imran and his followers in the past. So if these supporters think that his current remarks are true and reek of bravery, then frankly, they should also consider his earlier remarks to be true.
Second, this entire episode speaks volumes about the internal culture of PTI and the attitude of its supporters. The party and its support base have elevated Imran to a cult-like status and anyone who is critical of him is punished and side-lined. Those who dare to leave the party and criticise PTI's demi god are abused and trolled. It does not matter whether it is a woman or not, they are ready to show complete disrespect.
Sharmeen Obaid Chinoy, the Oscar winning documentary maker, also pointed out this obvious reality in her tweet:
Third, Chaudhry should remember that he himself is an opportunist and a turncoat who left the Pakistan Peoples Party (PPP) when the party's fortunes dwindled in Punjab. What's worse is that he changed his loyalty after calling Imran names. Before joining PPP in 2012, he had also served as General Pervez Musharraf's spokesman. Coming from his mouth, allegations of Gulalai being an opportunist and a sell-out reek of hypocrisy.
Fourth, he should also remember that Maria Wazir is Pakistan's pride and an immensely brave woman. In my article a few weeks ago, I highlighted how she has defied gender stereotypes and pursued her dreams. Wearing shorts does not demean her stature and accomplishments.
Despite his education, Chaudhry has indulged in a typical male chauvinistic behaviour. Further, by dragging Gulalai's sister into this matter, he has mimicked the behaviour of the PML-N MNA Javed Latif. Ironically at that time, he had vehemently condemned Latif yet now he ends up hypocritically emulating him.
Fifth, this episode highlights one of our society's deep-rooted problems. Whenever a woman musters up the courage to speak up against harassment, instead of sympathy and encouragement, she faces ridicule. This problem of blaming the victim becomes more acute when the alleged harasser is a famous person. Allegations like 'she is just doing this to garner fame' become a common tactic to disregard the victim. At times, women also partake in this victim-blaming exercise which shows that misogyny is deeply rooted and has been internalised.
Many PTI supporters have pointed that it is unfair to simply 'believe' an allegation. To be fair, it is perhaps not right to simply believe the accuser. Every accused person should be given a chance to defend himself. However, by the same logic, it is also unfair to simply doubt the accuser and call Gulalai names. I think Mehreen Zahra Malik has put it eloquently in her tweet: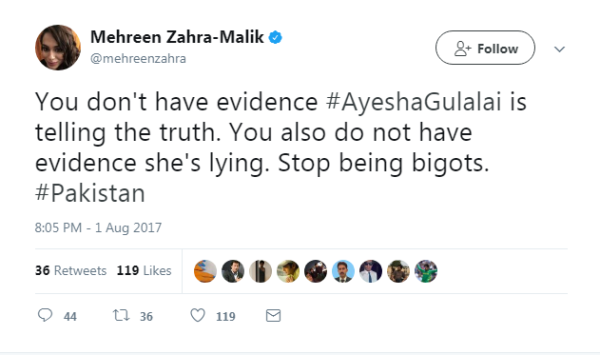 Perhaps we should all listen to this advice.