Mubarakan: Sit back, let go and enjoy the ride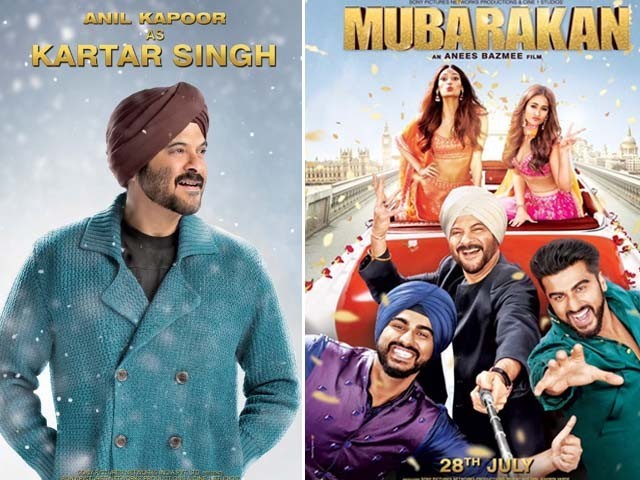 Anees Bazmee's latest film, Mubarakan recently hit the theatres. Knowing that it was directed by the king of comedy, who also directed movies like No Entry, Welcome, Ready, Singh is King and more, I honestly expected a mind-numbing comedy.
These movies are high in entertainment value and that's exactly what I expected. As I walked into the movie theatre, I was all set to laugh. And boy did Anees pull through this time.
The cast
Who doesn't love a good Anil Kapoor movie? We have seen the Anees and Anil duo before, thus this film was already high on the expectations ladder, given the humour we witnessed in the last few movies.
Mubarakan also stars Arjun Kapoor as a set of twins (Charan and Karan) – one in Punjab and one in London – and the double trouble definitely adds an element of excitement to the storyline.
Anil plays the twins' youngest uncle, Kartar Singh. Furthermore, we have Sanjay Kapoor, Ileana D'Cruz, Neha Sharma, Athiya Shetty, Pavan Malhotra, Ratna Pathak and Rahul Dev featuring in the film.
The twins' parents pass away and leave them under the care of Kartar uncle. Since he can't bear the responsibility of the twins, he sends one twin to his sister in London and the other to his brother in Punjab. Two twins in two different cities equals to twice the drama.
The plot
The movie is packed with twists and turns which keeps the audience engaged throughout. The storyline progresses with Charan getting engaged to Karan's girlfriend (Ileana D'Cruz).
Since Karan is obviously enraged by this, he decides to invite Charan's girlfriend (Neha Sharma) to the engagement party. Moreover, another character is thrown into this imbroglio, Athiya, who is being pressured by her father to marry Karan and henceforth, drama ensues.
Yes, I know, it sounds messy, but the fun lies in that.
The acting
Performance wise, Anil is the highlight of the movie. He managed to hit every mark. On the other hand, Arjun's performance was commendable as well. Playing a double role is not an easy task, yet he pulled off both roles brilliantly. Mubarakan works in his favour since it makes us forget about his past two mediocre films.
Coming to the female leads, Ileana is both smart and sassy and she dazzles in all the songs. She proves her mettle right from the onset of the movie. Neha, on the other hand, has limited screen presence but looks absolutely lovely.
Moreover, it wasn't just the two lead actresses who managed to prove their acting skills; Athiya also did justice to her character. Mubarakan is only her second film and one can observe how her acting is improving overtime.
Pavan is already a well-known actor in the industry and he brought a level of jocularity to the movie, along with some emotional elements. Even Ratna deserves appreciation for her character. She displays a typical desi-Punjabi attitude and it felt refreshing to watch such an apt portrayal.
Dialogues and screenplay
Throughout the film, the power of dialogue remains constant. Some are comical, some are emotional, while others manage to linger on in your mind. Anees knows how to project an entertaining film, therefore the screenplay was remarkable.
Essentially, the film has all the ingredients needed to make it great – a good script, the perfect amount of humour, a touch of glamour and a hint of drama.
Mubarakan doesn't require much thought; all it requires is for you to sit back, let go and enjoy the ride. It is masala entertainment that defies logic and sense and its main purpose is to make the audience laugh.
So if you're an Anees fan, I suggest you go watch Mubarakan because you will love it.
All photos: IMDb