Comparing a Muslim name to Hitler is not only factually wrong but also boorish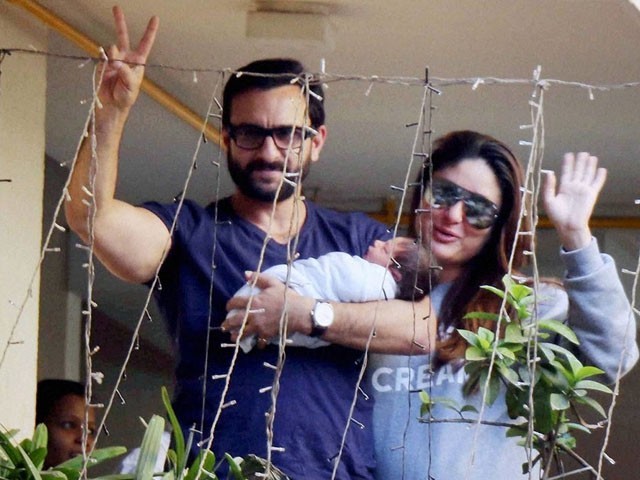 Gone are the days when naming a baby was a simple task. However, the millennial city-bred parents are different. Their babies names are no longer about sounding meaningful, cute or easy to pronounce. In fact, the more difficult the name is to remember, the better. This is the reason why we have names ranging from Viviaan, Aarav, Riyan to Niarra, instead of Amit, Sumit, Rohit and/or Neha.
Talking about the celebrity class, well, they are a step ahead of thinking outside the box. This is inherently why they all have babies with such unique names – no cattle class would even dare to come up with the names they think of. Shah Rukh Khan and Gauri Khan's 'AbRam', Shahid Kapoor and Mira Kapoor's 'Misha', Genelia D'Souza and Riteish Deshmukh's 'Rahyl' and Saif Ali Khan and Kareena Kapoor Khan's 'Taimur' are few such examples.
Two hours after he was born, 'Taimur Ali Khan Pataudi' was trending on Twitter and even after six months, his name still haunts many of us Indians, so much that a woman wrote an open letter to his mother for choosing the name. Yes, because, when it comes to our sentiments, Shakespeare's, 'What's in a name…' stands obsolete.
Ouch.. Kareena named baby #TaimurAliKhan?
Taimur murdered 1,00,000 in Dilli in 1398.
The biggest SINGLE day mass murder in India's history!

— Kiran Kumar S (@KiranKS) December 20, 2016
Saif Ali khan and Kareena Kapoor khan naming their child Taimur is equivalent to European naming their children Hitler..LOL.. #TaimurAliKhan

— Syed Tariq Pirzada (@tariq_pirzada) December 20, 2016
Time and again, people have been questioning the audacity of the star couple for naming their child after the Turko-Mongol conqueror Timur. Timur was known for his acerbic personality and is infamously remembered in India for the Delhi, Punjab and Loni massacre that killed numerous Indians, out of which most were non-Muslims.
In an interview after the controversy had spiked, Kapoor cleared the air by giving a disclaimer that the name has no resemblance to any person, living or dead. However, she is still shamed regularly. The reason? Well, in a candid conversation with Neha Dhupia on her chat show, No Filter Neha, Kareena had mentioned,
"Saif is a historian and would want a traditional old school name."
And we all know that with the rising access to social media, people never forgive and they never forget.
The open letter in question tells Kapoor that "the name Taimur is to India, what Hitler is to Israel" – a country with a majority Jewish population. Is this analogy correct? Well, sentiment-wise perhaps, but not factually. Because while Hitler massacred only Jews, the genocidal Timur not only slaughtered lakhs of Hindus in the north west of India, but he also massacred countless Muslims in Turkey and Iran.
While the name stings the Hindus in India as they feel a sense of betrayal, Muslims too don't seem to be impressed by Khan. The reason being, this harsh war-like name is not only contrary to the Prophetic traditions of Islam but also a betrayal of the Prophet Muhammad's (PBUH) guidance to good Muslim names.
So the star couple is in a big soup, either way. According to fundamentalists, neither is Kapoor a responsible Hindu and/or Indian, nor is Khan a responsible Muslim and/or Indian. As if the pride of their religion along with nationalism stands solely on their shoulders, similar to the way ghar ki izzat (family's reputation) apparently rests on the way a girl chooses to dress.
We wonder if both Khan and Kapoor dug up as much history and religion while naming their baby as strangers are doing for them. Now that the name gained widespread criticism, Khan has cleared out the air that his son goes by the name Taimur (meaning iron in Turkish) and not Timur, the Timurid conqueror.
Moreover, if new age people reading books and connecting dots have a problem with Taimur, they would even have issues with other names including Shah Rukh. Oh yes, Timur's son and heir was Shah Rukh. Oops.
But contrary to all these controversies and theories, you'll realise that all Saifeena did was jump into the herd of the millennial celeb parents to 'give their child a different name'. After all, the latest fad and obsession of giving strange and unique names to one's munchkin is a worldwide epidemic now.
With unique celebrity baby names of B-Town couples already in place such as AbRam, Rahyl, Hrehaan, Viaan, Aaradhya, Nysa, Nitara, Hridhaan, Arin, Iqra, Kian, Myra, Haroon and more, how could Saifeena be left out? Besides, Kapoor has been vocal how much she loves the sound of the name!
These days, no parents want boring names for their kids – apologies, Jyotis and Amits, Farheens and Imraans, Patricks and Patricias!
In this day and age where anybody and everybody gets offended by just about anything, it seems that celebrity couples (especially inter-religious ones) will have to pass the litmus test of the 'log kya kahangay' (what will people say) syndrome before they name their own 'bundle of joy'!