Is PCB to be blamed for our abysmal performance in the Women's World Cup?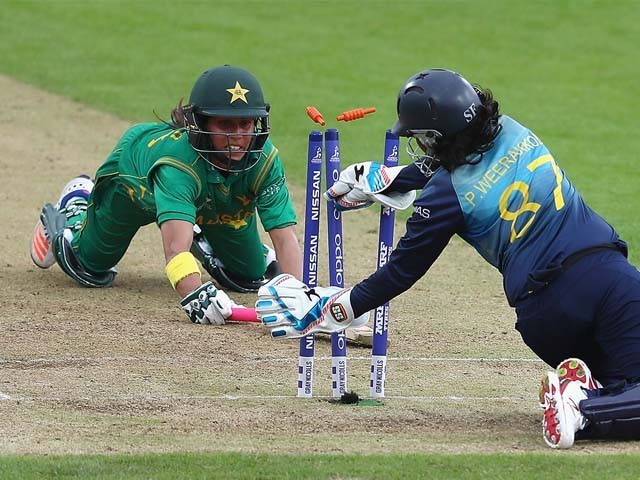 I will admit I am not a big fan of women's cricket. But the horror show by our girls on the same turf where their male counterparts recently made history, was a fascinatingly wretched chapter in the epic saga that is Pakistani cricket.
While ending the ICC Women's World Cup 2017 without a single victory (with seven losses on the trot) might be shameful in anyone's book, but being dismissed for 64 against our rivals India was a sin too huge to allow the tournament to fade away from our collective minds in a hurry.
The rest of the report card is as bad, if not worse. The women in green started off the proceedings with a three-wicket loss against South Africa with further defeats coming in subsequent matches against England, India, Australia, New Zealand and West Indies respectively. They had a chance to salvage some pride against the equally woeful Sri Lankans in their last match, but even that proved to be another low when they were sent packing, courtesy of a 15-run defeat.
There were a number of instances where the Pakistani team managed to rise to the occasion by posting its highest ever World Cup score, with 206 against both Sri Lanka and West Indies, but these occurrences were so few and far between that it would be akin to damning the green caps with faint praise.
In terms of individual performances, skipper Sana Mir scored 153 runs throughout the tournament, while opening batter Nahida Khan was the highest run-scorer with 173. As far as the bowling department was concerned, it was a shared effort with Asmavia Iqbal topping the list with eight wickets and Nashra Sandhu, Sadia Yousaf and Diana Baig all grabbing seven each.
For comparison purposes, England's Tamsin Tilley Beaumont is leading the scoring charts with 387 in eight innings while South Africa's Dane van Niekerk is on top of the bowling table with 15 wickets in seven matches.
It wasn't any one department that led to the downfall of the women in green, but abject performances all across the pitch combined together which paved way for a dismal exit. If we consider bowling, the Pakistan team failed to completely dismiss any of their opponents while no Pakistani batswoman managed to score a century in any of the seven innings with only four 50s scored throughout the event.
The less said about the ground fielding, the better. There were way too many dropped catches which were an unwanted feature in the ground.
Various local analysts were predicting these shambolic performances well in advance. They'd pointed out the fact that two months prior to the start of the tournament, PCB abruptly removed a supposedly competent coach, Kabir Khan, and replaced him with Sabih Azhar, who in comparison had a less stellar resume.
Another reason that might have affected the team's morale early on in the event was when Bismah Maroof, Pakistan's second most experienced player in ODIs after Sana Mir, was ruled out of the tournament due to a hand injury in a match against England.
Now while all of this might sound really disconcerting, what proved to be even more embarrassing was the humiliating treatment meted out to the team on their arrival home from the tournament. One of the members of our women's cricket team, Nashra Sandhu, was seen riding pillion with two of her family members on a motorcycle.
Now it might be a little understandable that lesser funds are allotted towards women's cricket as opposed to their male counterparts, but this kind of treatment is just simply deplorable.
Pakistani national team cricketer Nashra Sandhu left Lahore airport on a motorcycle — the PCB apparently made no arrangements for the team pic.twitter.com/Hz9fMAEfg8

— omar r quraishi (@omar_quraishi) July 17, 2017
The Pakistan Cricket Board (PCB), on the other hand, refuted these claims in an official statement,
"As per the usual practice, all logistical arrangements were made for the national women's team on their arrival from England."
The statement further added,
"The arrangements included a bus that was ready to take the players to the National Cricket Academy and from there to their homes if needed. Some of the players opted to return home through their own transport with their families after seeking due permission from the team manager."
Even if we do believe PCB's version of events, this whole episode still reeks of extreme incompetence on our board's part.
While we didn't expect a lot from our women's cricket team, it's safe to say that we weren't anticipating a complete rout either, with the team failing to register a single win. According to various media reports, Mir is all set to be made a scapegoat by being stripped of her captaincy and even her spot on the team.
But would that be enough to overhaul the terrible condition of women's cricket in the country? I highly doubt it.