See Qandeel, all you had to do was die in order for us to stop hating you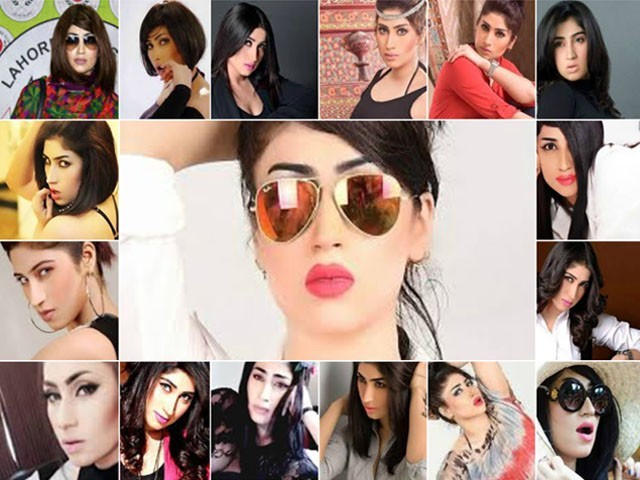 Kohl-ridden eyes, polished nails, puckered up lips covered in the defying shade of rebellion; she rapidly rose to fame from the platform of social media.
Writhing to the beat of self-promotion, dressed up in the daring fabric of 'baring it all', Qandeel Baloch launched herself as an actress, singer and social media starlet (the puritans rhymed it with 'harlot').
Let us establish one thing before the comment section fills up with accusatory fingers and self-righteous sermons. This is an opinion piece, not a verdict of virtue and sin. All of us first heard about Qandeel through one friend or another, mostly urging us to hate-watch her attempts at gaining social media popularity. We laughed at her, ridiculed her, and watched her achieve new levels of outrageously bold fame, and then one day, the curtain lifted from her true identity.
We found out her name was Fauzia Azeem and she came from an impoverished background. We peeled the layers of makeup and a forced accent to get to the girl that Qandeel really was. However, while there were probably still some people typing condemnations on her Facebook page, we heard of her murder. With it came the good old tradition of cruelty that we as a nation quite deftly practice. She died so she probably deserves support now.
See Qandeel, all you had to do was die in order for us to stop hating you. All you had to do was die.
After this, a swarm of supportive, suggestive, liberal and humane narratives emerged which got carried away into calling her a 'revolution' of sorts. I hate to burst this bubble, but Qandeel was not a revolutionist. Neither was she an activist aiming at unveiling the promiscuity and hypocrisy of men in our society.
Her story is simple. She was a product of our society and like each and every one of us, she was trying to make it on her own. Like each and every one of us, she was trying to make an easy buck. Like each and every one of us, she only wanted to support her family, to pull them out of misery and put a roof over their heads.
The only difference between her and all of us – she was desperate enough to choose this path. Because she understood the reality of this society, she discovered if she toyed with the flimsy line between propriety and depravity, she will get the attention she needed. It is true that she could have adopted any alternate means of earning a livelihood, but like I said before, this is not a verdict about what she should have done or not. She chose what she thought would be the quickest way to get ahead and that need coupled with the urge of being desirable was what resulted in Qandeel.
There has also been a lot of debate around the 'honour killing' aspect surrounding her death. The local and international newspapers which called it yet another 'honour killing' in Pakistan also need to revisit their stance on it. It was vile act of savagery committed by a man without manhood and a brother without a source of employment, who was resentful of his sister's money.
Not her fame or her means of achieving it, but her money.
If it were pure righteousness or honour that throbbed in his chest then he could have put a stop to it as soon as her Facebook page went viral. It was a hatred he nurtured carefully and deeply within his heart. The nerve that he needed to pull it off was readily provided by his peers and family members who fanned the fire in his heart and he murdered her ruthlessly.
What should be noted here is that these people who were friends or extended family only offered their support in endorsing and furthering a murder but provided no support to their poor 'friend' in need. This is the height of their pseudo-righteousness. But then again, we are all like that, aren't we?
Now we hear there is a movie about her. Baaghi is the name of the feature film in which Qandeel shall be immortalised by the very talented Saba Qamar. A lot can be said about how the movie shall have an impact or how it will create awareness and so on and so forth. But this biopic is being made simply because it shall sell. It has all the right ingredients for an audience – an attractive female lead, a popular subject that people know a lot about, and then a depressing tale of an unfortunate girl whose choices and circumstances got her murdered in the end.
I am not against the movie being made. It will prod our slumbering consciences but even so, what will happen? Made for profit and watched for entertainment will be the fate of Baaghi.
As far as the role of social media is concerned, it is a dangerous catalyst in such situations. Fingers were pointed, opinions were shaped. What started as a Facebook page has ended up in a gory tale of murder. A year has gone by since her unfortunate death. Her brother, having been caught and indicted remains behind bars. Her parents mourn her loss. But how much has actually changed after her?
Nothing.
But then this just proves the point even further, she did not vow to change society. It is alright to let her story remain as it is, without falsely deflating it into a tale of challenging stereotypes; let it be normal. She was a girl who defied social norms of appropriate behaviour to get ahead in life and to reach a place of fame and popularity. What needs to be taken away from this unfortunate incident is a little bit of self-reflection and also a degree of wariness when it comes to the point of giving too much power to social media platforms. She became a star overnight, was hated and condemned overnight and then was murdered overnight. All because of the uncontrollable outreach that social media provides.
There needs to be some semblance of a boundary or else this will keep creating and murdering more Qandeels and we shall keep posting about it there. But alas! All in vain.