Is 'Punjab Nahi Jaungi' a little too similar to B-town's 'Namaste London'?
Okay, I give up! A lot of people do not agree with my hyper-critical approach when it comes to reviewing movies. I've been called an eternal cynic, a tag which is probably the most publishable amongst various other labels I have had the pleasure of hearing.
Bearing that in mind, I have decided to radically alter my ways with this piece and tried to analyse a cinematic work purely based on how the majority would tend to receive it. The dubious honour for this novel experiment goes out to the first full length trailer of the upcoming Pakistani romantic comedy, Punjab Nahi Jaungi.
What makes Punjab Nahi Jaungi a fascinating test case is the fact that it is directed by the same team responsible for the 2015 blockbuster Jawani Phir Nahi Ani, the highest grossing Pakistani film ever. The screenplay is penned by the famous playwright Khalilur Rehman Qamar, while Nadeem Beyg is back in the hot seat as the director, and Humayun Saeed returns as the male lead once again.
The two and a half minute trailer kicks off with Humayun Saeed, a feudal from Faislabad, lamenting over Karachi girls. Little does he know that karma always finds a way to get back to you, since he ends up falling for someone (Mehwish Hayat) from the same city that he so likes to bash.
The aforementioned sounds like the movie must have enough substance to fuel a feature length narrative on its own, right? However, the filmmakers have an additional cinematic trump card in the form of a love quadrangle to supplement the drama.
Urwa Hussain, or Hocane as she pretentiously likes to be addressed as, joins the cast as the third member of this clichéd trope. Azfar Rehman fills in as the fourth wheel, owing to him being Mehwish Hayat's jilted lover.
There should be no prizes for guessing who gets who at the end of the movie. I feel it is quite predictable, girl meets boy, boy meets girl and a love quadruple ensues. The only conflict that may arise to make this movie stand out could be the fact that Mehwish Hayat refuses to go to Punjab, as suggested in the title.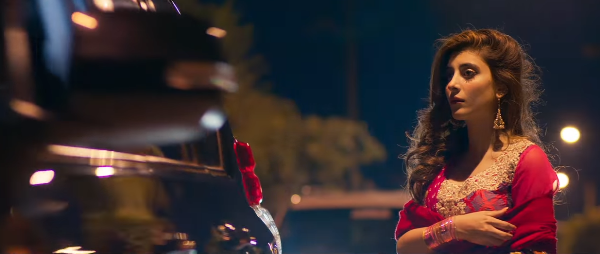 To be honest, the trailer reminded me of the Akshay Kumar and Katrina Kaif starrer Namastey London. But is that really a problem? Every other Bollywood flick is a romantic melodrama with nauseatingly similar lines. Yet the viewers in our part of the world are ready to lap up this repetitive and unimaginative mediocrity as a viable source of entertainment.
Oops, my bad! I promised I won't be overly-critical.
Long story cut short, the movie looks like one of your above average and run-of-the-mill B-town flicks. It isn't really a bad thing considering how well these movies are received by the desi audience. The soundtrack is also pretty much at par with Bollywood, with special mentions going out to the production design team and the wardrobe in particular.
All in all, Punjab Nahi Jaungi, with its popular ensemble cast including Ahmed Ali Butt, Sohail Ahmed, Behroze Sabzwari, Saba Hamid and Waseem Abbas, will not be a major downgrade from your typical Shah Rukh Khan or Salman Khan fares from across the border.
Punjab Nahi Jaungi  is scheduled to hit theaters this Eidul Azha.
All photos: Screenshots