After English Vinglish, Sridevi blows us away in the work of art that is Mom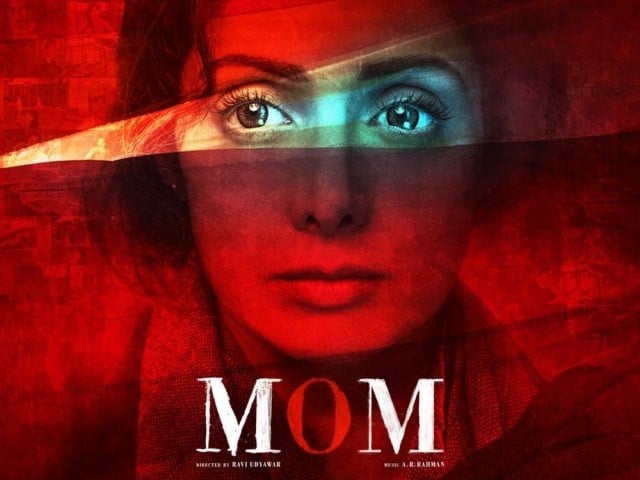 Sridevi's Mom has been one of the most anticipated films of 2017. It was discussed amongst movie goers for multiple reasons, some which included Nawazuddin Siddiqui's look and dialect, Akshaye Khanna's (sort of) comeback, and the involvement of two Pakistani actors, Adnan Siddiqui and Sajal Ali.
After the hit movie English Vinglish, let's find out if Sridevi was able to recreate the same magic on the big screen.
The storyline follows Devki (Sridevi), who is a biology teacher at a school. One of her students includes Arya (Sajal Aly), who also happens to be Devki's stepdaughter. It is evident they don't share a strong bond, since Arya maintains a cold attitude towards her stepmother.
As the plot progresses, we see Arya seeking permission from her father, Anand (Adnan), to go to a Valentine's Day party at a farmhouse with her friends. Her father is initially reluctant, but he eventually allows her to go.
Regrettably, things take an unfortunate turn at the party. Mohit (Abhimanyu Shekhar Singh), a notorious individual, arrives at the party along with his elder cousin and accomplice. He begins making untoward advances towards Arya, who brushes him off.
Enraged by her rejection, the three males gang rape her and leave her to die in a sewer. Arya does end up surviving, but her spirit seems entirely crushed. This incident is eerily reminiscent of the 2012 Delhi rape case.
The gang rape is what sets the plot in motion. What we see next is the revenge saga of an aggrieved mother. After the failure of law agencies and judicial departments, Devki decides to take matters into her own hands.
Sridevi is the epitome of talent in the role of Devki, a fact backed by her brilliant performance. It is safe to say that this is by far one of the finest and most calculated performances of Sridevi's career.
Those who thought she was brilliant in English Vinglish will surely be blown away by her performance in Mom. She managed to give me goosebumps during numerous scenes, particularly the Intensive Care Unit (ICU) scene, as well as her visit to Mohit's cousin at the hospital.
However, it was not just Sridevi who delivered a mind-blowing performance, Nawazuddin was no less. He is undoubtedly one of the finest actors in Bollywood to date. His appearance and dialect complemented his character Dayashankar Kapoor (alias DK) impeccably and he performed his role with the utmost dedication and command. His entry scene is brilliantly written, impeccably performed and a treat to watch.
Moving on to other actors, Akshaye Khanna was effective in his role and delivered a mature performance. Adnan did justice to his role as well; his helplessness in the courtroom was excellent. Due to his ability to impart emotions, he leaves the audience in tears when he visits the hospital.
As for Sajal Aly, who made her Bollywood debut with Mom, she acted remarkably. She handles Arya's complicated character with sheer ease and clarity. She definitely has talent and it won't be surprising if she gets numerous movie offers after her acting in Mom.
The actors playing the rapists did a great job as well. Singh managed to prove his mettle since his character representation was on point. His performance enabled the audience to love his acting yet detest his character, which proves just how great an actor he is.
Furthermore, the script of Mom was wonderful and the dialogues were effective and left a lasting impact on the audience. The gnawing issue of gang rape was presented in a very realistic way, which should be applauded since such issues are usually sidelined. Mom is a work of art in its own way.
However, various critics said the film's storyline is similar to Maatr, but Mom's upscale production quells this comparison.
I would personally classify Mom as a must watch. Its power packed dialogues and punch lines amalgamate in the form of effective performances by exceptional actors from both sides of the border. Rush to your nearest cinema and watch Mom, it'll prove to be worth your time and money.