Wearing jeans or a sleeveless top is "ruining the culture", but a sari showing the midriff is not, India?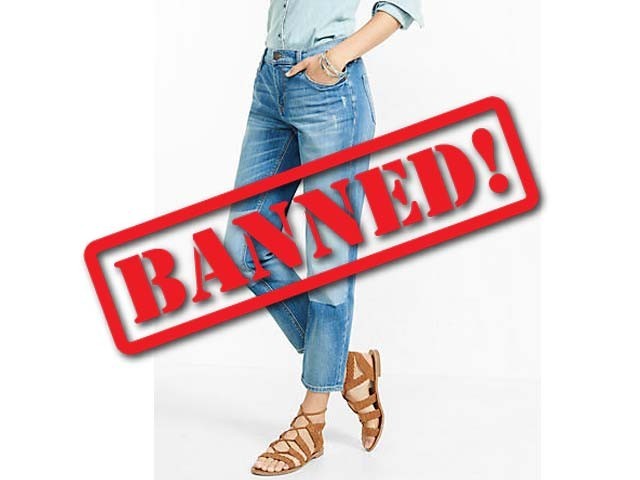 There must be something very special about the evil garment called 'women jeans', otherwise why would even the most sagacious men rile up against it? They are certainly not just a pair of trousers in denim fabric, else why would it worry and distract men so much?
Perhaps this is the reason why the village panchayat in Rajasthan barred women from wearing jeans along with attractive clothing such as leggings, short skirts and sleeveless tops. Nevertheless, women wearing fully covered jeans with a sleeveless top ruin the culture, but a sari that shows off midriff doesn't.
Besides, it is the tight jeans and leggings that entices men aggravates their libido and also transforms them into animals, turning them into savages. But not just in India, this happens in schools in the USA and the UK as well.
So, yes, it is the females who dress in this fashionable attire that provoke the males into harassing them, who at times even insert rods inside their private parts and butcher their bodies just for fun. Therefore, it is quite natural that men protect themselves by banning women from wearing anything that might provoke their raging hormones which they cannot control.
Look what happened in Malaysia, where a spiritual leader blamed women for causing enough emotional abuse to men. According to him, men in Malaysia cannot sleep and pray properly because their thoughts are distracted by a growing number of women who wear sexy clothes in public.
Back home, Adarsh Women's College, Haryana, Muslim Educational Society, Kozhikode, Sri Sairam College of Engineering, Chennai and Thiruvananthapuram Government Medical College, Kerala have banned leggings, jeggings and jeans. No wonder since time immemorial, a certain section of men have believed that a perfect woman should rather dress in a shroud in order to live a happy and respectful life.
Had PV Sindhu entered the badminton finals in a Kanjivaram sari and not a tiny skirt, she would have made our culture proud. Who knows, she would have even won the gold medal. Had Dipa Karmakar attempted the Vault of Death (Produnova) vault in a shalwar kameez and not in the unsanskari (unethical) one piece, she would have comfortably qualified for a bronze.
Is Fatima Sana Shaikh, even aware that by posting that bikini picture during Ramazan she has literally lost the chance of getting those lucrative matrimonial proposals? Now which decent man will marry her?
Sadly, the incident of Shaikh is a classic example that irrespective of our achievements, our choice of clothing still continues to describe us as an individual. No matter what we do or achieve us women are reduced to a mere object that has to carry the burden of values, culture and every lousy expectation of our society and culture.
We cannot dress for ourselves, but for every custodian of morality and potential perpetrators (apologies, victims of our killer dresses), whom we don't even know to avoid unwanted attention.
Is the prestige of a family, society, culture and religion dependent upon us women? Why is this uncalled weight of sanskar (ethics) and patriarchal values only on our shoulders?
Our clothes, habits, and body are the cause of rape and molestation, but what about those swaggering men who roam bare chested flaunting their bodies and wearing those loose boxers and airy lungis so freely? After all, those fluttering lungis horrify several of us women and children as well. Besides, what about the men who are seen substituting swimming trunk with underwear?
It is quite unfortunate that when the country is busy making avenues to protect its women, the guardians of culture and thekedaars (custodians) of moral policing are dictating women what to wear.
If these moral warriors and stooges of patriarchy really want to prevent molestation and rape, they should rather pass diktat that controls men. Yes, it is time the misogynists preach men not to rape, instead of dictating women what to dress.