Please let Pakistan's national anthem be as it is – powerful and poignant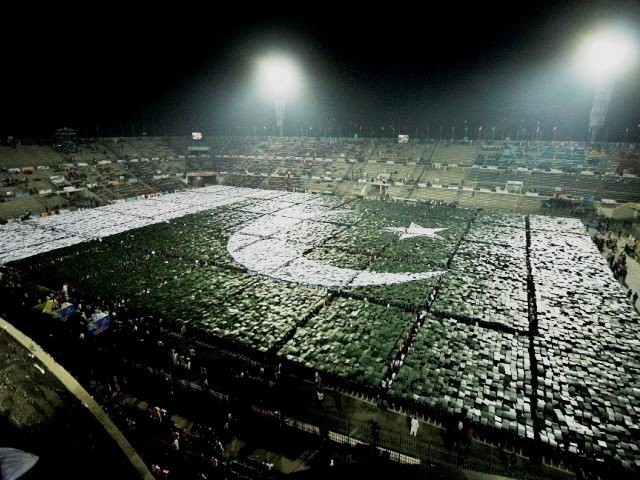 In 2011, while attending the opening ceremony of a Model United Nations (MUN) conference in Karachi, I came to an odd yet poignant moment. Before the ceremony officially began, it was announced that the national anthem was to be played and hence everyone should arise from our seats to show respect. Everyone did so accordingly.
However, when the anthem was played, it was nothing like the powerful melody we have all been brought up listening to. Firstly, it was a guitar version of the anthem, without the robust drums which made the tune so colourful and lively. Secondly, it did not have lyrics. Both these things made the tune bland and unworthy of respect. I felt uncomfortable singing to this tune because it had no reminiscence of the past or the nationalism we have come to associate with it.
And I wasn't alone in feeling this way.
When the first guest speaker was called on stage (a retired judge) after the tune ended, she mentioned her dissatisfaction to the management team of the conference and asked them to play the original national anthem, with the drums and the lyrics. And the hall applauded in unison upon this request.
The reason I mention this instance is because some aspects of our history (such as the national anthem) are eternal and carry on from generation to generation. Changing or altering them not only proves unpopular amongst the masses but also becomes counterproductive. This is because these alterations would mean that different generations have different versions of the anthem in mind, leading to discord and disunity.
In a recent news report, it was revealed that the Minister of State for Information, Broadcasting and National Heritage, Maryam Aurangzeb, has asked the Pakistan National Council of Arts (PNCA) to do the exact same thing – alter the national anthem and introduce a new tune for the August 14th parade. What Aurangzeb fails to understand is that this step will backfire; Pakistanis have an emotional connection to the anthem and they will not accept any alterations to it whatsoever.
Secondly, part of her job is to maintain the heritage in Pakistan (or what is left of it, anyway). How is changing the national anthem going to help her do that?
This step is unnecessary and futile. Pakistan's national anthem is already considered one of the best melodies around the world and Pakistanis from all over the globe are used to only one anthem tune (the original one, composed by Ahmed Ghulamali Chagla). Any other version will simply be refuted.
Most countries still play the same national anthem which was written for them decades (sometimes centuries) ago. If any changes are made, they are solely based on the lyrics, to denote any change in geographical or political structures of the country. Pakistan has undergone no such changes in recent times.
There are many issues which Ms Aurangzeb can cater to, such as the depleting national monuments and heritages which are in constant support from the government to maintain their originality, or the Pandora's Box which is the broadcast media's on-going battle against censorship and safety of journalists. Perhaps she should start focusing on these issues, instead of creating newer ones for herself.
Please let the national anthem be as it is. There is already enough confusion in this country when it comes to national pride and unity.