Get Lit vs Donald Trump: When art becomes resistance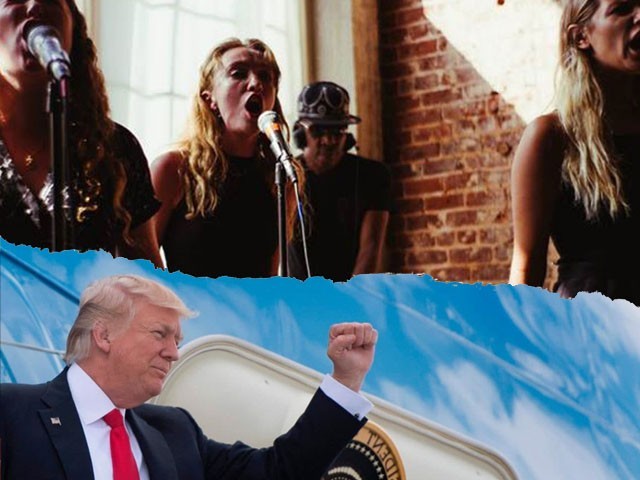 "Where does the truth begin?"  he asked, his tone urgent but composed.
He went on, demanding honesty, transparency, or at least sanity, from the man of the hour: Donald Trump.
The individual in question is a young poet by the name of Gordon Ip. He is one of the many members of Get Lit, a social justice poetry troupe on the rise. For the past six months, they have tirelessly been creating and performing slam poetry, using today's divisive and highly charged political climate as inspiration for their work.
We live in the Trump Era, a time where news comes in at a lightning pace. A time in which events of global significance are overshadowed by something as simple as a controversial tweet. A time where it is acceptable for a racist, xenophobic, misogynistic individual – who verbally attacks women and minorities – to take control of the most powerful presidency in the world.
At a time like this, when the personal becomes political, it is to be expected that something as inherently personal as art takes on a form that it has taken many times before – resistance.
Get Lit's poetry aims to do exactly that. Each poem is brimming with individuality, a seamless blend of the personal and the political. Each verse is a form of resistance, delivered with poise and determination.
One piece that particularly stands out was performed by Samantha Healy, 18, right after the news of a deadly chemical attack in Syria had come in – most of the dead were children. Her words were delivered with a sense of despair and impatience:
"We witnessed death and deception, watching humanity crumble through iPhone screens and articles."
However, the Get Lit poets are not the first to use the power of human creativity to dissent.
Protest art comes in all shapes and forms – be it posters seen at marches and rallies, or expensive pieces in art galleries. The purpose of this art is to awaken the mind. It depicts the struggle that hits closest to home for us – our identity as a people. In a deeply confusing and divisive time such as the Trump Era, it asks the tough questions – will we stand up for those who cannot stand up for themselves? Or will we accept the constant dehumanisation of minorities?
A popular example of protest art was the "We the People" series by street artist Shepard Fairey. It featured images such as the following:
The collection celebrated the diversity of America at a time when Trump was encouraging a "Muslim ban" to combat terrorism. Minorities, including Muslims, all over the globe had expressed worry and fear of being excluded from the "new" America, and Trump's spiteful rhetoric had led to a monumental increase in hate crimes. These images played a much-needed role in humanising minorities living in the West; they are a visualisation of the principles of equality and justice which Trump supporters so keenly reject. The images were wildly popular on social media platforms, being shared over thousands of times.
However, one of the most revered protest artists of our time is Banksy; his work is a satirical take on pressing political issues. He recently revealed one of his largest installations – a hotel. The building is situated just a few feet from an Israeli security barrier in the occupied West Bank, and each room contains art protesting the Israeli occupation of Gaza which began in 1967. His most moving works include a sculpture of a woman enveloped in clouds of tear gas. It serves as a wake-up call, a reminder for those who have shown a lack of criticism and concern regarding the Israeli occupation.
Protest art is a creative expression of our freedom of speech. It is a platform with which an artist has the ability to amplify the voices of those who have been silenced for much too long. In a world of fake news and alternative facts, of explosive soundbites and sensationalistic tweets, artists must defend the truth with beauty and wit. Art is a unique tool, and must be used to spark meaningful dialogue.