Dear Paresh Rawal, "you can change friends, but not neighbours". Love, Pakistan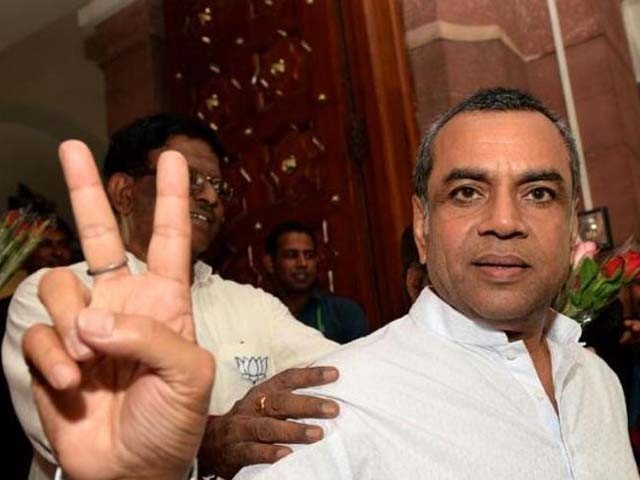 Dear Paresh Rawal,
Writing this letter to you was difficult since I did not know where to begin, and I feel that the rapidly changing dynamics of India-Pakistan relations and this letter are quite similar in this regard.
However, let us focus on the reason why I have written this letter before we get on to the seesaw that our countries have been riding over the last seven decades.
Hera Pheri was your first movie I watched in my childhood, and believe me when I say it still triggers fits of laughter every single time I watch it. Babu bhaiya has thousands of fans in your neighbourhood too, just like Bollywood movies and fraternities, which have a very special place in the hearts of Pakistanis.
From our weddings and birthday parties to any other gleeful occasion, Bollywood songs are an integral part. And there is no harm in dancing to the beat of songs composed in India, nor is it a sign of any kind of subservience. Art is a common heritage, which is what we have observed over the years. Bollywood masterpieces like Omkara and Haider are clear vindications of this stance.
And who can forget Andaz Apna Apna's Teja? The film has a cult following in Pakistan too, and the dialogues of Teja's character are quoted on relevant occasions to date. Nayak, Hungama and Aankhen are also remembered by your name here. As mentioned earlier, art is a shared heritage, and it might have the stamp of one country or another on it, but the extent of its outreach and dissemination cannot be circumvented. You have got your fans on this side of the border, and there is no denying the fact.
Nevertheless, it is not only art in the form of literature, movies, dramas, songs, paintings, sculptures and more that touches and effects people. The performers are equally eyed as a priceless asset by the followers. Your political affiliation and niche in the Lok Sabha are not unknown to anyone. Yet for us, your Pakistani fans, you are and always will be the kind and caring Hemant from Baghban. Therefore, every statement and remark of yours and your fellows regarding any situation is noted by and gravely affects the sentiments of those sitting on the western side of the Radcliffe Line.
While the Kashmir conflict is a bone of contention between the two countries, the Ayodhya dispute is one within India. Nevertheless, we have witnessed several incidents of inter-faith harmony on both stretches of land which do not let our hopes for a peaceful and prosperous shared future wane.
Cultural exchange is one medium of rejuvenating the prospects, and cricket is another such instrument. It is true that a cricket match between the greens and the blues is over-hyped as a crucial battle and the winning side holds this victory as a major accomplishment; yet at the end of the day, the expatriates from both countries, as well as peace-loving denizens from both the sides, continue to work together. Nothing changes.
Despite these matches being celebrated as Armageddon, the world does not end. I realise that many of the worthy readers will laugh at me because I am a Pakistani and definitely have no other option but to justify the unpredictability of my national cricket team, but this is not the case. It is not my case to fight, nor am I capable enough to comment. However, I know this with certainty that June 13, 2017 was certainly not the date when the Pakistan cricket team packed their bags and landed at the Lahore airport.
Our respect for our neighbour did not wither away even when Rishi Kapoor tweeted about bluing us. The apparent outcomes of tossing a coin are heads and tails, but there always is a third probability, and that is what we should actually be looking for.
Congratulations Pakistan! You enter finals? Wow! Good to see you wearing our colour BLUE! Get ready to be BLUED now! We will BLUE you away!

— Rishi Kapoor (@chintskap) June 14, 2017
Whether we are blued or you are greened, the cricket match itself should be played with a jovial spirit, and you being the ambassadors of your country and having a huge fan following in Pakistan should impress us with your willingness to promote harmony.
Nonetheless, even if you choose the path you have already taken, that is, of trolling us, we will love you by appreciating and enjoying your work. Your tweets and Facebook posts are hailed as much as your films. Therefore, Kapoor's happy-ending movies like Amar Akbar Anthony, Chandni, Do Dooni Chaar, and Kapoor & Sons will always be preferred to his recent tweets because the former have conveyed the message of love, cordiality and friendship, while the latter that of utter hatred and competition. And we, Pakistanis are a peace-loving nation.
Like I said, these things do not matter and are not worth extinguishing the kindle of hope. The high esteem you have gained through your work and the respect that you have earned over the years is way more than a single tweet that hurt your Pakistani fans. Yet, we are not pessimistic about the whole situation. To quote your former Prime Minister Atal Bihari Vajpayee,
"You can change friends but not neighbours."
Similarly, history cannot be undone, no matter how harsh or bitter the reality is. Time goes on, through which we learn that nothing remains stagnant. Dynamics have changed and will continue to change, and it is this very permutation of events that we all have to acknowledge and live by.
Why not give peace a chance? Why not respect each other despite all the differences? Why not embrace the diversity which, in actuality, broadens the spectrum and makes this planet a common home for everyone? Why not regard each other's failure with dignity and cherish all the successes together? When clusters of clouds do not hesitate in precipitating on two lands at once, why are we so reluctant to show our feelings?
If demarcating a land into two was not an impossibility, then how could connecting millions of hearts over this line be so difficult? We, as two nations, have borne and accepted much worse; let's give deference and tranquility a chance. It can work wonders for us.
Love,
Green Pakistan