An iron gate to a city of dreams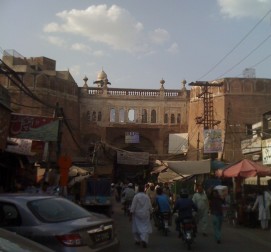 Let me be your guide to the walled city. I will walk with you to the narrow lanes of Lohari Gate through Lahore, the city I was born in. When I was a child I used to read the history of this ancient city.  I have read countless stories about invasions and renovations on its historic soil. My imagination ran wild, inspired by tales my grandparents would tell me. When I was a 10-years-old boy I would have visions of the what the walled city must have been like.
Walking towards the gate, we are surrounded by the Lahori bazaar. You can see outstanding ancient architecture, wooden balconies, beautiful carving on doors and windows but this architectural heritage has been brutally defaced. The market looks forgotten. A neglected place where people are living — just living. Now, how can I describe the glorious past of this city, when I see the sight in front of me. This is all that is left of those splendid times of yore.
Fifteen years after my boyhood fantasies (now I am 25 ) I hear people say times are changing. The common cliche on local news channels is "we are moving towards a bright future." Today when I enter the narrow lanes of Lohari Gate, I am stunned to see that self proclaimed bright future of ours. Maybe people living here, within the walled city are not considered as human beings or maybe they don't have their share in that bright future. Whichever it is, it's sad.
You don't need to go much further. The gate will tell you its painful story. The huge walls are cracked. People live inside the structure of the gate, which was first used as military barracks in the Mughal era – now it is occupied by gypsies.
This is the same gate that is steeped in our history.  In the 11th  century Sultan Mehmud of Ghazna decided to take control of Lahore.  Raja Jaipal resisted for months but the relentless pressure by the armies of the Sultan forced Jaipal to flee.  After his defeat the city was burned to ashes preceding a ruthless massacre by the Sultan's armies. The governor of Lahore Malik Ayaz, appointed by Mehmud of Ghazna, decided to rebuild the city.  The first new settlement of the city was established at Mohallah called Lahori Mandi.  The gate constructed here was called Lahori Darwazah or Gate.  The structure that we see today was rebuilt and restored to its original design by the British.
There is another story about how the gate got its name. In Urdu loha means iron and it is said the gate was named Lohari because many lohars or blacksmiths had workshops just outside this gate. Lohari and the bazaar behind it comprise the oldest arterial route in the Walled City built by Akbar the Great. Caravans and travellers coming from Multan used to enter the city from this gate. Behind Lohari Gate there once stood a brick fort called Kacha Kot that was probably the first fortified city of Lahore rebuilt by Malik Ayyaz. Among the few city gates which the British Government cared to reconstruct, only Lohari Gate has retained its original form – and when I say original form, I mean original form – because nobody has ever tried to reconstruct or preserve this unfortunate gate since the time of British rule.  
So what is happening to these ancient buildings now? Forgive me if I use some harsh words. Poverty and ignorance are two major curses of our society which can be blamed on the insensitivity of higher authorities. I am not criticising our system. I am not a philosopher or a scholar but I am an ordinary citizen of Pakistan who cares. Being a citizen, I would like to make a few suggestions. First, if we were all a little more sincere to our soil that would help a lot. Secondly we all should take our responsibilities towards our country a little more seriously. This is our motherland and if we destroy or show disrespect to it, we cannot expect to be successful in the world as a nation. Finally, it is for our authorities to actually spend at least a little of the money for which millions of dollars have been allocated in the budget. All the foreign aid we get for the preservation for this architectural heritage should be used rightfully. These are not slums, this place is our fountainhead.