Impress your guests this Eid with these scrumptious yet easy mini kebab rolls, achari chicken, mango sawaiyan and ginger peach drink!
For a month that was perceived to be extremely slow, Ramazan sure flew by. The one Eid I got to celebrate in the UK was surely a memorable one. Our desi crew went to the campus mosque, offered prayers, then headed back to the dorms where we all had doodh patti (milk-based tea).
Later on, we all dressed up in our desi attire and went to watch Salman Khan's Kick (not a memory I cherish). Afterwards, we headed to Akbar's for some good old desi splendour.
It's funny and maybe it's only me, but Eid abroad feels more like Eid. I still have not been able to pinpoint exactly how or why, but I am sure a lot of people would agree.
As the last few days of Ramazan approach, everyone gets extremely busy as people begin shopping for multiple outfits and groceries in order to prepare for Eid.
Most of Eid is spent snacking on sweets and feasting on rich foods which. to be honest, is one of the best parts of Eid festivities.
I'm going to present a simple and tasty meal plan which you can follow for a delicious Eid feast. Not much energy is required for these meals, I promise. I have prepared a whole three-course meal which includes mini kebab rolls as appetiser, achari chicken as the main, and mango sawaiyan as a dessert. I have also included a refreshing ginger peach drink to serve to your guests as a welcome drink! So here we go!
Appetiser: Mini kebab rolls
Ingredients:
Chicken mince – ½ kg
Egg – 1
Ginger and garlic paste – 1 tbsp
Onion – 1 small (finely chopped)
Green chillies – 3 (finely chopped)
Red chilli powder – 1 tsp
Crushed black pepper – 1/2 tsp
Salt – ½ tsp
Garam masala powder (all spices) – ½ tsp
Method:
1. Mix all the ingredients into the chicken mince and refrigerate for an hour at least.
2. Shape your kebabs and keep aside.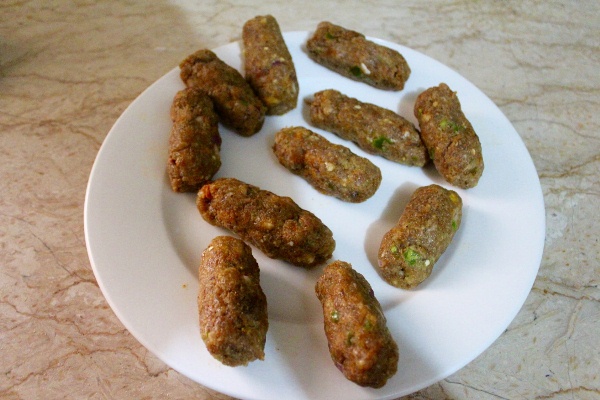 3.Heat six tablespoons of oil in a pan, place the kebabs in the pan and cook on medium flame till they turn into a golden colour all around.
4.You can place the kebabs on a paper towel for the tissue to absorb the excess oil and serve. You can freeze them and use them whenever required (microwave or grill).
Note: Make sure you don't wash the mince as you won't be able to form the rolls if the mixture is too watery. If that is the case, add bread crumbs to stiffen it.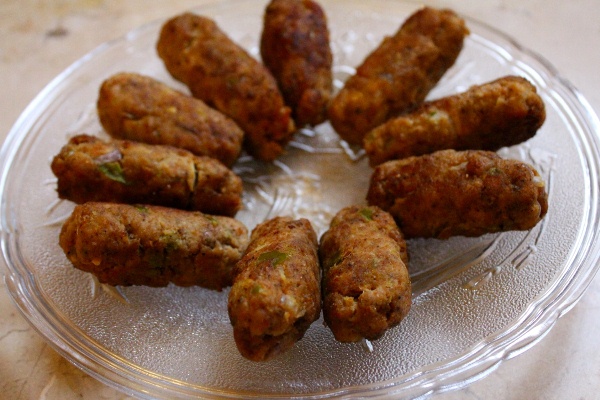 ---
Main Course: Achari chicken
Ingredients:
Boneless chicken breasts – 4 pieces (cut into bite sizes pieces)
Yogurt – 1 cup
Onions –2 large (grind into a paste with as little water as possible)
Green chillies – 2 to 3 large (julienne – add as per taste)
Whole Seeds:
Fenugreek seeds – ½ tsp (optional)
Fennel seeds – 1 tsp
Onion seeds –1 tsp
Powdered Spices:
Coriander powder – 1 tsp
Red chilli powder – 1 tsp
Salt – 2 tsp (as per your taste)
Method:
1.Grind the whole seeds mixture coarsely and keep aside.
2.Heat the oil, add the onion paste and fry till it is pink in colour. This takes about two minutes.
3.Add the chicken in the onion mixture and keep frying till it is slightly cooked. This will take around five to six minutes.
4.Add the powdered spices and mix for three to four more minutes and then add the coarsely powdered mixture.
5.Keep mixing till the chicken is almost cooked (about six to seven minutes), next add the yogurt and sauté.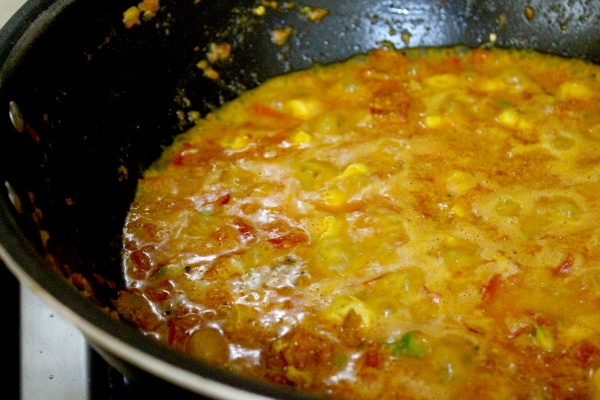 6.Sauté till most of the water is absorbed and the chicken turns reddish brown in colour.
7.Add green chillies and cook for two more minutes.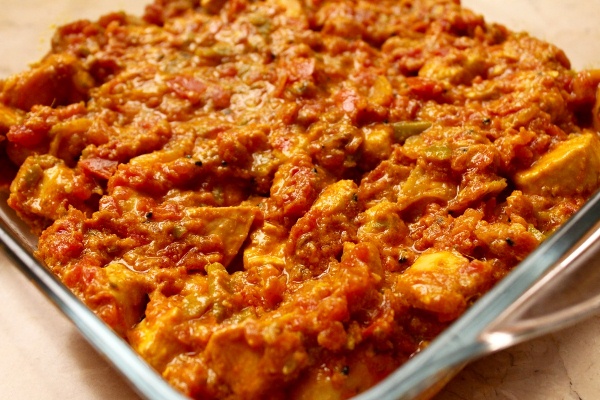 ---
Dessert: Mango sawaiyan
Ingredients:
Mango pulp
Sugar – ¼ cup
Milk – 3 cups
Vermicelli – 1 cup
Method:
1.Boil the milk, add sugar and then the vermicelli. Cook till they become soft.
2.Let the mixture cool. Then add the mango pulp and serve cold.
Note: I used coloured Vermicelli to add some Eid feels to it.
---
Drink: Ginger peach drink
Ingredients:
Water – 1 cup
Fresh ginger – 1 to 2 inch pieces, according to the thickness of a thumb (peeled and minced)
Peach (soft to gushy) – 1 (halved, pitted, and thinly sliced)
Ice cubes – As many as you require
Fresh mint leaves – for garnish (optional)
Method:
Mix all the ingredients including ice in a blender. Serve it extremely chilled.
This Eid, please do not forget those who cannot celebrate. Do not forget the orphans, the widows, the aged and the handicapped. It is, after all, a day of celebration, therefore, include everyone and make this day as special as possible.
Eid Mubarak everyone!
All photos: Arhama Siddiqa