One small step towards reducing poverty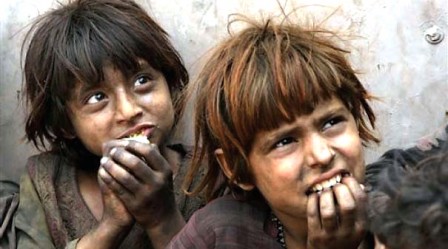 Today after attending a meeting at the Maritime museum I was headed home when on Shaheed-e-Millat Road signal a kid came up to my window asking to clean my car windscreen.
I refused,  so he went on to other cars. A few minutes later on Korangi road signal another kid came, and I refused again.
Finally I reached Shahbaz commercial signal and called a kid who was cleaning windscreens. He cleaned my car windscreen as well as the side and back mirror in a minute and a half. I gave him Rs10 and a smile broke out on his face. "Shukrya" he said, and went on to another car.
My home was a six minute drive from Shahbaz commercial signal and in that time I was thinking about this boy, and how I could aid him and the other street children involved in this business. Here are some initial points I believe will work to help in their education and eventual escape from poverty:
On each and every signal we should install a small box for water with surf or any other cleaning material and a few wipers. Two to three kids should be assigned to each signal with one official to collect money. All these kids should be provided uniforms and they should have standardised times for their duty. There should also be a standardised system for distribution of money to each child at the end of their shifts. Each child should also join the team by filing paper work, and it should be mandatory for all of them to attend school in the morning. Through this effort we can at least try to eradicate poverty and beggars from the roads of Pakistan.
Implementation
We need to involve our corporate sector as well as individuals who will sponsor the idea and develop it further e.g. Mineral water companies could install coolers on particular signals and a team could serve water in the afternoons and charge a small fee per glass. I know I will receive comments that these suggestions are contrary to child labour laws, to which my answer is that it is better than beggary.