With his golfing days already numbered, can Tiger Woods get his act together?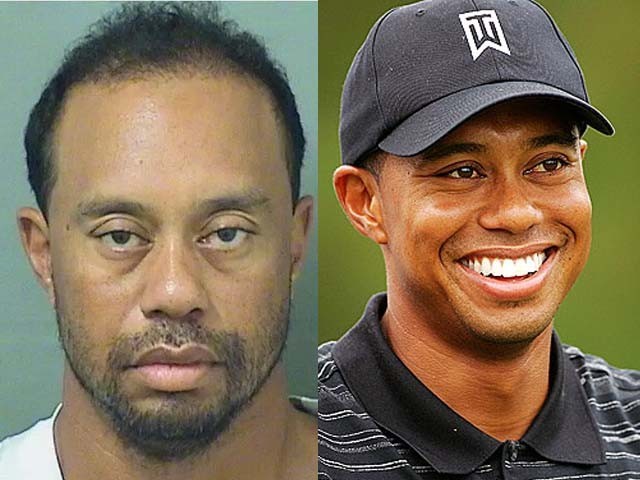 It all started in November 2009, when Tiger Wood's whole world came crashing down on him. First it was the alleged media reports of having an extra-marital affair with New York City nightclub manager Rachel Uchitel. Then it was Woods colliding his SUV with a fire hydrant and a tree in his own street. A media furore followed, which ended with him admitting to infidelity, as well as announcing that he would be taking 'an indefinite break' from professional golf.
Sport's first billionaire lost several sponsors over the scandal which also resulted in a bad divorce.
Ever since then, Woods has been carefully rebuilding his golfing career along with his public persona. He even topped the world rankings in 2013, however, another car related incident is now threatening to destroy whatever he managed to salvage from the last debacle.
For someone who used to rock covers of every major sporting publication with his golfing swag , his latest picture, unfortunately, is most likely going to be the one which would be associated with him for a really long time now.
The mug shot shows a scruffy Woods, groggy, unkempt and unshaven. An image as far from his glory days as possible. Between 1997 and 2008, no one had made more money via golf than this guy, but this image is of a person who is more likely to beg for money than to earn it through his sporting talent.
When the morning news started creeping in on Monday, about the golfing deity's alleged driving under the influence (DUI) along with the now infamous mug shot, people all across social media had a hard time figuring out who it was. Such was the difference between the indomitable Woods they knew and this mere mortal with sullen, lifeless eyes.
Woods was found asleep at the wheel of his Mercedes with the engine running, and was immediately charged with DUI.
The 41-year-old Woods said he made a mistake by confusing the effects of the medicines he was taking for his chronic back issue and blamed "an unexpected reaction to prescribed medication". He added that alcohol was not involved in the incident. A breathalyser test also confirmed his statement by showing a blood alcohol level of 0.00%.
But this was not to be the end of Woods' miserable ordeal as a couple of days later after he was released, another video from the same event surfaced which proved to be even more damning than the mug shot.
The dash-cam video footage shows Woods – winner of 14 major championships – struggling to walk through a field sobriety test. An officer moved a red light side to side to check if Woods was sober, and he failed to pass the test. Moreover, when the officer made him read an alphabet, it took him three tries to get it right.
With his speech slow and slurred, the golfing legend was then asked to place his hands behind his back as the officers cuffed him and told him he was being arrested after a dazed and disoriented encounter.
Following the 2009 sex scandal, when he took a break from the sport, Woods returned to golf in the Masters in April 2010. It took him three years but Woods regained the number one spot after his triumph at the Arnold Palmer Invitational in March 2013, a position he held until May 2014.
But then injuries struck and by May 2016, Woods was out of the world top 500 for the first time in his professional career. He then had to undergo multiple back surgeries, including one a month ago, and was extremely hopeful of returning to the sport when this whole DUI thing blew over.
Woods' biggest test now is no longer just about returning to full physical fitness. With this whole DUI fiasco, it is now about fixing an already reconstructed public image that – with the infamous mug shot and the embarrassing dash-cam footage – has the potential to haunt him for the rest of his life and not just his already numbered golfing career.