The tales of Karachi's love for old books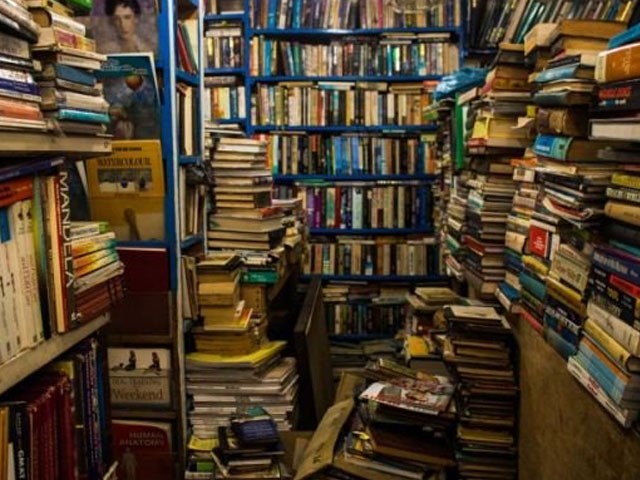 We've heard stories about their utilisation plenty of times. You can see exactly where the fingerprints grazed the pages. You can deduce how long it was held by the depth of the finger stains. This is none other than a depiction of an old book.
Unfortunately, we live in a culture that places too much importance on new books, rather than old ones. Why is it that new things are considered more valuable than old things? There might be a time in the future when books will be published for a specific audience and the physicality of reading material will become extinct.
However, there are a handful of individuals who still believe that books have the power to produce knowledgeable individuals. Luckily, there are still people in Karachi who believe that old books have a particular essence of originality which fresh or digital books might fail to deliver. Old rotten books have their own value and worth, which is beautifully expressed by some old book stakeholders.
Anjuman-e-Taraqqi-e-Urdu Pakistan since 1903
 Mohammad Maroof recalled the following instance with a kind smile on his face,
"Baba e Urdu (Moulvi Abdul Haq) brought all these books (refer to the picture above) from India himself. These weren't only books, these were our heritage packed in boxes."
Maroof, who has been serving as the manager of Anjuman-e-Taraqqi for 35 years, further briefed us about the founding date of the public library in India, which dates back to 1903.
The library in Karachi was set up in 1948 and holds more than 300 books on a multitude of subjects written in Urdu. Students and book lovers from all over the country visit the library to enjoy ancient literature and historical books.
Call it a museum or a world of classical books, the shelves of the library have plenty of volumes and hand-writings from all eras. More than 60,000 books, magazines, letters and researches were kept in the library upon the instructions of Quaid-e-Azam Mohammad Ali Jinnah after Partition.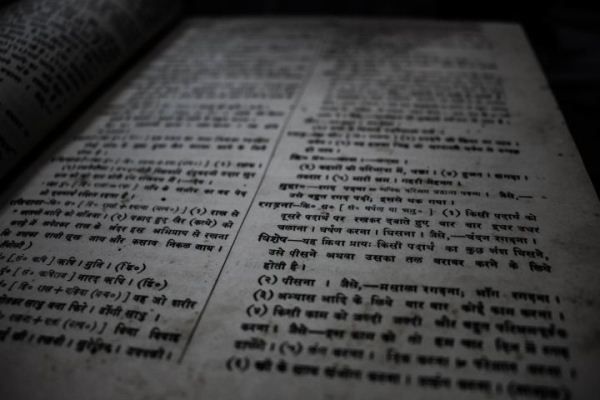 Apart from Urdu, there are books written in Hindi, Arabic, Persian and English. The library has preserved all the religious books in their original form as well. A century-old copy of the Holy Quran, Geeta and Bible are kept amongst old religious books. All ancient books are preserved through a fumigation process during which books are kept in a fumigation chamber for 24 hours and preserved for six months.
"Rukoon tou manzilain hi manzilain, chaloon tou raasta koi nahe hai.                                                                     

Khuli hain khirkiyan har ghar ki lekin, gali mai jhankta koi nahe hai."

(Destinations are all around as I stop, but there's no way when I walk

Every house has a window open but, no one looks from inside).
Urdu Bazaar's ABC (American Books Centre)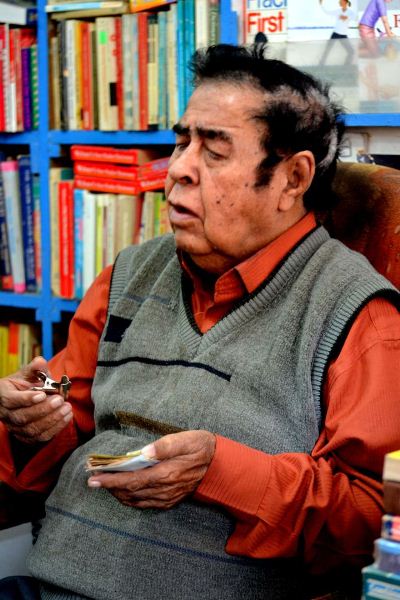 Syed Muhammad Khalil is a 93-year-old book lover and has served as the former chairman of the All Pakistan Publishers Book Seller Association for five years and continues as the central committee member.
His love for books only intensified with time as he told us,
"I breathe books, my dear."
This friend of Liaquat Ali Khan recalls the Partition time, when the ties of traveling with Ahmed Faraz had charm but no expense.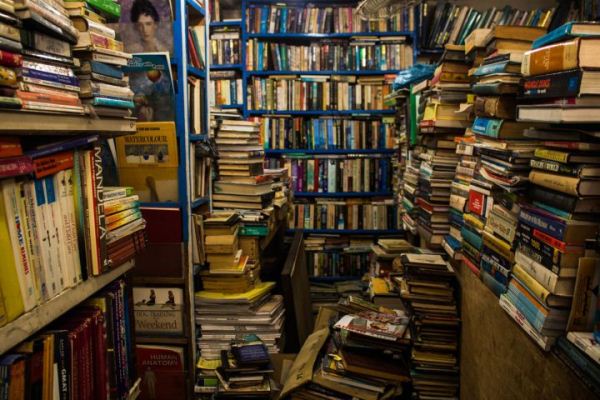 He went on to say,
"On the scale of literate to illiterate, the most literary people, in my perspective, still reside in Azizabad, Lalukhet, Nazimabad, Gulshan-e-Iqbal and New Karachi.  Defence and Clifton are the most illiterate areas, when it comes to knowledge of books."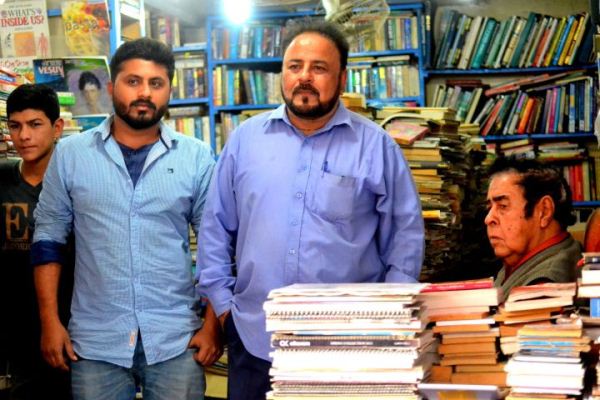 Khalil takes his passion for books wherever he goes, be it a short trip to Delhi with family or an international trip to the world's biggest book fair in Iran. Since 1944, three generations have played a part in keeping the legacy of ABC alive in Urdu Bazaar.
Spotless visions of Regal Chowk
Ishaaq baba, a bookstall vendor on the streets of Regal Chowk, has been selling books for 35 years now. When asked why he opts for selling books for a living when he can earn good money from a different trade, he responded saying that he loves books and prefers his quality time with them to anything else.
Ishaaq baba said,
"Our generation is sabotaging themselves by distancing themselves from books and spending more and more time on their phones. It's my request to parents to motivate your children to read as many books as they can if they want to rule the world."
Krishan Chandar is his favourite author and he has a keen interest in developmental literature. Perhaps the best way to spend more time with books is by making a profession out of it.
"Thora hasslo bache (smile a little, child)," Ishaaq baba said to his grandson while posing for the picture above.
He brings his grandson with him every Sunday because he wants him to love books as much as he loves them himself.
Cluster of Books and Woods at Tariq Road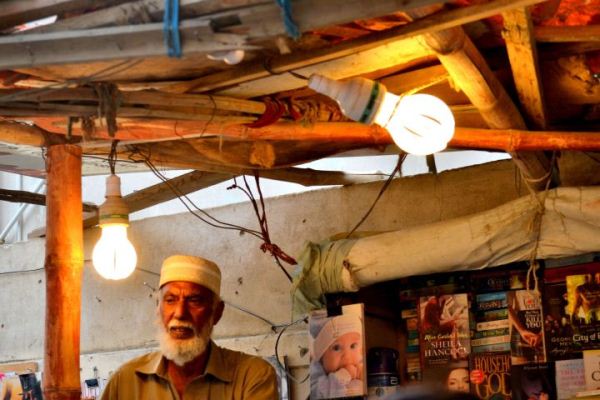 Amaanullah Khan, a passionate reader, set up a small-scale hut-shaped book stall at Tariq Road approximately eight or nine years ago. This 65-year-old has had various different experiences during the course of his life. From being in the telephone business to working as an oiler on a ship, Khan's passion for books led him to establish his own little venture. Burdened by loans, the fervent man's books helped him establish a business.
Dejectedly, Khan said,
"No one wants to read books. The young lot only reads fictional books rather than books on realism."
Displaying a wide array of books, Khan picks out his favorite authors; Allama Iqbal, Jane Austen, Ashfaq Ahmed and Charles Dickens.
All Photos: Faiza Virani and Saniya Nathani