But who will stand up for Balochistan's Jibran Jogezai?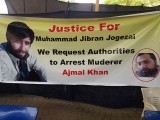 Muhammad Jibran Khan Jogezai first came to our house in Karachi somewhere in 2006, courtesy of his classmate and my brother, Muhammad Saad. He had a heart of gold, a handsome countenance, a million dollar smile, and laughter encompassed him. He was an instant hit across three generations of our family (the only one to achieve that) and we loved him.
Today, he is no more. He was martyred in Qilla Saifullah, mainland Balochistan, over property disputes involving ancestral property. It was a gun attack, they say. Three bullets, furthered by a dilapidated road and hospital infrastructure, ensured that he was no more.
Jibran was one of the only people I knew who lived his life a quarter mile at a time. So replete with life, he was one of those people you would always feel alive with. Generous to the hilt, he was also an excellent race driver (tunnel vision he would say), resplendent sketch artist, my Pashto teacher, my guitar student, and above all, a true patriot.
He loved Pakistan with his heart and soul, and the corruption that prevailed saddened him. We would talk at length about the funds that would disappear from the provincial coffers and the plight of an ordinary serf in Balochistan. Missing equity and justice were the key themes of his society, and with no irony, his death as well. I am etremely sad to lose him. But when I look back, I am equally proud that he did not walk away from a fight.
It was the year 2010 when our paths started to meander. Jibran and Saad graduated from Shaheed Zulfiqar Ali Bhutto Institute of Science and Technology (SZABIST) and I moved to Lahore to commence my undergraduate degree. While Saad chased his bread trails in the corporate sector, Jibran eventually moved to England in pursuit of a Master's degree in Philosophy from Bristol University.
He could have taken the easy way out and stayed in England after graduation, but he returned to his homeland and ventured into farming and educating the youth. The young boy who had watched his ancestral inheritance being pilfered away was now an enlightened man who believed in what was his. He decided to take these disputes to court and in tandem with his most stubborn Pakhtun genetics, said that he would die before he would walk away.
One could mistake this as maddening materialism but this was not the case. It was not even about money or honour. That was not the Jibran we knew. Jibran was simple, and behind his falsely intimidating profile was this strange synthesis of bravery and innocence. In a modern world that is so intent with robbing and pillaging, he fought for his rights, for what was rightfully his. That was all that mattered to him.
"Today they came for our lands, what will stop them for coming for our house tomorrow? Will we just look at their faces?" he said to his mother, Dr Nargis Jogezai.
His visits to Karachi in the last seven years were sparse and distantly scattered. We always missed him by an inch, but Saad would inquire,
"How is Jibran? When will he get married?"
My brother and I would then laugh because Dr Tariq Jogezai, his father, was always on his case about the same matter. It seemed like it would only be a matter of time.
Today, instead of merry making over a prospective marriage, Dr Tariq is hospitalised with multiple gunshot wounds to his leg and his eldest is no more. It happened on the morning of May 7th, when Dr Tariq and Jibran visited their lands to find a very familiar vehicle approaching from the distance. It was Jibran's cousin and would-be murderer, Ajmal Khan Jogezai.
Sensing danger, Dr Tariq asked the farm help to take his son to the side. It was his mistaken belief that he could talk things out. Ajmal shot Dr Tariq twice in the leg, perfect bait for his actual game. Unarmed, Jibran asked the farm help to flee for his life while he rushed to protect his father, only to be met with a volley of Kalashnikov bullets that would take his life. His bloodied self eventually fell in a heap over his father, his one objective to protect his own, his very source. Jibran loved his father more than anything that traversed this earth.
We are a very long way from playing a guitar on the streets; I have tried hard but I do not remember our last meet. It is because it was not planned to be our last meet. Life exhibited its true vicissitudes and now I am one true friend and a hearty brother short. I do not write to demand justice but rather to mark that injustice was undertaken. Is this my pessimism or my practicality?
The last young slain I wrote for was Shahzeb Khan. It was a hallmark case that made a mockery of our legal system. Warp and woof of the case, the killer, the affected and the memory of the deceased have vanished in the dusty logs of the Sindh High Court (SHC). Where the concepts of Qisas and Diyat (form of punishments in Islamic Penal Law) meet brute coercion, oblivion is an easy escape and an optimised outcome.
It led me to believe that even simple justice is an increasingly utopian ideal in the land of the pure. In a modern society, Suo Moto notices are more of a function of the digital marketing efforts of the civil society than the individual merits of the case. No disrespect intended, Shahzeb had diehard friends whose protests met political opportunism and civil society fear of feudal power.
But who will stand up for Jibran?
Jibran lived a very quiet life at the foothills of Zhob Mountains and his murder has no consequences for the educated civil along the coastlines of Karachi. What about Saifullah? He was but an outlier in his own tribe by virtue of his education, that which elevated him to free thought, and liberal ideals made him an outcast amongst his very own. Surely, not our concern for this is another family feud in the warped spatial black hole called Balochistan. People die all the time, right?
They say that the chieftains demanded his body; a hush funeral and a quick ceremony would do the tribe less dishonour. The murderer is at large, allegedly protected while the family attempts to seek justice. One presser at the Karachi Press Club and a meagre Facebook following at Justice for Muhammad Jibran Jogezai has been achieved with appeals to the judiciary and the civil government. It is clear where this is headed. #ExitControlList, #MightisRight.
Our future keeps dying and the residual intellect leave the country. It is easier to stay quiet and subdued, as perhaps Jibran should have done or perhaps easier to stay potent and guilty, as Jibran should have sought to become. You try to knock the courts of law too hard, and you become a dusty case yourself.
I invite you to my Karachi home 10 years back when Jibran sat scratching his head over limit and continuity theorems of Calculus one. He had come very far from what an ordinary youth of Saifullah was ever supposed to achieve. As he burned the candles at night, he had no foreboding of how they would eventually be extinguished.
Notwithstanding, between that night and his last, Jibran won our hearts by virtue of humour, character and integrity. He will go down as perhaps the bravest I have met, regardless of the current costs, limits and discontinuity of justice.