Sledging in a gentleman's game: It never helps the batsman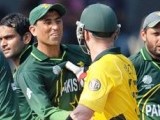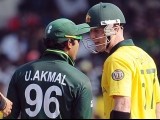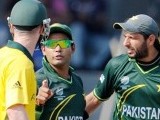 "Sledging" is a controversial activity that takes place on the cricket ground. It means teasing the opponent by exchanging harsh words, abusing or ridiculing him.
It normally works for bowlers since distracting the batsman can make him nervous and help get his wicket.
Only Australian cricketers believe it is an art and that their players must know how to tease the opponent.
They ridicule the opponent and test his nerves so he gets annoyed and loses his wicket. Although all teams use it as a wicket-taking tactic, the Australians have mastered it and use it effectively.
Apart from the Kangaroos, Indian cricketers like Harbhajan Singh and Sreeshanth have also started mastering this art.
A few years back, the Indian team had it bad when Andrew Symonds complained that Harbhajan called him a "monkey" during India's tour of Australia.
In the early 80s, cricket lovers witnessed a historical contest between Javed Miandad and Dennis Lillee which cannot be forgotten. Lillee kicked Miandad and Miandad tried to hit Lillee on the head in response.
Here are some World Cup sledging classics:
World Cup 2011
Haddin vs Umar Akmal, Younus Khan and Afridi
In the Group A match between Australia and Pakistan, Australian wicketkeeper/batsman Brad Haddin started the argument when his captain Ricky Ponting was dismissed. Haddin exchanged a few harsh words with Umar Akmal and even with those (Afridi and Younis) who tried to end the argument.
Haddin ultimately paid the price for it as his loss of concentration end up with him losing his wicket.
Umar Gul vs Balaji Rao
Canadian tail-ender Balaji Rao also threw a few words at Umar Gul and Ahmad Shehzad which eventually finished his unimpressive innings in Pakistan's Group A match against Canada.
Balaji's body language was aggressive and he was provoking Umar Gul to unleash his full pace and attack. Cool and calm Gul hit Balaji Rao's body once, smiled, came back to his bowling mark, ran towards the wicket and shook Balaji's stumps. Again, sledging did not work for the batsman.
Tait vs Dilshan
As usual, Australian bowler Shaun Tait started the dialogue and successfully tried to distract Sri Lanka's dangerous opener Tilkaratne Dilshan. The opener played the next ball in anger, nicked it and threw the ball to the wicket keeper.
World Cup 2003

Sangakkara vs Pollock
An unimpressive, South African side was playing against Sri Lanka at their home ground and their captain Shaun Pollock was a victim of sledging. This time, the sledger was none other than decent the (now) captain and wicketkeeper of the Sri Lankan team, Kumar Sangakkara.
As soon as Pollock arrived at the crease, the wicketkeeper welcomed him by saying, "How's the pressure, skipper?" The stump microphones picked up his words.
"He's going to let his whole country down, lads. Oh, the weight of expectations. 42 million people depending on Shaun." Sangakkara said audibly Pollock
South Africa needed 120 runs in 125 balls with five wickets in hand when Sangakkara made these comments. The Proteas' skipper could make 25 runs only and his side was eliminated from the tournament with their defeat in this match.
World Cup 1999
Shane Warne vs Cullinan
The way Shane Warne mentally dominated Daryll Cullinan is a popular story. It was the last match of the super sixes round when Cullinan was on his way to the wicket. Warne told him he'd been waiting two years for another chance to humiliate him.
Cullinan responded "Looks like you spent it eating".
But Cullinan's witty reply couldn't help him. He made a handsome half-century but it could not save him from Warne. He bowled Cullinan out for 50 runs and Australia qualified for the semi-finals.
Shoaib Akhtar vs Steve Waugh
Fast bowlers have always been famous for being short-tempered and Shoaib Akhtar is no exception.
With his body language and words, he told the world's coolest captain Steve Waugh that he would not let him score anymore runs and that Steve must think of saving his wickets.
But Steve could not; Shoaib Akhtar bowled him out at 49.
Pakistan won the match by 10 runs which was Australia's last defeat till Saturday's match.
World Cup 1996
Venkatesh Prasad vs Amir Sohail
Pakistani opener Amir Sohail has also done the same in the quarter-final of the World Cup 1996 against Indian medium pacer Venkatesh Prasad.
Pakistan had a flying start and the score was 113/1 when Amir hit a cracking stroke through the covers for four. He pointed to the boundary with his bat told Prasad that he has no mercy for him and will hit the next ball in the same direction.
Amir lost his concentration and got out on the very next ball after making 53 runs. Had he not gotten over excited, he would have played for a longer. But Amir says he had no bad intentions for the bowler, and merely wanted to tease him.
World Cup 1992
Javed Miandad vs Kiran More
Nothing can be as funny as the reaction to Kiran More's sledging. Vice-captain of the Pakistan cricket team and legendary batsman Javed Miandad was batting against India in World Cup 1992 in Sydney.
Miandad turned back to the wicketkeeper, More and asked him to remain quiet when the bowler starts running to deliver the ball and to not make unnecessary appeals.
But More did not stop. Miandad complained to the umpire but he persisted. Suddenly, Miandad did something which was totally unexpected.
After hitting a ball to silly mid-off, Miandad rushed back to the crease and started jumping on the ground and appealing for a dismissal just like Kiran More. Javed's action worked for More and he stopped making unnecessary appeals. Unfortunately, Pakistan lost the match but went on to win the World Cup.
Although, it is considered the most unethical part of a "gentlemen's game" cricketers still participate in sledging from time to time.
However, teams must be careful and conscious while responding to anyone who is sledging; it may cost the trophy to those who lose their cool and react to the situation.