Sarkar 3 is nothing but disappointment, Ram Gopal Varma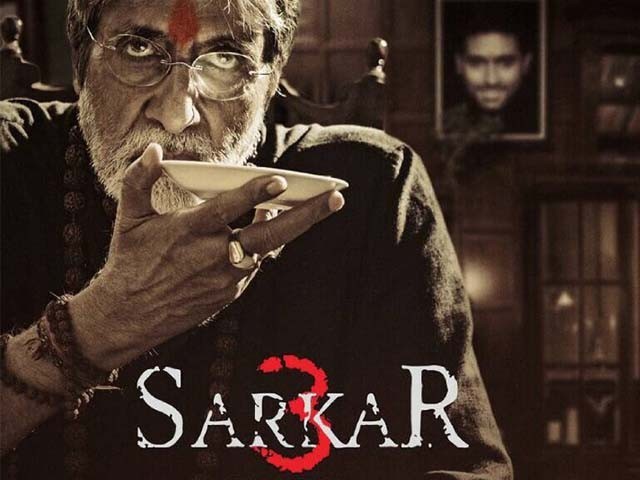 Ram Gopal Varma is the same genius who gave the world stellar films such as Drohi, Rangeela, Satya, Company and Rann. However, over a period of time, his movies seem to be losing their grip and the audience has little or no interest left in his upcoming ventures.
The Sarkar series has a niche audience and we are yet to determine what the third installment has to offer to its viewers.
Background
Sarkar 3 has some really great performers in the cast, namely Amitabh Bachchan, Jackie Shroff, Manoj Bajpayee, Ronit Roy, Yami Gautam along with Amit Sadh, Bajrangbali Singh and Rohini Hattangdi.
The plot
Sarkar 3 begins 10-15 years after the previous installment. Vishnu's (Kay Kay Menon) son Shivaji aka Cheeku (Sadh) returns to Subhash Nagre's (Sarkar's) empire.
Michael Vallya (Shroff) sends Gandhi (Singh) to Sarkar for a business proposal but Sarkar ends up rejecting it. Out of vengeance, Gandhi starts supporting a political figure by the name of Govind Deshpande (Bajpayee) in order to stand up against Sarkar and find a way to get his work done.
What ensues next is a vicious game of politics and assassinations. You need to watch the film in order to find out whether someone will end up taking Sarkar's place or not.
Characters
Sarkar is and has always been solely dependent on Bachchan's shoulders. He portrays the character of Nagre with ultimate ease. Bajpayee is another actor that deserves praise for his performance. He is the perfect actor for this role; his dialogues are well-written and delivered perfectly. Every word he voices has a subtle hilarity to it and makes the movie all the more enjoyable to watch.
Roy is a brilliant actor as well, but the role of Gokul just does not highlight his skills. Sadh, on the other hand, has a lot of room for improvement. He lacks the right expressions and sometimes it seems like his dialogues are not in sync with his looks. The character of Shivaji was strong enough to leave a long-lasting impact on its viewers but Sadh unfortunately could not do justice to it.
Shroff's talent is completely wasted. In my opinion, he deserved a stronger character with power-packed dialogues because of his acting calibre. Gautam's character, despite being an important one, seems too forced. Singh, however, is impressive with his on-screen presence. His scene with Bachchan proves that he is a confident and an able actor, one who should be given meatier roles.
Sarkar 3 seems to be a below average film and lacks quite a few of factors on multiple fronts. The story is half-baked and seems hard to believe as well. It's almost as if the writers were confused when they were writing the script for the film.
Music and direction
Direction wise, Sarkar 3 looks exactly like its previous two installments. The cinematography and filming style is similar to what we saw in Sarkar Raj. The dialogues of the film are really weak and same can be said about its soundtrack.
It is high time Varma steps up and realises he needs to brush up his game. Either he should stick to what he knows best or he should try doing something completely new because this series is just not cutting it.
Many of his films are facing the same fate as Ram Gopal Varma Ki Aag did, which was a flop. He needs to understand that besides having an able cast, it is significant to have a good and solid script as well. There are various scenes in Sarkar 3 which just drag on and end up becoming boring.
If you aren't a fan of the Sarkar franchise, I highly recommend skipping this movie because it won't be anything but a disappointment.