Three underrated and uncapped players who impressed us during the Pakistan Cup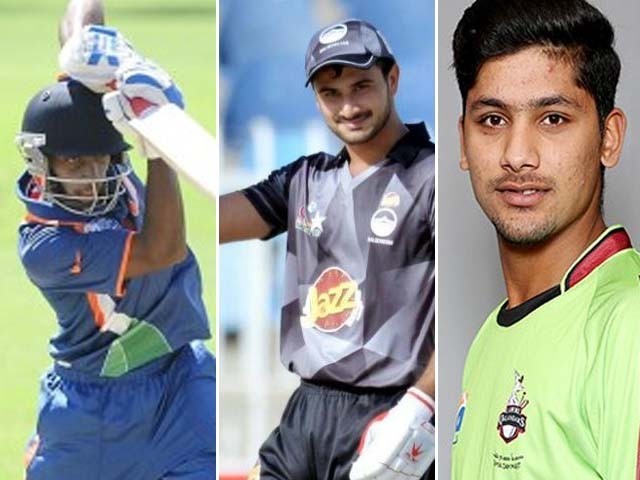 Pakistan Cup is organised as the country's premier List A tournament where only the best domestic performers compete in five teams to prove their ability and plead their case for a national call-up. Last year's Pakistan Cup highlighted the likes of Fakhar Zaman, Shadab Khan and Fahim Ashraf, all of whom are currently part of Pakistan's squad for the ICC Champions Trophy. The Pakistan Cup is being established as the pipeline for players to be fast-tracked to List A and national sides, and like last year, we did witness some performers and performances that would boost Pakistan's confidence with regards to the side's future in One Day Internationals (ODIs).
Sahibzada Farhan
Sahibzada Farhan, 21-years-old, was all set to watch this year's Pakistan Cup from the comfort of his lounge before he was drafted as a late replacement by Balochistan for Azhar Ali. Even then, he was expected to warm the bench with Imamul Haq being an automatic pick alongside Zaman. That was until Haq too was ruled out of the entire tournament due to a foot injury.
Prior to playing his first match for Balochistan, Farhan had only played four List A matches and failed to impress in any of those games. However, once he did the take field for Balochistan, there was no looking back. In five innings, Farhan amassed 331 runs at an average of 66.20, scoring four 50s and an all-important century in the final. Farhan helped pile on a formidable opening partnership with Fakhar that set the foundation for Balochistan to go on a late onslaught and reach a big total.
Hailing from the Khyber-Pakhtunkhwa (K-P) region, Farhan had a distinct calmness and temperament to occupy the crease for a longer time period, unlike his fellow batsmen that have come out from the region in recent times. He showed the ability to pace his innings according to the match situation and cover up for lost runs once he was completely settled, which has long been the issue with Pakistani openers. We witnessed Shadab's meteoric rise and Fahim's steady climb to the top prize, both of whom were first noticed during last years's Pakistan Cup. For Farhan, this could be the start of something special.
Ghulam Mudassar
At only 17-years-old, Ghulam Mudassar has emerged as a long-term candidate to lead Pakistan's pace attack in the future. Mudassar is the premier example of how talent identification has become significantly easier due to games at every level being televised. Ghulam first came into the scene during last year's Ramazan Cup where he was given a game by K-Electric against Omar Associates.
Bowling to Khurram Manzoor on conditions that favoured the batsmen, Ghulam showed plenty of aggression, skill and mental toughness, and soon had his man trapped leg-before-wicket (lbw), courtesy a picture perfect in-swinging yorker at serious pace. Within the next few weeks, Ghulam signed a 10-year contract with the Lahore Qalandars that opened up the possibility of working with Aaqib Javed, represented Pakistan A on the tour of Zimbabwe and was part of the Pakistan Under-23 squad that travelled to Bangladesh for the Emerging Asia Cup.
Balochistan showed faith in him by drafting him as the lead pacer of their bowling attack and he repaid them by claiming seven wickets in four innings, ending as the tournament's fourth highest wicket-taker.
Still raw, Ghulam does need a few seasons to work on his pace and become more consistent with his line and length, but his performance during the Pakistan Cup, on pitches where targets as big as 375 were being chased down comfortably, reflected well upon all those who trust him to represent Pakistan soon.
Saif Badar
While there has definitely been a greater influx of younger players in Pakistan's domestic circuit in recent times, opportunities are still scarce and these youngsters are under constant pressure to maintain their positions before actually dreaming big.
Saif Badar came onto the scene during Pakistan's impressive Under-19 World Cup run and received praise from many former cricketers, including Javed who speaks highly of him. Unlike the other two players on this list, Badar tried creating something out of nothing.
Brought into the team after two games, Badar only faced two deliveries in his first game. The chances of him showing his capabilities at number seven, when his style of play is better suited for number three, were slim and anybody could tell that the management was playing him because they had to and not because they wanted to.
However, in his second match, Sindh were reeling towards defeat when his chance did come. Rather than playing out the rest of the overs and aiming for a run-a-ball 50 that would have boosted his stats, Badar came out all guns blazing. Hitting the ball at a strike-rate of 140, he not only proved that he is indeed the player everyone rates highly, but also his hunger to play more matches and show what he is capable of.
With 132 runs required in 12 overs when Badar walked in, his gritty innings allowed Sindh to reduce the margin of defeat and end at a respectable total of 297. Better, more frequent opportunities will allow him to grow as a modern-day batsman and establish himself as the middle-order batsman Pakistan would desperately need once Shoaib Malik and Muhammad Hafeez hang their boots.
High scoring pitches at Rawalpindi helped create the perfect conditions for competitive cricket to take place. The results were instantaneous as we saw players who are finding their feet in the domestic circuit, try and establish themselves as genuine contenders for the green cap. Moreover, these three players, along with many others, displayed the correct attitude and match awareness that is required if Pakistan are to improve their ranking in the future. Frequent chances, better competition and a proper channel that allows player performances to be recognised, things look like they are headed in the right direction for Pakistan's domestic circuit.