Instead of opposing Uber and Careem, taxi and rickshaw services need to shift up a gear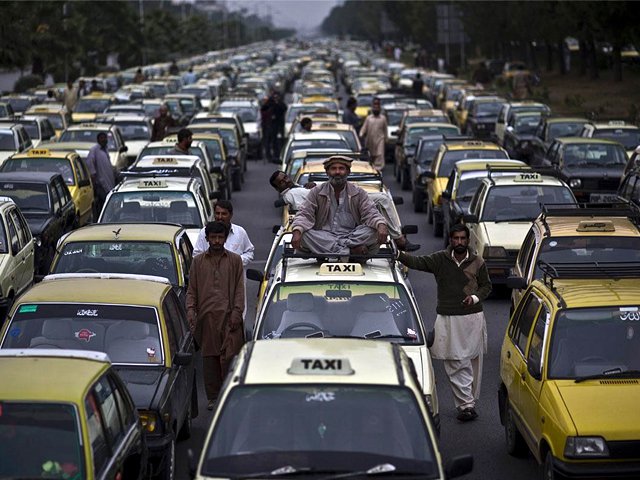 A few years ago, my old Nissan was at the workshop again and I needed to use public transportation but was dreading opting for a rickshaw or a taxi. After returning to Pakistan several years back, I had relied on them to get around for a year or so until I could afford my own vehicle, and it had been a distinctly unpleasant experience.
Many of drivers I had ridden with were rude, dishonest, broke traffic rules and carried the sort of body odour you'd expect from someone driving in the sweltering heat for half a day. Save for one, none of the taxis I had used had working air-conditioning or an operational meter so that a client could pay an honest fare without haggling. The vehicles were kept in such disgusting condition that I can distinctly remember coming home after each cab ride and having to change my clothing because of the gunk I had absorbed from the seats, which were carrying a concoction of sweat and cigarette smoke from having not been cleaned for years.
I say "save for one" because a sole taxi driver, a college graduate trying to make ends meet who drove me one day after being hailed off the street, had a remarkably clean car. What's more, the air-conditioner in his cab was working perfectly, a pleasant surprise on a hot Karachi day. Furthermore, he charged fairly by the kilometre. I quickly took his mobile number and would call him whenever I needed to travel in the city via public transportation.
Adeeb was a smart young man with some interesting ideas on business and life. His family had fallen on hard times but he was ambitious and wanted to travel to Malaysia to study further. With his remaining savings, he fixed up a taxi that the family owned with the philosophy that if he offered a better service, the customers would flock to him, even if he charged a little extra. And while his rate on the meter was higher than the official rate, I found it still more affordable than any random taxi driver who would unreasonably demand 250 rupees to travel merely a block away.
Keep in mind that this was well before the invention of Uber or Careem. In the mid-2000s, this man was simply before his time. Regardless, it was worth it, traveling in the heat of the port city in the only yellow cab with comfortable soft new seats and an air-conditioner so good, you almost didn't want the ride to end.
A few months after I became his regular client, I began to notice that he was getting more difficult to find. As it turned out, I wasn't the only one responding to his business philosophy, and he had generated a number of clients.
One day, I was surprised when he said he was increasing his rates. He explained that because his cab was in such demand, he was going to charge more and cater to a select clientele. Meanwhile, he had upgraded his taxi a little more. In the end, I contently agreed.
After purchasing my own vehicle, I lost touch with Adeeb, when one day I got a phone call from him out of the blue. He sounded happy:
"Hello Sir, this is Adeeb."

"Hi Adeeb! It's nice to hear from you. I've told you to not call me sir though!"

"Sorry Sir, I am just used to it."
We both laughed!
"Anyway, I wanted to thank you. You were one of my best clients. Through you and other clients, I raised enough money to follow my dreams."
Currently, Adeeb is in Kuala Lampur and seems to be doing well, and is a testament to what hard work and an enterprising nature can lead to. I was thinking of him a few years ago when my Nissan was in the workshop for an undetermined amount of time and I was stuck once again in the toxic cycle of rickshaws and taxis. Nothing had changed. The drivers still tried to get away with whatever they could charge, the vehicles were still dangerously out of order, and the driving was still as haphazard as Fast and the Furious.
On the other hand, the white cabs had their own set of problems. Their rates were high, yet the service was a real mixed bag, with every driver complaining about the employers and asking clients to lie about the distance travelled so they could rip off the company.
Here, I was introduced by a friend to a driver named Wasim, who was hailed through his mobile phone like Adeeb. While it wasn't an official taxi, his Suzuki Cultus was well-maintained and his service was excellent. Traveling with him the next day, I was surprised to see him drive up in a different car and then yet another the day after, with not even him driving this time.
Finally, when I rode with him again, I asked him his story, which was similar to Adeeb's. He too had been a cab driver until he realised that he could attract more business by offering a better service. To cut a long story short, he now owned several cars in excellent condition and was making at least Rs60,000 a month through them. This, according to him, was after deducting his monthly costs, which included salaries paid out to his nephews who drove for him.
From my experience and the experience of so many I know, public transportation in Pakistan is a real hassle. And as bad as the terribly uncomfortable rickshaws and taxis are, the buses are even worse. What complicates matters is that in huge teeming cities like Karachi with regular traffic jams where people have to go from one end of town to the other, commuters have to spend five to six hours a day in traffic. For such folks, services like the Metrobus in Punjab and app-based cab services such as Uber and Careem are a blessing.
If nothing else, the popularity of these services and the stories of drivers like Adeeb and Wasim suggest that Pakistanis are sick of the old alternatives.
Unfortunately, the reaction from the transport mafia, which often manipulates every day drivers into doing their dirty work, has been disappointing. A few years ago, a Green Bus initiative was launched in Karachi, offering excellent service to the public. These were shut down after the harassment of drivers and arson by unknown miscreants.
I myself was caught in the middle of a strike near the KPT Bridge in protest against the launch of the online ride-hailing services where rickshaws lined up to block all traffic.
Recently, rickshaws in Lahore staged a demonstration on Ferozepur Road for nearly three hours, creating a disastrous traffic jam to protest against services like Uber and Careem, who they claim are stealing their clients.
I feel for some of these drivers, I do. This is their livelihood, and some of them spend 18 hours a day on the road to feed their families. I also know that some of them don't even own their vehicles and instead drive for others, many of them policemen who run side businesses. When it comes to improving their services, they are caught in a vicious circle and are powerless.
But this doesn't take away from the fact that for decades, rickshaws and taxis services have been growing drastically worse. When I was a kid, I remember hopping in a taxi with my mother on the way to Tariq Road in a vehicle that was clean, air-conditioned, and had an operating meter. This is as rare as gold dust today in a random rickshaw or a taxi. Why? Because those exact same cars that ran in good condition in my childhood are still running today, with little to no maintenance in decades, except for what allows the engine to keep running.
From burning buses in Karachi to the protests, the reaction to this improved means of transport has exposed two issues in the mentality of the average Pakistani. Firstly, we are complacent and feel entitled. There was a massive void left because of the state of the public transport, and it was left up to outsider companies such as Uber and Careem to fill it. Instead of raising a tantrum on the streets, Awami Rickshaw Union Chairman Majeed Ghauri should explain why no one took up the chance to offer the people of Pakistan the service they deserved. No one would be opting for the new options if what they had was up to standards.
Secondly, we tend to offer a lot of blind empathy on wholesale. While one can feel for people whose livelihood has been affected, one must also feel for the paying customers who had been mistreated at their hands. Let's also accept that the new services have created new jobs.
Rather than creating roadblocks, those drivers left behind now need to find a way to shift up a gear. For too long they've driven in a one-man race, where they were all too comfortable finishing last.