For Real Madrid, no cost is too high and Eden Hazard will be a galactico no matter what it takes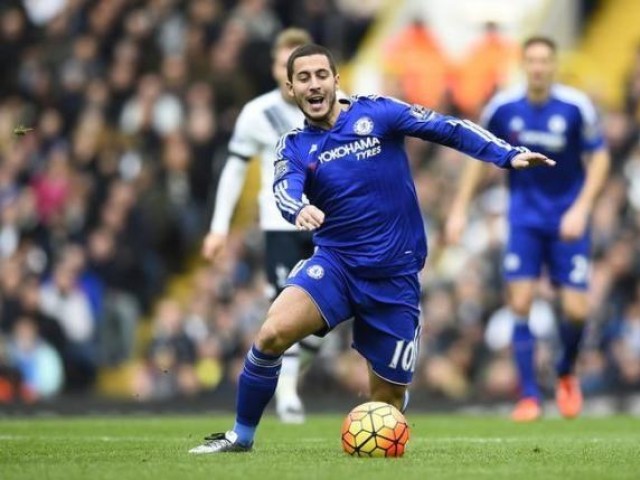 Real Madrid must prepare for a life beyond Cristiano Ronaldo, and one step in that particular direction could be to sign the Chelsea star, Eden Hazard.
The Belgian international was Real Madrid's target last summer too but instead he opted to stay at Chelsea and has enjoyed another fine season with the blues nearing their second English Premier League (EPL) title in three years.
Hazard has featured in 237 matches for Chelsea, scoring 66 goals and providing 50 assists. Since his arrival at the club in 2012, he has bagged the Professional Footballers' Association's (PFA) Young Player of the Year award in 2014 and 2015 along with Chelsea Player of the Year award in 2014 and 2015 respectively.
Although Hazard had a torrid 2015-16 season under Jose Mourinho, since the arrival of Antonio Conte, the Belgian has recovered his old form and flare. He has recorded 11 goals and five assists for Chelsea this season in 31 appearances, which portrays the kind of form he is in right now.
It is expected that Real Madrid will break the £100 million barrier in order to sign Hazard, making him the world's most expensive player. This means he will take over Manchester United's Paul Pogba, who was bought by the Reds for a record fee of £89.3 million.
For those who think that the Los Blancos are spending too much for Hazard, it must be noted that the former Real Madrid chief, Ramon Calderon, stated that the financial position of the club is healthy and hence can afford it. He further added that the bar has been set by earlier transfers and Chelsea would not agree to anything less than £100 million. Hence, Madrid will not hold back in making the bid.
According to Calderon,
"That bar has been set by those transfers, so I think that's how much a club like Chelsea would be asking for and the economy at Real Madrid is healthy. I don't think that wouldn't be a problem for them."
Real Madrid's President, Florentino Perez has always produced a galactico (superstar), signing whenever he is supposed to contest for elections. With the presidential elections due in 2017, you won't be surprised if he does go on to sign yet another one. Perez signed Luis Figo, Michael Owen, Ronaldo and Gareth Bale in the summer of 2000, 2004, 2009 and 2013 respectively, which proved instrumental in his victories as the president of Real Madrid.
Although it is speculated that Real Madrid will find it tough to fit Hazard in their plans, coach Zinedine Zidane rates the midfielder highly and is keen on roping him in. According to reports, Zidane already has a plan for Hazard as he wants to shape the future Madrid team around the Belgian player. The Los Blancos might revert back to the four-one-two-one-two formation with a midfield diamond led by Hazard and flanked by Toni Kroos and Luka Modric. Casemiro will be used in a holding role at the back of the diamond. This will replace the regular four-three-three formation that Real Madrid currently employs.
Chelsea currently has no intentions of selling the winger but it seems likely that with passing time, Madrid will pile on the pressure to sign the player. The club is keen on signing a new deal with Hazard and plan to keep him at Stamford Bridge for at least the next season if not more. Hazard's pay could be increased from £200,000 to £300,000 per week with built-in bonuses as Chelsea looks to lure the midfielder to stay at the club.
Although Hazard is crucial to Conte's plans, that does not negate the fact that 26 is the perfect age for the midfielder to be sold as he is on the peak of his career. If the Blues delay his transfer, he might not be worth the money he is now. By selling Hazard, Chelsea can use the money to sign three to four good players without being cash-strapped. Consequently, the club's financial position will also improve.
One thing that Chelsea must keep in mind when deciding about Hazard's future is that Real Madrid are really good when it comes to transfers and usually get the player they want. Even if the Blues keep the Belgian this season, the Los Blancos will continue their chase and unsettle the player by frequently admiring him and their desire to land him at the club. This can sometimes be an unwanted distraction and might take a player's mind off the game, which is something the London-based club would not want. Chelsea must be well aware of the tactics Real Madrid employed to get Ronaldo from Manchester United and Bale from Tottenham Hotspur.
Although no official contact has taken place between the clubs over the potential transfer of Hazard, but once they do, it will be interesting to see how things pan out.