Is Sesame Street the right platform to educate children about autism?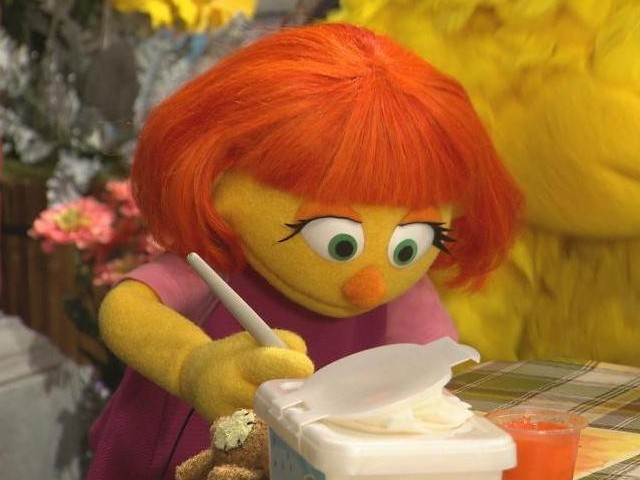 Julia is beautiful. With orange hair and comically large eyes, carrying her toy rabbit with her, she is the adorable new kid on the block. And that is not all! Julia is also autistic. In the current world of oddities, fewer things retain their true vigour. The most colourful street in town, however, remains as true to its purpose as it was 50 years ago. Yes, I am talking about the street that has a 'Big Bird' on it, the Sesame Street!
Using television to teach children new ideas, basic linguistic and numerical skills was made tangible for the first time on Sesame Street. Clueless pranks, meaningless humour and all the commercials on television made it cumbersome for parents to explain to their children, who are bound to become more impressionable with age.
Sesame Street provided for a blend of colour, humour and music to teach children basic things such as alphabets and numbers. With time the Muppets explored challenging themes like prejudice, hate, death, racism along with others, all the topics that are considerably difficult for young children to comprehend. With Julia's introduction to Sesame Street, an extremely significant chapter of social interaction will be addressed; how should children deal with their age mates suffering from autism. It is a rather unexplored territory for a major percentage of TV viewers because it is not even common knowledge what standard autistic behaviour looks like among adults, let alone their children.
For those who do not know, 'Autism' or 'Autism spectrum disorders' refers to a range of conditions characterised by challenges with social skills, repetitive behaviours, speech and nonverbal communication, as well as by unique strengths and differences. In most mild cases the brain cognition is perfectly able to understand situations, complex processes as well but their approaches and methods are queer to the behavioural standards of the society. It is extremely challenging to create a puppet of a four-year-old child affected by this disorder and to place her in normal street settings. But if anyone could do it, it was Sesame Street.
The men and women behind these strings have been working day and night to create and bring out Julia on the Street. Her idiosyncrasies had to be carefully formulated and moulded in consonance with autism. This is particularly challenging due to the wide array of impressions and habits of autistic people that are almost all unique in their own way. Every person suffering from autism has been raised in a different household, hence like any normal healthy child; he/she has had an individually distinct upbringing. This makes it all the more hard for the creators to display these characteristics when a single puppet represents an entire range of mental health disorders. The very attempt to begin tackling this problem through the Sesame Street is extremely brave and socially constructive.
After talking to a colleague in my workplace, Aminah, a mother of two adorable girls, I realised how widely impactful these characters are for children. She said,
"I think an autistic character is an extremely compassionate and wise choice for the show. It makes it meaningful on a whole new level!"
With an increase in the rate of this mental disorder, one in 68 children is affected by autism every year only in the United States. It is, therefore, imperative that we learn about mental health and teach our children from an earlier age. While many argue the extent of utility and impression that such characters can bring about in younger children, there are many examples of how videos, cartoons and movies have actually helped autistic children. The son of the famed journalist and author, Ron Suskind, had a severe speech impediment due to regressive autism. He remained mute for years on end when finally to the pure joy of his family, he started speaking again with the help of Disney animated movies. This is a brilliant example of how such shows can impact and even improve the quality of life for not only such individuals but also their families who suffer just as much due to the impairment. Naysayers will always find something wrong with this initiative but I for one believe it to be highly commendable.
Stacey Gordon, who plays the role of Julia, also has an autistic son from whose experiences and impediments, she draws storylines to make Julia more relatable. This adorable little girl is set to appear on TV screens next month and with this step, the Sesame Street has once more taken considerable strides in making children's television not only entertaining but also informative and compassionate.