Why is there a religion column in advertisements for sweepers anyway?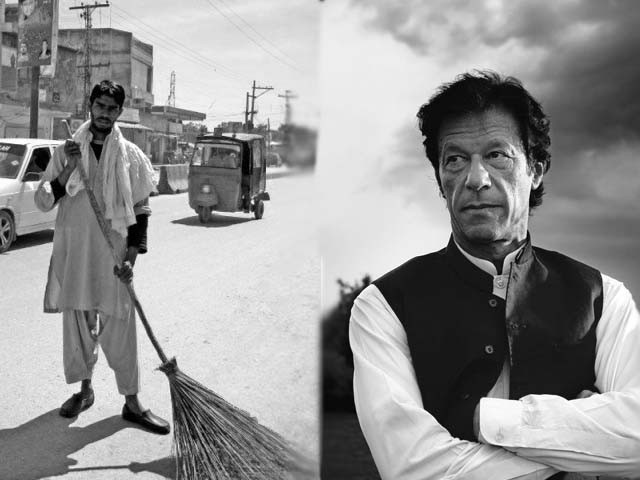 Whenever a local body like a municipal or town committee advertises for jobs involving 'dirty work' (like sweeping floors or cleaning bathrooms), the religion of those applying for the job is also specified. And the advertisement usually mentions that the applicants should be Christians or Hindus (Dalits). Though why sweepers and cleaners have to be non-Muslims is not clear. Who does the dirty work in countries where there are few, or no, Christians or Hindus (like Saudi Arabia for instance)?
One such advertisement went viral recently. But this time the advertisement stated that applicants for the job should be "Shia, Hindu/Balmikis or Christians". The advertisers obviously thought that Shias are non-Muslims. And they are not alone. The new generation of Deobandi Sunnis has been brainwashed into believing that anyone who doesn't share their religious belief (like Shias and Barelvis) are not Muslims and one should stay away from them. Our mullahs of course have been responsible for this polarisation. I sometimes come across youngsters who think it is perfectly okay to kill those who (in their opinion) are heretics.
I did not expect Nawaz Sharif, or any other political leader, to take notice of such things. They are too set in their ways and too involved in enriching themselves to try and change the mind-set of people. But at least Imran Khan should have said something about the religion columns in advertisements like this one. He did not do so; in fact he blamed another religious party, Jamiat Ulema-e-Islam-Fazl (JUI-F), his political opponents for it, as the Bannu Tehsil is controlled by JUI-F members.
Imran tweeted,
JUI-F in Bannu promoting disrespect & hatred amongst diff sects & religions. CM KP must act against spread of bigotry & discrimination in KP pic.twitter.com/IvlxEY76y4

— Imran Khan (@ImranKhanPTI) March 20, 2017
This revealed how disconnected he is from reality. First of all, he did not decry the fact that Shias were labelled non-Muslims in the advertisement. Secondly it's not only people like JUI-F members who think that Shias are heretics. What about Imran's own allies in the Khyber-Pakhtunkhwa (K-P) government? The Jamaat-e-Islami (JI), without whose support Imran's party would never survive in the province, is composed of die-hard fanatics who also believe that they are the true Muslims and all those who do not share their beliefs are non-Muslims.
Imran should have made clear that as far as he is concerned Shias are also Muslims, but he did not do so. He should also realise that unless something is done, the next time such an advertisement appears, it is likely to include Barelvis in the religion column also.
Even though I dislike Imran's way of doing politics, I would like to give him some advice which will benefit him. First of all, he should instruct all local bodies in his province to remove the religion column in advertisements for sweepers. Secondly, he should go all out and ensure that the minds of children in schools and madrassas are not poisoned and they are not taught to hate those who are different from them.
In particular, Imran should loudly proclaim that Shias and Barelvis are Muslims and all schools in his province should teach this to children. After all, his allies have successfully removed pictures of women and animals from all school textbooks, so it should not be difficult for him to insert chapters in school books to preach love and tolerance for all humans. I know that his allies will try to resist with all their might, but he should persevere. If he succeeds, he could become as popular as the late Abdul Sattar Edhi.
Go ahead, Imran Khan, do it!