Why did you read, share, comment and like Daily Pakistan's story maligning Syeda Ghulam Fatima, Pakistan?
It may seem disingenuous of me to criticise another writer for employing 'click-bait'. When I contribute to The Express Tribune Blogs, I do suggest attractive titles for my pieces designed to earn reader interest. After all, aside from publishing well-written pieces every editor wants to boost traffic numbers on their publication, while every writer wants their work read. But the difference between an eye-catching title and pure click-bait is like the difference between mixing a few spoons of sugar into your tea versus adding the contents of an entire sugar mill.
After all, aside from publishing well-written pieces every editor wants to boost traffic numbers on their publication, while every writer wants their work read. But the difference between an eye-catching title and pure click-bait is like the difference between mixing a few spoons of sugar into your tea versus adding the contents of an entire sugar mill.
Recently, a heavily editorialised report by Daily Pakistan made waves across the country when it suggested that Pakistani human and labour rights activist, Syeda Ghulam Fatima, founder of the NGO Bonded Labour Liberation Front Pakistan (BLLF), had misappropriated the 2.3 million USD in funds, raised by the world-famous photo blogging page, Humans of New York (HONY).
Starting with the incendiary title, "Remember Pakistan's 'Harriet Tubman' who got $2.3 million from Humans of New York? This is what she has done with it", the piece cross-stitched half-truths and incomplete information into an article that suited the publication's agenda. Using the absence of evidence as evidence of grave crimes, the article drew conclusions on a shaky foundation, in a manner highly reminiscent of untrustworthy sources such as Donald Trump's favourite Breitbart.
The article implied that just because Fatima had offered very little cooperation to Daily Pakistan (and let's face it, why should she offer intimate details of her organisation to a publication that publishes vile pieces like this one). Furthermore, it stated that she had 'swept under the rug' funds donated for 'liberating bonded slaves and the eradication of bonded labour'.
The allegations were startling, especially because there was nothing to support them. Consider this: Fatima is a woman fighting for the rights of the voiceless, opposing powerful businessmen, and has been threatened, shot at, beaten, and electrocuted for her cause. If she was unwilling to cooperate with a tabloid, she was well within her rights.
But now, in light of recent reports from Dawn and The Express Tribune, these allegations read nothing short of disgusting.
According to Dawn, the money is accounted for. What's more, after explaining the money trail, Brandon Stanton of HONY himself vouched for the activist's character,
"I stand behind Fatima's work and have complete faith in her integrity".
A report critical of Daily Pakistan's piece by The Express Tribune, calling it an 'investigation' rather than an investigation, said that the funds hadn't gone anywhere. Answering why it was in her personal account, Fatima said that the donors hadn't raised any objections. She also explained that progress had been slow because it was a long arduous process.
This much makes sense.
As the rebuttal to the Daily Pakistan piece by MangoBaaz says, freeing slaves from landowners doesn't take a day:
"Anyone who understands how freeing bonded labour works understands there is a lot of expenditure at play. It is on record that by June 2016 alone, BLLF had rescued 470 labourers, these cases are all officially filed through the high court, that doesn't account for the many who have continued to be rescued since, but the larger changes to challenge the systematic problems around bonded labour will take years to implement, and anything else would be wasteful".
Fatima lamented how her 40-year-career of fighting for the rights of bonded labourers had been sullied by Daily Pakistan:
"These funds were raised by Brandon Stanton (of Humans of New York). We never invited him. He himself came to Pakistan, met us, did his work, and later told us that he was going to launch fundraising campaign titled, "Help Fatima to End Bonded Labour'".
She also expressed belief that the allegations were driven by the powerful people against the eradication of bonded labour. Certain websites are only interested in maximising readership by offering their version of the truth; the actual truth is not so important to them. Any experienced writer or journalist can tell you that you can get the exact story you want by asking only leading questions designed to get the statements for the story you need.
If you know how to dig, you can dig dirt anywhere.
If the reporter was unable to win Fatima's confidence, then it's his shortcoming as a reporter.
If this was such an 'investigation' by Daily Pakistan then why didn't they present Brandon Stanton's point of view? Why didn't they ask Fatima what challenges she had faced, as The Express Tribune and Dawn did? Why is it that they used the absence of bank statements to question her character? Why was a generalising statement made about NGOs without offering any evidence? If Fatima was hiding something, then why did she have no qualms about sharing bank records with The Express Tribune?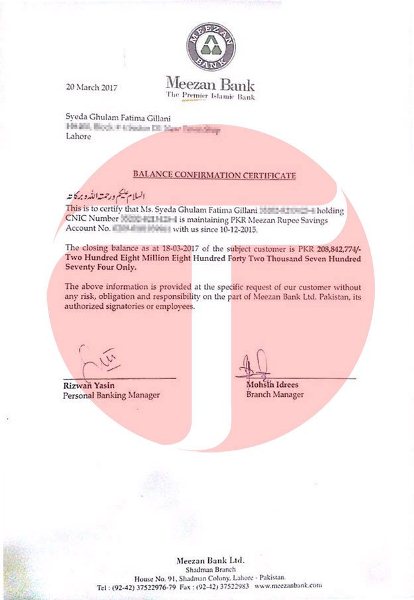 Speaking to The Express Tribune and Dawn, the writer of the report, Hamza Rao, pleaded innocence. According to The Express Tribune he said,
"I have not insinuated anything, I have only raised questions".
Perhaps Rao doesn't comprehend the meaning of the term 'insinuated' but I doubt it. His article is the very example of the term. From the closing paragraph alone, it seems like Daily Pakistan began the investigation with the conclusion that Fatima and her NGO was involved in foul play:
"In Pakistan, NGOs receive hefty donations with little or no oversight, with the result that very few projects exist beyond documents and photographs. Neither the government nor the press follows up on these grand projects, and foreign donors are shown lengthy but misleading reports or fabricated photos, in attempts to satisfy them. When some donors insist, they are fobbed off with excuses of "security situation", and those who swindle these foreign donors are easily let off the hook.

It is shameful that, despite the best of intentions, a great campaign and a huge fundraiser, HONY has been unable to put a dent in the slavery situation in Pakistan. If mismanagement and corruption continue unabated, even $2.3 billion will not be enough to alleviate Pakistan's slavery situation."
The real pity is that there was potential for a good report here, had Daily Pakistan not carried an open bias against NGOs. It would have been interesting to know why Fatima with all her experience had made such little progress despite having significant funds at her disposal. Of course, a more balanced report wouldn't have caught on in social media like wild fire.
Should be investigated! #SyedaGhulamFatima #BLLF #Pakistan https://t.co/8RXjdbqZ6y cc: @NasimZehra @yasmeen_9 @ZarrarKhuhro @Xadeejournalist

— Ali Sher Rahman (@Baahirezaman) March 18, 2017
Speechless.#SyedaGhulamFatima #BLLF #Corruption #HarrietTubman #HONY #BondedLabourhttps://t.co/Cz9ulPKh3m

— Sara Pirzada (@Sara_Pirzada) March 17, 2017
Thoughts? https://t.co/OWZXxr9rOT #HONY #pakistan

— Habiba Nosheen (@HabibaNosheen) March 20, 2017
People like them are the reason why #NGO and #Pakistan are mistrusted. #Shame #NeedAccountability
Thank you #HONY https://t.co/2q4ImERr7x

— Mehek Naeem (@meheknaeem) March 19, 2017
Such a shame. We have a deep-rooted corruption problem, we are dishonest to the core. #HONY #humansofnewyorkhttps://t.co/eXgxRsCmWR

— Faizan (@mfaizan_anjum) March 18, 2017
While we can blame Daily Pakistan all we want, the real villains of this story are us, the readers. Daily Pakistan's original report was shared heavily on social media, yet Dawn and The Express Tribune's reports, which set the record straight, don't seem to be earning nearly as much traction.
We make fun of Donald Trump for being unable to see through the dodgy journalism on Fox News and Breitbart when he makes one ridiculous statement after another, yet here we were, believing and sharing a report that should have raised red flags. We should be ashamed.