Badrinath Ki (very predictable) Dulhania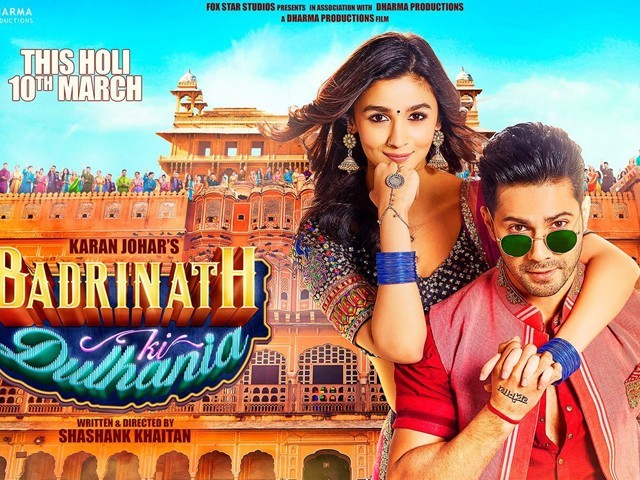 If you think Badrinath Ki Dulhania is a comedy movie with witty scenes that will make you laugh, then you may be in for a surprise. While there is plenty of humour and entertainment, the film also shows its viewers a rather different side of society. Dharma Productions, the company behind this movie, is popularly known for its glitz, glamour, fast-paced story-lines, something about this movie is definitely different and you sense that immediately after the interval.
Badrinath Ki Dulhania has every element that makes a Bollywood movie memorable, if not successful; it has social commentary forcing viewers out of their comfort zones. With clarity and simplicity, the opening scenes set the theme of the movie depicting the uncomfortable but common notion that boys are an asset for the family while girls are nothing but a liability on their family; in this case, the asset is Badrinath Bansal (Varun Dhawan) and the liability, Vaidehi Trivedi (Alia Bhatt).
Also starring in the movie are Aakanksha Singh, Gauhar Khan, Aparshakti Khurana, Shweta Basu Prasad, Rituraj Singh, Kanupriya Pandit, Atul Narang, Gaurav Pandey, Yash Sinha, Sahil Vaid and Sukhmani Lamba. However, it is Dhawan who steals the spotlight with his acting skills while Bhatt tries her best to meet his standards on screen. Will Badrinath's tendency to follow age-old strict family norms, his lack of high-school education and his submissive attitude towards his father hinder his love affair with the independent and progressive Vaidehi? A big catch awaits the viewers.
Even though Dhawan and Bhatt have already shared space on the big screen in Student of the Year (2012), their chemistry in Badrinath Ki Dulhania seemed a bit forced. During some emotional and romantic scenes, Dhawan is on top of his game, delivering dialogues smoothly, showing off those facial expression he has become so famous for, while Bhatt, on the other hand, falls short. Unfortunately for her, she seems to have been floundering throughout the film; especially during scenes in which she was to portray her character as a more mature, serious side – she made me yawn, a complete turn off. Credit where its due, she did nail some of her comic parts.
In the typical boy-meets-girl concept (Bollywood style), the girl is immensely fortunate to be with the man of her dreams. While this film starts off imitating exactly that, the audience will soon discover that in this case the opposite is actually true. If this is for better or worse, you will only know if you watch the movie.
Badrinath, because of his patriarchal family values, lives in a bubble with an air of misplaced superiority that suggests men are better and stronger than women. On a positive note, the film openly discusses the concept of dowry and its impact on the bride's family, and the woman's rights post-marriage; it further reiterates the concept of mutual trust in any relationship especially in marriage. Badrinath's little bubble of self-confidence, however, takes a hit when he meets Vaidehi, an independent woman who dreams of living a successful life without a husband in sight.
What is amusing is the unlikely approach writer-director Shashank Khaitan pursues to show the multiple ways in which Badrinath proposes to Vaidehi – all the while she chooses interesting waits to turn him down. Downside: As it goes with most Bollywood movies nowadays, you may be able to predict the ending of the movie.
The soundtrack of the movie comprises of Aashiq Surrender Hua, a typical Bollywood style song with the 90s wedding marriage theme; Roke Na Ruke Naina and Humsafar, which are slow-paced romantic songs. Badri Ki Dulhania is a fast-paced track with a desi touch while Tamma Tamma Again is the lively remix of Tamma Tamma Loge from 1990's Thanedaar.
Despite Bhatt's performance, which definitely could have been better, and the latter half of the movie having scenes that could bore audiences, most parts of the movie are a mixture of comedy, action, love and heartbreak. While Badrinath Ki Dulhania will not satisfy your craving for an intelligent film on a social issue, it will not disappoint you either.