Did India just say it banned Lipstick Under My Burkha because it was too "lady oriented"? Seriously?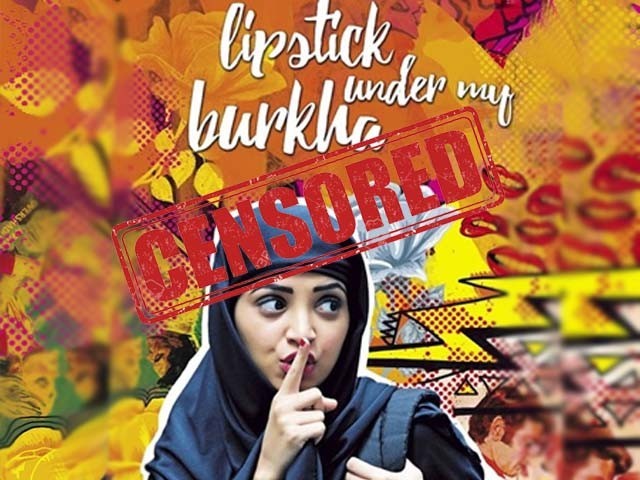 The deliberate silencing of women's voices is a universal phenomenon; only the extent of it differs in different parts of the world. In a country like India, where women face a multitude of challenges, a desperate re-writing of the dominant male-centric narrative is required. And what better medium in India than the film industry to challenge the dominant narrative?
This is what Prakash Jha thought when he set out to produce his latest movie, Lipstick Under My Burkha. The film is a sexual comedy, revolving around four independent women who, tired of being shackled to misogynistic norms, decide to break free and explore their own sexuality unapologetically. The idea behind the movie is not by any means novel – considering past releases like Mastizaade, Yaariyan, Masti and more – only the application of it is. Instead of narrating the movie from a male perspective, it narrates it from a female perspective.
And that is bound to ruffle some feathers. For what business do women have taking agency of their own bodies?
In what followed, India's Central Board of Film Certifications (CBFC), notorious for its misogyny in censoring or altogether denying certifications to films that challenge the status quo of deep embedded patriarchy, denied certification to Lipstick Under My Burkha. CBFC claimed,
"The story is lady oriented, their fantasy above life. There are contentious sexual scenes, abusive words, audio pornography and a bit sensitive touch about one particular section of society, hence film refused under guidelines 1(a), 2(vii), 2(ix), 2(x), 2(xi), 2(xii) and 3(i)".
CBFC now refuses to clear a film dealing w/ female sexuality 'cos ladkiyon ko sex ke baare mein nahi sochna chahiye. https://t.co/SHVnx9Xfba

— वरुण (@varungrover) February 23, 2017
The Story Is Lady Oriented. Their Fantasy Above Life – WTF Is CBFC Smoking? https://t.co/0VW1A3eP0O pic.twitter.com/rdV1OsNsfg

— सात्विक स्नोब (@NotSoSnob) February 23, 2017
But let's not kid ourselves: Many Indian movies, certified for release, are replete of "sexual scenes", "abusive words", "audio pornography" (whatever that means), and "insensitivity" towards a particular community. That is hardly an honest explanation. Instead, the apparent motive behind it is rather more insidious: To keep women in their places, and not expect neither demand to be any more than subservient recipients and objects of desire for the male population. Patriarchy, like any oppressive system, thrives on propaganda and the use of force to kill dissent. Seen from this perspective, it is no wonder that the movie was denied certification.
In a piece for The Guardian, the director of the movie laments:
"In a culture where female actors do "item-songs" – in which they dance among crowds of ogling men and the camera mindlessly moves up and down their bodies – a small, independent, spirited film like Lipstick Under My Burkha threatens to challenge the status quo. How dare women tell stories from their own points of view? How dare women strive for agency over their own bodies? How dare women share their intimate dreams? How dare an older woman express her sexuality? How dare these women exist?"
Patriarchy operates in such a way that it refuses to see women as autonomous human beings; instead, they're seen through the prism of their relationship with men. The following phrase in a classic example of this sweeping phemenon,
"Ghar mai maa behen nahi hai?"

(Aren't there mothers and sisters in the house?)
Women, after all, are worthy of respect and dignity in patriarchal societies as long as they serve the needs of the male species. Whether that function is to satisfy the sexual urges of men, or performing the exhausting, often unrewarding role of a housewife. But there is one ground rule embedded in the system of patriarchy that must not be breached: The man dominates, and the woman submits.
So long as women are being chased and pursued by men, the board seems to have no issue. But a movie that normalises desire in women?
Well, that is taking things too far.
Until and unless this mind-set is not vigorously challenged, that is to see women as complete human beings in and of themselves; women will continue to be the victims of oppression. And this is why the ban of Lipstick Under My Burkha is particularly devastating.
Loading ...