I am a Muslim parent in the US and I chose to send my children to a Catholic school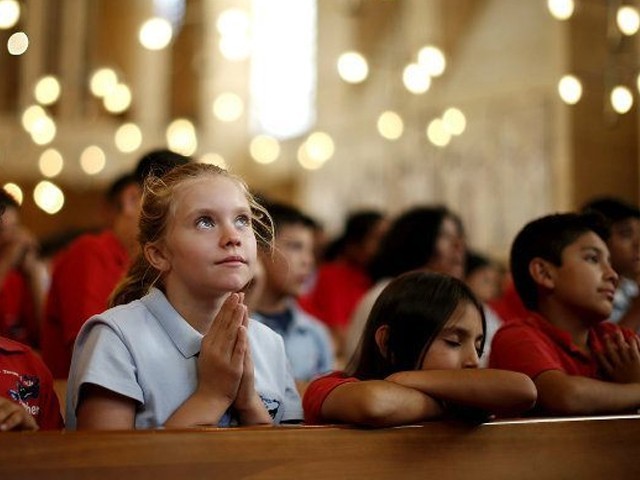 My wonderful nani (maternal grandmother), Jamila Khatoon, was an advocate for missionary schools and hospitals in Pakistan. She would famously say,
"Schools and hospitals are best run by the mission."
Resultantly, my mother and her siblings went to missionary schools in Karachi, as did my siblings and I.
Why is it that parents, belonging to other faiths, sometimes consciously make a choice to send their kids to a Catholic school? Is it because they feel that faith-based education, regardless of what faith the school believes in, imparts spirituality at a young age that leaves an impact through adult life?
I remember putting the same question to my grandmother some three decades ago. Her answer was comprehensive and inclusive, embracing diversity in religion and culture. She said that private education was a privilege that most middle class parents want to provide to their children, and missionary schools provide quality education at an affordable price, being 30% to 40% cheaper than most other independent private schools. She also insisted that many sought a spiritual grounding alongside academic education for their children, and missionary schools are an answer to that. Nani was also of the opinion that the mission is committed to the cause of giving back to the community it belongs to, hence it teaches with dedication and donates heavily to charitable causes to spread goodness, resultantly uplifting the society as a whole.
"My daughter requires discipline and rules, and wants to follow a regimen where accountability plays a strong role, hence we thought a Catholic school would suit her needs best, and rightly so. She is most happy with rules and regulations," opines Sandeep Khana, a mother of three teenage girls.
She continues to say,
"Missionary schools have a great mix of kids from all social strata of the society, hence giving children a grounded foundation in values and morality."
All faith-based schools impart knowledge from a religious perspective, and parents, regardless of their personal faith, sign up for this upon enrollment.
Although Jamil Kidwai was hesitant about this aspect of attendance and instructions, his child's blossoming identity connects Jamil to what he learnt as a kid in his own country.
"Belonging to a minority religion, even if one is a secular person, and knowing as much as one can about how the moral identity of any religion connects a youth with the God they follow, regardless of what religion they practice at home, and gives them a moral foundation to go out into the world and be proud of their identity."
Even parents who don't experience affinity with any religious group often want their children to obtain an education steeped in spiritual lessons. They may not strictly and actively adhere to a faith, but mostly feel that the religious framework of their child's education at a missionary school enriches his/her ability to debate at a spiritual level. It helps children, agnostic or those belonging to other faiths besides Christianity, to learn about religion, grow spiritually and question faith from an intellectual standing.
"It gave me an opportunity to discuss Islam with my children at a young age, which otherwise they would not have questioned or discussed until they were much older, especially as a Muslim immigrant living in the US. Enrolling them in a Catholic school gave us discussion forums and topics more often. We discussed comparative religions, religious tolerance, and learnt about different religions in order to understand the politics of the world and the country we live in," said Jamil referring to the debate forum he shares with his teenage children.
Faith and spirituality provides a lens through which we examine the broader world, and this is also a reason why we as parents trust Catholic institutions for imparting academic education. Through religious connections, we examine an already existing framework for discussions and a common set of values that helps build a better understanding of society tolerance.
"Any kind of religious learning encourages empathy in a community. My daughters pray with their peers every day. The teacher stands by her desk and asks the students individually what they want to pray for that day. It could be as simple as praying for an improvement in a grade, for better health of a friend or relative, or prayer on the death of a pet, and the class joins in that collective prayer. Religion gives them all the same language, and as a group they can gather and send out good thoughts and have a consolidated focus for empathy, caring and forgiveness.
The spirituality taught in a Catholic school can help bind the gap between character education, academics and social interactions. Morals, ethics and character development form some of the fundamental beliefs and values of Catholic schools. This does not imply that other schools are not focused on character development, it simply means that Catholic schools insist on beliefs related to character development," says Sandeep.
I questioned Muslim parents who made a conscious choice of sending their children to Catholic schools. I met one of the Muslim mothers, who willingly enrolled her children in catholic schools, and asked her,
"As a Muslim parent, did you ever fear that your child studying in a Christian school might turn out agnostic and have a skewed perception of religion, or would completely forego his/her own religion for Christianity – and what you as a Muslim parent thought about these possible outcomes?"
Not requiring any time to think about her decision or answer, she said,
"Neither of these possibilities occurred to me, simply because when one chooses to move as an immigrant to a Christian-majority country, and the children are born and raised in the western culture surrounded by all sorts of religions and cultures, there is always a possibility of the child choosing another religious ideology. However, that possibility and probability does not increase just because the children are going to a Catholic school."
In my personal experience, I'm a practicing Muslim, my children have been attending Muslim Sunday school since they were kids, we move around in a social set up where their friends are Muslims, Christians, Jews and Hindus, or kids from other diverse backgrounds. They attend mass at school and come home and talk about comparative religions, finding similarities between their own faith and other faiths, and discuss contradictions.
Some 20-years-ago, I moved from Pakistan, with a very myopic view of Islam, where I was taught that only I was right or that the view of Islam taught in Pakistan was right. I was ready to judge others at the drop of a hat. However, I feel that my children have a very wide, accepting and non-judgmental view of Islam. In fact, their teachings at a Catholic school has made them closer to their own faith, and has also taught them respect and tolerance of others' faith.
In the words of my teenage daughters,
"Mom, spirituality is all the same; all faiths teach goodness, their symbolism is different, and ways of practicing their faiths is separate. However, they seek the same goodness. How can anyone go wrong with goodness?"