Denzel Washington versus Casey Affleck: And the Oscar goes to… No!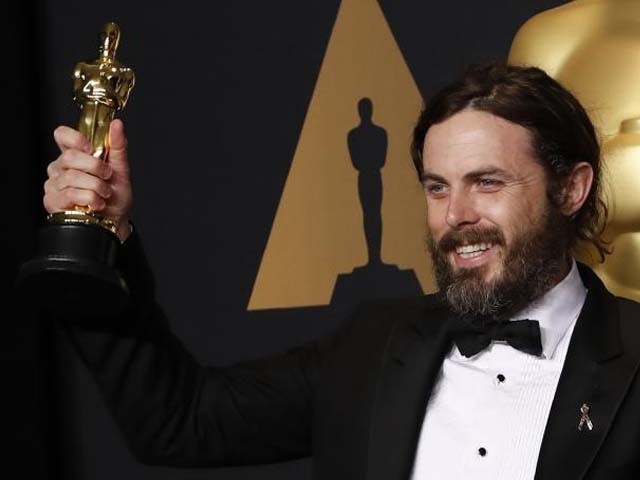 You win some, you lose some. But there are some losses that hurt more than most. Ask Denzel Washington for instance, who had a really hard time accepting his defeat at the recent Oscars. Washington's displeasure was pretty evident on hearing Casey Affleck's name being announced as 'Best Actor', but an awkward smile was just the start. From then on, it went from bad to worse. 
When the Manchester by the Sea star got on stage to give his acceptance speech for his first Oscar, the two-time Academy Award winner was unable to erase the scowl from his face. Washington then concluded his show of anger by shaking his head from side to side as he bit his lip.
Here's Denzel Washington during Casey Affleck's #BestActor acceptance speech #Oscars #Oscars2017 #CaseyAffleck #DenzelWashington pic.twitter.com/RJKn5dEuPm

— Lauren Zima (@laurenzima) February 27, 2017
Me when Casey Affleck won best actor over Denzel. #Oscars pic.twitter.com/wK7kVn3lqH

— Matthew A. Cherry (@MatthewACherry) February 27, 2017
Chrissy Teigen was all of us during Casey Affleck's acceptance speech. #Oscars pic.twitter.com/Ys4HuhueFF

— Patrick Quaife (@pquaife) February 27, 2017
Washington wasn't the only one feeling like this. His facial expressions pretty much summed up how the vast majority felt.
Let's explore why there was mass resentment over this particular decision. Was it a black dude versus a white dude thing? Was it because of their respective performances? Or was it something else – something that has nothing to do with their cinematic endeavours at all?
The 'Best Actor' category at the 2017 Academy Awards was largely seen as a straight duel between Washington's role in Fences and Affleck's broken man in Manchester by the Sea.
To be perfectly honest, the Oscars went about exactly as predicted with Affleck's victory. Having won 30-plus critics prizes throughout the fall and winter, Affleck was long favoured to win the prestigious award.
Despite a late surge of support for Washington to win, it was always Affleck's award. So performance-wise Affleck deserved the award more than Washington did. Aside from the Screen Actors Guild Awards, where the Fences star came out on top, the decision was fair, at least according to critics.
So why were so many people up in arms over Affleck's victory? If you were paying attention to the awards season recently, you would have come across the disturbing sexual assault allegations against Affleck that made the headlines last year. Apparently two women who worked with the younger Affleck, a producer and a cinematographer, filed separate lawsuits against him, alleging sexual harassment. One of them, in fact, claimed that he snuck into her bed while she was asleep and that she woke up to him caressing her back. Although Affleck has repeatedly denied the accusations, and the claims were settled out of court, his reputation has still hit rock bottom with his Hollywood peers.
It wasn't just Washington who was extremely annoyed as presenter Brie Larson was also less than enthused to be handing Affleck the award. Ironically, Larson won an Oscar in 2016 for playing a victim of sexual assault. Awkward!
Last year Brie Larson stood and hugged every sexual assault survivor who was on stage with Gaga and now she has to hug Casey Affleck.

who hates casey affleck more: me or brie larson? it's a close call.. #oscars pic.twitter.com/SoymUAhRex

— jamie (@dylanohollands) February 27, 2017

Some of you might even argue that Affleck's off-screen life has nothing to do with how he performs on-screen and getting an award for his performance is perfectly legit. But then the question comes up, are these awards rewarding a single performance or are they rewarding the entity of the art? Because art is representative of an entire life, and those arguing against the decision clearly feel that the Academy has rewarded a life that does not deserve praise.

Casey Affleck won Best Actor.
Donald Trump is president.
Tell me again how sexual assault charges can "ruin" a man's career.

On the other hand, there are also those who might say, what's the big deal? Who cares if an alleged sex offender got a frivolous golden statuette? There's this other guy who did the very same thing, and guess what? He's now the president of the most powerful country in the world.

Loading ...