Rangoon is an example of how a gifted director is wasting his talent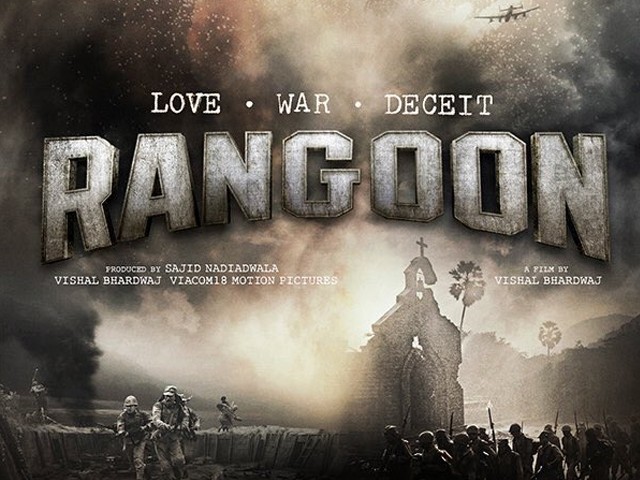 There's a line in the film where Saif Ali Khan tells a British officer,
"We're actors; we know how to convince people."
I am sorry to burst your bubble here Chote Nawab, but regrettably your statement falls completely flat on its face if the said performers are asked to work with a wearingly long and complicatedly patchy screenplay.
At 167 minutes, Vishal Bharadwaj's Rangoon isn't just a drag but also tediously stuffed with a hotchpotch of multiple storylines.
Rangoon takes us back to 1940s Hindustan, against the backdrop of contrasting independence ideologies of dovish Mahatma Gandhi and hawkish Subhash Chandra Bose, where a wildly popular stunt heroine Miss Julia (Kangana Ranaut) – modelled on real life action star Fearless Nadia – rules Bombay cinema. Julia's professional mentor, Rusi Billimoria (Khan), is not just her patron but also her lover too.
Circumstances take the swashbuckling femme fatale on an intriguing journey from the lavish film sets of Bollywood to the war-torn borders of Burma, where she must perform in a series of shows designed to entertain the 'British Indian' troops stationed there. This is where she falls for our primary plot driver, Jamadar Nawab Malik (Shahid Kapoor), a cocky Indian soldier who is assigned as Julia's military escort on her visit to the Indo-Burma border.
Too much information to handle? Precisely!
Now what exactly was Bharadwaj trying to make is anybody's guess? Was this homage to Fearless Nadia in the form of a biopic? Or perhaps, the film was a poignant love tale comprising of three distinct individuals? But then again, wasn't the movie a period war drama showcasing the conflicting philosophies of pacifism and militarism.
Long story short, Rangoon ended up working as neither, because Bharadwaj, without Shakespeare this time around, self-indulgently decided to poke his fingers in as many pies as he fancied.
And don't even get me started on the climax. The rest could have been forgiven but what happened right at the end of the movie was a blatant attempt to insult my intelligence.
Giving credit where it's due, the movie is eye candy and a half, thanks to some deliriously evocative cinematography from Pankaj Kumar. Not to forget, the truly fantastic retro production design with exquisite locales, stunning costumes and fabulous hairstyling.
In theory, all three of the lead actors were a really good fit for their part. Khan, however, was the pick of the bunch with his turn as a wealthy Parsi producer from the 40s in Mumbai. Unfortunately, in comparison with others, his superior performances were held back by an inferior source material.
The same, however, cannot be said for General David Hardings (British actor Richard McCabe), the chief antagonist, whose wretched act of being unintentionally hilarious rather than menacing couldn't even be justified by bad writing.
Bharadwaj is a talented filmmaker, both Maqbool and Omkara are a clear testament to the aforementioned statement. But then when you watch films like Haider, Matru Ki Bijlee Ka Mandola and now Rangoon, and you lament how a gifted director is wasting his gift by making these near misses.
Don't get me wrong, compared to conventional Bollywood, even his bad work is miles ahead of the dross usually being served by B-Town in the name of cinema. But what really gets to me is how with only a few minor changes, most of his work could easily have entered the 'modern day classic' territory. For now, all I can do is borrow Ranaut's catchphrase from Rangoon itself.
"Bloody hell!"
Loading ...