To all my 'berry' special someones, these recipes are for you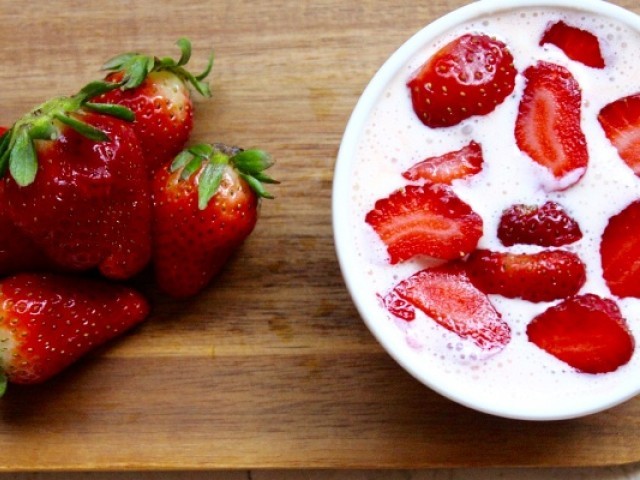 I shall start off by highlighting the importance of the strawberry emoticon in my life. For me, hearts are over-rated. So if I have ever used a strawberry on someone – even once – it must mean they have some special significance in my life. I know it's cheesy, but I'm possessive when it comes to using this particular emoticon.
Now when rairi wala (fruit cart) stands are laden with bright red fruit, you know the season for the king of berries has arrived!
Strawberries are by far my favourite fruit. I could eat them all day long and there are so so so (I cannot put enough emphasis on the word so) many ways this fruit can be used. Breakfast, lunch, dinner – it covers everything!
Not only are strawberries juicy and delicious, they're a bona fide super food. They are an excellent source of vitamin C, they help fight cancer, enhance the elasticity of your skin, fight bad cholesterol, regulate blood pressure, and I could go on and on.
For foodies like myself, who want to lose weight but cannot stop eating – this is your safe antioxidant haven right here. One strawberry contains roughly three calories – so imagine how many one can consume and not worry about gaining weight!
I decided to come up with three quick, easy, and basic recipes to kick-start this season. The key to all three is having a blender and of course strawberries! So here goes:
Healthy Smoothie
Ingredients
Medium ripe banana ­– 1
Strawberries – 3
Low-fat yogurt – ¼ cup
Ice cubes
Cold water – 3 tbsp
Method
1. Chuck everything in a blender.
2. Add a few tablespoons of cold water.
3. Blend until smooth and then top it off with mint or berries. Sit back and chill out with a healthy smoothie.
Strawberry Chepudding
So this next dish came about two years ago. I was home alone, hungry and craving cheesecake. But being extremely lazy, I didn't want to go out. I assessed my ingredient situation and came up with a dessert, which is a hybrid between a pudding and cheese cake. It's super yummy and easy to make. It's the perfect dessert to accompany a meal for when those last minute guests come by. While I was deliberating what to label my Masterchef moment, a friend suggested I call it a Chepudding, so a Chepudding it is!
Ingredients
For the base:
Small packets Candi biscuits – 3
Stick butter – 1 (melted)
Sugar – ½ cup
For the cheesecake layer:
Sugar – ¼ cup
Cream cheese – 250 grams
Heavy cream – 2 cups
For the pudding layer:
Milk – 1 ½ cup
Instant vanilla pudding mix – 1 packet
Strawberry yogurt – 115 grams
Strawberries – 5 or 6 (diced)
Method
1. Preheat the oven. Blend Candi biscuits and melted butter in a chopper and then press the mixture into the bottom of any glass baking dish. Bake for 15 minutes. Allow to cool.
2. To make the cheesecake layer: In the bowl of an electric mixer, beat cream cheese, ¼ cup sugar and cream until stiff peaks form.
3. To make the strawberry pudding layer: In another bowl, beat milk, pudding mix, strawberry yogurt and strawberries until combined.
4. Assemble steps two and three any way you like. Top off the dessert with strawberries. You can even use jelly squares here.
Strawberry Ice Cream
For the third dish, I chose strawberry ice cream. Let me add here ice cream is so easy to make and homemade ice cream is clean, healthy and tasty to boot!
Ingredients
Cream – 2 packets
Condensed milk – 1 tin
Strawberries – 8-10 (diced)
A dash of vanilla essence
Method
1. Chuck all ingredients in a blender, and freeze for a minimum of six hours. And yeah that's about it. See, it's so easy!
2. Garnish with any topping at all and enjoy.
So if you're not already a fan of strawberries, now is the time to convert! And I'll take this moment to dedicate this blog to all my 'berry' special someones out there! 
All pictures: Arhama Siddiqa