Love him or hate him, it's time we bid adieu to Pakistan's Boom Boom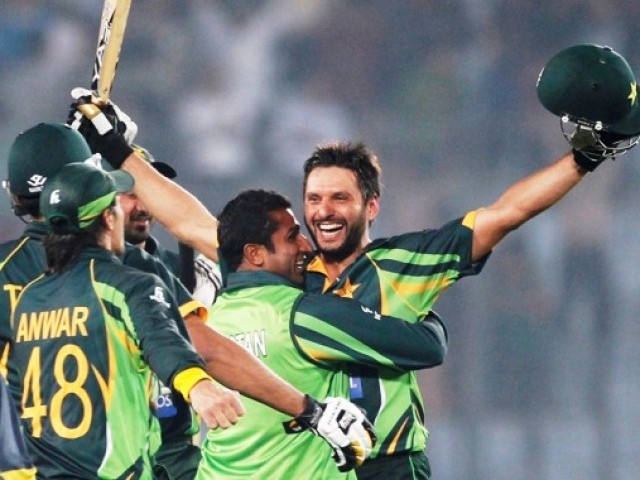 For more than 20 years, the name Shahid Afridi has been part and parcel of Pakistan cricket, so much so that Pakistan's cricketing history would be incomplete without highlighting his contributions.
Even the greatest of cricketers have found it difficult to dominate oppositions from the very beginning of their careers, but that was not the case with Afridi. The manner in which he announced himself on the international arena was beyond amazing. He made a mockery of the Sri Lankan bowling attack in the second ODI match of his career, scoring the fastest century off just 37 balls, a record which stood for almost two decades.
During his prime, Afridi was a complete package as he transformed himself into a fine all-rounder. He was a flamboyant batsman, a skilful leg spinner and one of the best fielders on the field. Every now and then, Afridi would disappoint you with his wrong shot selection but even those cannot overshadow some of his unforgettable performances.
Popularly known as 'Boom Boom', Afridi has been instrumental in many victories for Pakistan over the years. Who can forget his match-winning performance in the knockout stages of the World T20 in 2009 where Pakistan were crowned champions, or those two famous sixes against Ravichandran Ashwin during the Asia Cup in 2014 to seal the deal against India.
Afridi knew how to make a statement which can be gauged from the fact that he made a resounding comeback in 2013 with a scintillating bowling spell where he took seven wickets for just 12 runs, ensuring everyone that his career was far from over.
Although Afridi burst onto the screens in grand style, he perhaps set the bar too high for himself. He was never really seen as a player who would perform well consistently, especially with the bat, which is visible from a batting average of 23 in almost 400 matches.
Towards the second half of his career, Afridi became better known for his bowling as compared to his batting. He worked extensively on his bowling and developed into a fine leg-spinner. He would provide his side with breakthroughs during the crucial middle-overs and would stem the flow of runs with his economical bowling.
The explosive all-rounder played his last T20 match against Australia at Mohali during the World T20 in 2016. Interestingly, Afridi's last ODI, Test and T20 match were all against Australia. He was leading his side in the tournament where Pakistan had a lacklustre campaign, losing three out of the four matches they played.
Although he had earlier indicated that he would retire after the World T20, he decided to continue playing. However, that did not work out in his favour as he was never selected to represent Pakistan internationally again.
After playing blistering innings against Karachi Kings in the on-going Pakistan Super League (PSL) which nearly eliminated his side, Peshawar Zalmi, from the tournament, Afridi has finally decided to call it a day by stating that his days in international cricket are over but will continue playing for his PSL franchise for another two years. According to Boom Boom,
"I am playing for my fans and will continue to play this league for another two years but it's goodbye from international cricket. Now my foundation is important for me. I have played with seriousness and in a professional way for my country."
However, the manner in which Afridi handled his retirement was not appropriate in my opinion – a player of his stature should have adopted a more mature and dignified approach and should have bowed out at the opportune moment rather than hanging around and asking for a farewell match. He is a role model for many cricketers and setting such an example is surely not a good sight.
Keeping everything aside, one cannot negate the fact that Boom Boom had a massive global fan following throughout his entire career, evident from the huge roar from the crowd he would receive every time he stepped onto the field. Although he had his fair share of critics who would criticise his careless approach towards the game, they would eventually look towards him to provide entertainment and hopes of winning, which goes on to show the support he received from all corners, even his critics. It would be safe to say that no other Pakistani player has generated such admiration and fan following over the course of their history and perhaps there will never be another cricketer like Shahid Afridi.