This isn't the first time Shahid Afridi decided to retire, but will it be the last?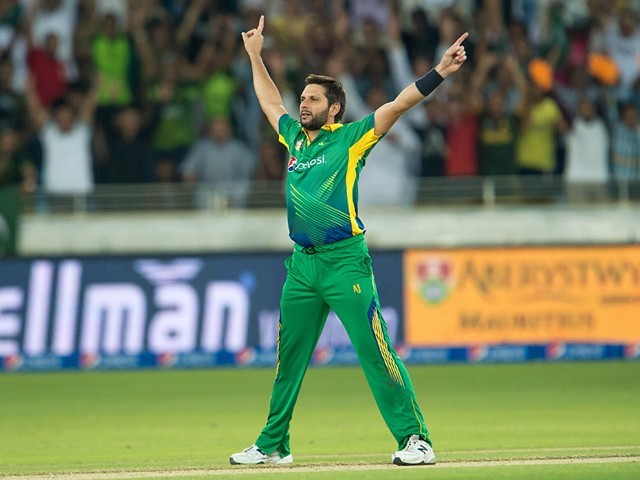 Recently, Shahid Afridi announced his retirement from international cricket. This is not the first time this has happened, and it's probably not the last either.
#ShahidAfridi
1996: Debut
2011: Retired
2011: Came back
2014: Retired
2014: Came Back
2016: Retired
2016: Came Back
2017: Retired

— Umair Shahid (@UmairShahidK) February 20, 2017
FUN FACT: Shahid Afridi has announced retirements under three different US Presidents.

— Abhishek (@absycric) February 20, 2017
However, what it does do is give me the opportunity to analyse the retirement process in international cricket and how different teams go about it. Let's start with our favourite (not):
India:
They don't retire. Not easily at least. Some continue to play until they break a particular record, others until they are sure of landing the Indian Premier League (IPL) contract or a commentary deal, while the rest take partial retirements in bits and pieces. However, the good thing is that there are so many formats of the game now that they can easily manipulate their retirement.
So when is the next possible retirement for them?
Well, not in the next two to three years at least.
Pakistan:
While only a handful of Indian cricketers have retired in the last five years, Afridi alone has retired thrice and is still playing. Between Afridi, Younis Khan and Mohammad Yousuf, the total number of retirements have been around a dozen and interestingly enough, until a week ago, two of them were still international cricketers.
The only decent retirement since that of Imran Khan was by Shoaib Akhtar. Even Azhar Mahmood has still not retired. Did Saqlain Mushtaq retire? Imran Farhat? I think even Ramiz Raja has not retired. I'm not sure. The retirement that was expected 10 years ago is still the current captain of our Test team.
No complains there though.
Who will be taking the next possible retirement? Will it be real or just a protest?
Australia:
They have a genuine reason for not retiring. They debut at the age when other countries' cricketers are contemplating retiring. There are always people like Shaun Tait  here and there but generally, they are as sticky as Ricky Ponting and Brad Hodge.
Who will be the next one to retire?
Probably Steven Smith – 10 years from now.
New Zealand:
They like taking retirement. They like it so much that they make up for other teams not taking it. Some of the Kiwi players have even been reported to retire before their debuts. It's a general belief in New Zealand that Daniel Vettori used to play alone while all other players retired around him. Roger Twose and Geoff Allott went Absent Without Leave (AWOL) and people later found out that they had retired.
What will be the next possible retirement for the team?
Ten of the current players before 2018.
 Sri Lanka: 
They are quite similar in behaviour to India but they are generally nice people, which make them bearable. They don't retire before they secure a place in parliament. One of the major reasons is that they know that they will become captains after the age of 30, hence they just wait around for it to happen. Sanath Jayasuriya was asked to sign his retirement papers on gun point, otherwise he would have continued to play till he was 60. Mahela Jayawardene and Kumar Sangakkara did not retire for a long time, thinking that the other person will retire first.
So who is next in line to a possible retirement?
Well, whoever gets assurance of the election tickets!
West Indies:
They don't retire. They take the board head on. They go on to play unbelievably breath-taking innings in the IPL, earn more money, watch national games from the crowd, and show the middle finger to the West Indies Cricket Board (WICB). They are cool as a cucumber. They win world cups and tell the whole world that their board does not support them. They ask reporters out for coffee during interviews, make songs and chants and dance moves. They are the real alpha males. The real tussle is who will retire first, the cricketers or the board.
Who is taking the next possible retirement?
WICB!
South Africa:
They generally have a sensible approach towards retirement. They usually take logical reasons like form, age and physical fitness into consideration when thinking about retiring. The only issue is that they end up writing books after retiring and start blaming their colleagues for making 'cliques' in the team.
Who will be the next possible cricketer to retire?
Abraham Benjamin de Villiers is approaching his, I think. Or has he already retired?
England:
They also have issues with the board at times but they take it in a British manner, unlike the West Indians. They solve those issues over a cuppa, and as a result, some of these issues are resolved and some are not. The unresolved issues are passed on to Piers Morgan.
Who will be taking the next possible retirement?
Maybe Captain Alastair Cook, or will it be Jimmy 'grumpy' Anderson?
While cricketers have their fair share of issues when it comes to retirement, the least we can do is ask some of the commentators to retire. At least we get to reduce noise pollution!