Is there a second amorous affair brewing in Saanp Seerhi?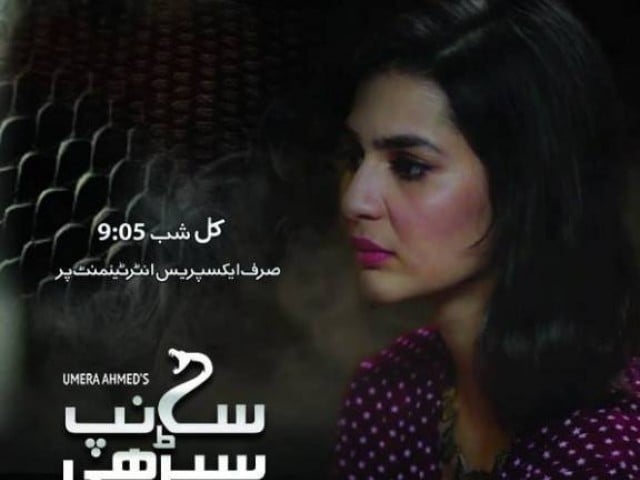 For an average serial, one of the most vital moments is when cupid strikes. However, it is hard to establish such a plot in certain dramas where power and politics form the backdrop. So seems to be the case with Saanp Seerhi. With loud, ruthless socio-political commentary in the background, the love story of Mohid and Sophia is a faint thump. 
Politicians stepping into puddles for footage (no points for guessing the inspiration behind this), and enforcing their progeny upon their voters as future masters and their complicated relationship with the media indicates the focus of the drama quite clearly.
From the latest developments in the storyline, the character of Shaina (Anoushey Ashraf) has come out stronger as compared to the mousy, helpless assistant we saw in the opening episode. As was predicted by certain credible drama critics (me), she is likely to carry the play forward now that she has claimed the front position.
Let's take a look at where the drama fell short, as well as what the future plot of the serial might entail which will keep the audience glued to their screens.
The let downs:
1. The most boring party in the history of television
When Ashir is shown fretting over a party he wasn't invited to, the audience anticipated a crazy party. However, once Ashir manages to get to the party, it was by no means worthy of his frustration. Even Pakistan Televison (PTV), during its censorship days, has pulled off a more boisterous club party. Yes, we too, can see blurred objects held by the gentlemen at the party but how do we know that those aren't two coffee mugs pixelated to avoid brand placement?
2. The short university life
Graduating from university in a gown and hat, dramas depicting university life can be reminiscent for people like me. However, that pleasure was taken away too soon when Mohid and Sophia's university life apparently comes to an end. Other than depriving the viewers of a nostalgic reminiscence of Zindagi Gulzar hai, this abruptness has also affected the on-screen chemistry between the two characters.
The anticipation:
While the aforementioned party was not what we expected, it did establish an inkling of something brewing between Ashir and Shaina, as the teaser for the next episode shows that the two are sure to cross paths. Thus promising that Mohid and Sophia's love story is not the only amorous affair to come our way. What's interesting about this is that the real prey of the show will soon be revealed.
Furthermore, now that our heroine, Sophia, has graduated from university and as every desi post-grad girl knows all too well, she will soon be pressurised about marriage. Let's hope our hero, Mohid, manages to rise to the occasion.
Fingers crossed.