She is six and her name is Sarima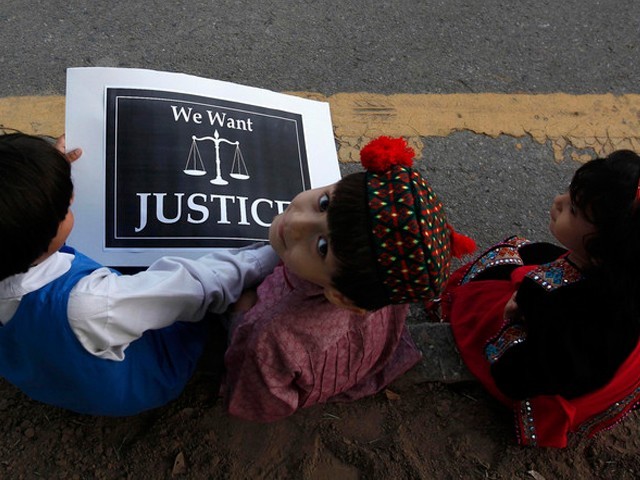 Once upon a time, in a land not so far away, there was a little princess called Sarima*. But wait, this is not a fairy tale. This is a slap in the face of a society that greatly lacks humanity.
In this tale of woe, Sarima is a 6-year-old girl whose body was found in a dirty drain in Karachi's Korangi Crossing area. She had been raped, mutilated and left for dead. When her lifeless body was located and taken to the Civil Hospital, it was a miracle she was still breathing.
No one thought she would make it, but she did. God took pity on Sarima, but mankind didn't.
Sarima's story is one of countless small children who are failed by the system because of their socio-economic deprivation. She is just another ticker at the bottom of our TV screens.
We've heard this tale all too many times. She is just another unfortunate child on the other side of the Clifton Bridge – close enough to feel sorry, far enough to be removed. It is always about someone else – someone else's childhood, someone else's experience, someone else's child. But that's the thing, it's not. Sarima, too, is ours.
Yet, no one took to the streets. Yet, we don't demand a safe and secure country for our young. The brutality of what happened to this child should have made us set the world on fire, provoked a tempest of social change, but here we are, sadly, merely shaking our heads in disappointment.
Some quirk of fate brought Sarima's case to our attention, but what about the thousands of other children who suffer abuse, molestation and rape with muffled cries and silent tears? Yet, we are apathetic; yet, we choose to brush it under the rug.
The Chief Justice of Pakistan, Saqib Nisar, took notice of Sarima's tragedy, perhaps due to pressure after media coverage, and ordered the Sindh Inspector General Police (IGP) to submit a report to him directly within two days. Her own family did not know about the incident until the media began reporting it. This speaks volumes of the individual, but what does it say about our institutions? Why must it take one individual to galvanise an entire institution that should have been working tirelessly towards her justice and care in due course?
Our police stand incapable while these kids beg at the behest of mafias. The defective execution of justice that we are all so impervious to allows animals like Sarima's rapists to defile her without any fear of repercussions.
Our police are guilty of aiding and abetting Sarima's rape.
We have no legitimate authority to execute child welfare services, no check and balance on caregivers. Although Sindh has a thorough legislation in the form of the Sindh Child Protection Authority Bill, there is little to no execution of it. Why? With all the drama that is the Sindh Assembly, why have proper child services not been established? Why are unsupervised children seen during school hours roaming the streets and bring employed illegally? Every member of the Assembly who chooses not to raise his/her voice for these children is guilty of aiding and abetting Sarima's rape.
Our education system does nothing to teach our children personal safety, mental health and sexual education. There are no regular teachers, let alone administration and supervised transport services to ensure that these children attend school.
Our educational system has aided and abetted in Sarima's rape.
Our financial gurus have come up with schemes only to make the rich richer and the poor poorer, causing levels of deprivation in men like Sarima's rapists.
Our government is guilty of aiding and abetting Sarima's rape.
Where is Pakistan's social safety net? It is the state's responsibility to foster the weakest in society; to give unemployment benefits, free health care, education and shelter. Nelson Mandela once said,
"The true character of a society is revealed in how it treats its children".
All of our institutions are guilty of aiding and abetting Sarima's rape.
Dr Sumaiyya Syed Tariq, the doctor at the Police Surgeon Office, who initially examined Sarima, took to penning her emotions about the day Sarima was brought in. In a rare show of empathy from a government official, Dr Sumaiyya not only expressed her shock at how Sarima had been defiled, but also "marvelled at her courage". She went on to state how she had seen rape cases with children far younger than Sarima.
Why have we not heard of them? Why don't we care? When will we stop being immune to our children being pillaged and butchered by members of our own society? Why does it not jolt our souls into action every single time a child is cheated of his or her innocence and childhood?
As per my personal sources, MNA Ali Rashid – whose constituency is Korangi, where Sarima resides – has been facilitating her family to get her the best possible care. After learning that Sarima is a child with special needs and was born with learning disabilities and speech impairment, he has also announced financial support to Sarima's family from his personal finances. Why has the government not done the aforementioned for Sarima and other children in her predicament? Why was she not given facilities befitting her disabilities to begin with?
The state is guilty of aiding and abetting Sarima's rape.
According to a non-profit organisation Sahil, five children are abducted every single day. Last year, 28 cases were turned away from the authorities. The figures mentioned are only the documented cases. The real numbers would be doubtlessly staggering.
Studies from 2014 show that about 10 children get abused in Pakistan on a daily basis. This figure has increased by 17% from previous years. How has this been ignored?
Our entire welfare system is piggybacking on NGOs and aid foundations. The government has shown us time and again that without the intervention of the Edhi Foundation, Chhipa Welfare Association, Sahil and countless others, our children will die hungry, babies will lay abandoned in dumpsters, rape victims and the discarded elderly will have nowhere to go and dead bodies will rot on roadsides. The state lies conveniently dormant while welfare organisations pick up the flak.
By allowing the state to remain lethargic and inert, Chhipa and Edhi are guilty of having aided and abetted Sarima's rape.
Finally, it is us, the citizens of Pakistan, who find ourselves so far removed from children like Sarima, that we ignore standing up for what makes us human. It is us, who skimp on our taxes and evade the responsibility we have on our welfare services. It is us, the parents of young people, who think our children are different from Sarima, simply due to a quirk of fate because they are born with more resources; who stay silent because it is all so ugly, or simply because it cannot happen to our own. We have failed our children. We fail them every single day as we pass by them in our cocooned cars while they stand on the burning streets barefoot under the scorching sun.
We are guilty of aiding and abetting Sarima's rape.
The Prophet Muhammad (PBUH) said that every one of us is a protector and guardian, and are responsible for our wards and things under our care, and a man is a guardian of his family members, and is accountable for those placed under his charge (Sahih Bukhari and Muslim).
I conclude with the plea that we wake up and realise that if our government is failing to look after our young, we must make them. That Sarima, too, is our own, and that her childhood was not shattered in vain, and inescapably, her story is not a fairy tale but an all too familiar nightmare.
*Sarima is an Arabic name which means 'strong-willed'.