Splitting the captaincy between Azhar and Sarfaraz is a bad idea!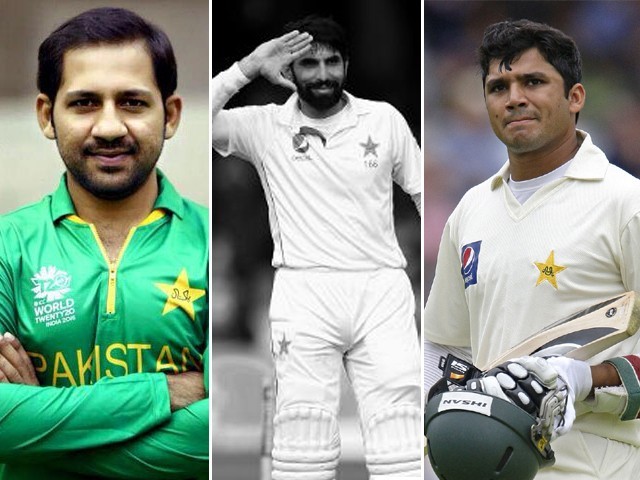 Yet another tour of Pakistan to the continent of Australia has ended badly. After a good Test series in England, followed by achieving the number one Test ranking, they have been outplayed in the ODIs in England, New Zealand, Australia, and of course, the Test matches in New Zealand and Australia.
There is a lot of blame being placed on the shoulders of Misbahul Haq for the losses in these last two Test series and for good reason. At the same time, cricket is a team game, and as the abysmal performances in the ODIs prove, there is only so much a captain can do. Gone are the days of Imran Khan, when one man could galvanise a playing 11 into utilising their innate skills and performing miracles. The game has changed, as obvious from the out-of-touch Imran Khan's comments when he takes the time out from his busy political life to talk about a match. His thoughts seem straight out of the 90s, and as the new coach Mickey Arthur said, so does that of the team itself.
Cricket has grown more sophisticated, especially in ODIs, where every ball counts. Watch footage of a game from the early 90s and you'll be surprised to see batsmen perfectly happy to let dozens of innocuous deliveries pass harmlessly outside of their off stumps without any reason as if it were a Test match. In that age, with Pakistan's talent and untamed aggression, it was possible to hustle the team with pure firepower.
Today, every team plays the same brand of cricket, except with more finesse. Every team has a Saeed Anwar on top, a great batsman like Inzamamul Haq in the middle order, a wicket-keeper like Moin Khan followed by a Shahid Afridi and an Abdul Razzaq in the late order to blast some extra runs. Except these players are polished, play in harmony, are professional, and more consistent than our former superstars. Meanwhile, Pakistan has regressed. With natural talent no longer shining through, we aren't (with all due respect to the African side) even a sure bet against Zimbabwe.
This is why from India to New Zealand, Pakistan is depressingly outmatched in ODIs.
Of course, while the captain isn't the only one to blame, he should take his share. Misbah has always been a defensive captain. When push comes to shove, he regresses into his shell, perfectly happy to fire mortar shells from a distance with the shields up. Let's not forget that this strategy has served him incredibly well, at least in Test cricket. He brought respectability to Pakistan after Salman Butt, Mohammad Asif, and Mohammad Amir added disgrace with the betting scandal. On the deadest pitches of the United Arab Emirates, Misbah's old-school game of attrition proved too much for touring side after touring side.
What's more, in England, in admittedly less than hostile conditions, he secured an excellent 2-2 tie in the Test series.
But Misbah's style of leadership did not translate to ODIs. Had it not been for his defensive mind-set, Pakistan may have performed better in each of the World Cups he participated in. In Australia in particular, Misbah stocked the team with batsmen and would only attack when push came to shove. Against Australia in the World Cup quarter-finals, the counter-punch came too late.
Even the Test matches played in Australia and New Zealand, where only attacking cricket prevails, Misbah came up short. Yasir Shah's poor field placements – as much as the leg spinner wants to take the blame himself – are purely Misbah's fault.
On the other hand, I feel sorrier for Azhar Ali. While his leadership has admittedly lacked inspiration, it's easier to lead a Test side with two excellent batsmen like Younis Khan and Misbah (neither of whom have the mental alignment for modern ODI cricket anyway), especially because Test cricket can still be won with a traditional mind-set. Azhar, meanwhile, leads a team of 'have been and never were'.
I believe that both men, Azhar and Misbah should be replaced immediately by Sarfaraz Ahmed. When Azhar was initially made captain, sadly at the recommendation of Misbah who wasn't a good ODI captain and shouldn't have been given weight, I called foul. Sarfaraz was the younger man with a more modern cricketing nature. Clearly, replacing Misbah with Misbah Junior wasn't a good idea, as Azhar has proven.
One good thing came out of Azhar's appointment, and it's his batting, which has improved by leaps and bounds due to the responsibility. Pakistan has always had a problem with openers and Azhar has shown himself to be more than competent.
Replacing Azhar with Sarfaraz will be an easier decision for the management than replacing Misbah with the wicketkeeper-batsman in the longer format. I have a feeling that the 42-year-old Pakistani captain wants to stay on till the West Indies tour to achieve a historic victory for his side in the friendlier conditions and go out in style.
I would personally love to see Msibah play under Sarfaraz for his final tour, but if a man who has taken Pakistan cricket from the depths of hell to dignity wants to have one final hurrah, then there is no harm in it, especially considering how his style of captaincy will work in the Caribbean.
That being said, Sarfaraz should be readied as the next skipper. Giving him Azhar's job is the first step. The bigger and more difficult step is reforming the Pakistan domestic system so that a flashy player has a team to choose from that belongs in 2017.
Unfortunately, Inzamam, who was a mediocre leader on the field, has other ideas as the chief selector. According to a report, he has recommended that the Pakistan Cricket Board (PCB) Chairman Shahryar Khan to appoint Sarfaraz Ahmed as ODI captain and Azhar Ali to replace Misbah as Test captain, after Sarfaraz leads the Test side during the West Indies Test series.
The reliable PCB source said,
"Inzamam has conveyed to PCB Chairman and other high officials about some radical changes needed in the national team set-up following the disastrous tour to New Zealand and Australia. It has been decided in principle that Misbah would be advised to announce his retirement after the Test series against the West Indies as captain while Younis would also be advised to call it a day after he completes 10,000 Test runs in the three Tests in the West Indies. But Sarfaraz will be appointed as the captain of the one-day squad before the West Indies tour in addition to his responsibility as captain of the T20 side."
He said it has also been decided in principle that after the West Indies tour, Azhar will take over as the new Test captain.
This makes no sense for three reasons.
First of all, why would you give the job to a man who has failed miserably already as the Test captain? Secondly, as so many international former captains have stated, splitting the captaincy doesn't work. Thirdly and most importantly, it will cause needless friction in the team to have Sarfaraz playing under Azhar in the Tests and Azhar playing under Sarfaraz in the ODIs.
Let's hope Shahryar Khan chooses wisely.