Why every Karachiite will be able to relate to 'Karachi, you're killing me'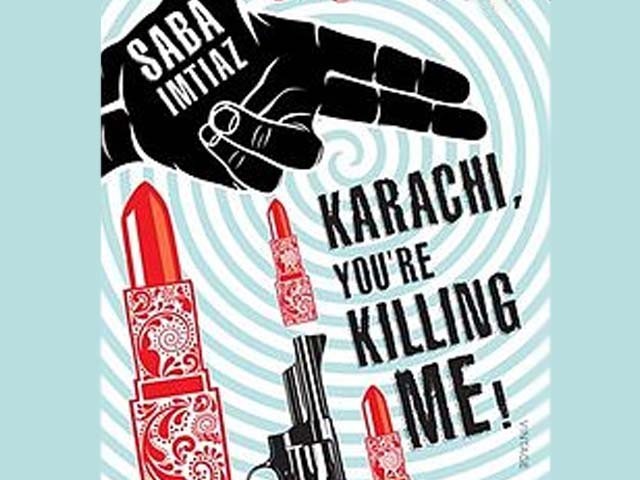 Last month, I grabbed a copy of 'Karachi, you're killing me' by Saba Imtiaz. The title was quite relatable and I knew I had to get my hands on that book. Since I live in Karachi, and have the privilege of going through the same misery (and joy) that was written at the back of the book, I knew I had to read it as soon as possible, even more so because Mohammad Hanif recommended it.
The story opens with the happening life of a female journalist named Ayesha. The book illustrates the agonistic life of a journalist who has to wake up early for a work crisis; the act of presenting lame news as breaking news just to increase ratings, and having a wardrobe crisis for every social event one has to attend. Furthermore, it shows people constantly being judged by the society they live in; it shows how hard people try to find love, cope with failure and betrayal, try to meet expectations yet end up miserable. All of these are scenarios that most girls can relate to.
Ayesha is depicted as a strong, independent, and smart girl in her 20s living in modern day Karachi. The other main characters of the novel include Saad, her best friend that she trusts with her life; Zara, her sassy friend who works for a digital media industry; her boss Kamran, who is annoying yet considerate, and Jamie, the foreign CNN reporter that Ayesha has a crush on.
Imtiaz has a way with words that make her dialogue so realistic. Every conversation between Zara and Ayesha made me think, wow, this is the way I talk to my friends. Throughout the novel, every time there was a crisis in Ayesha's life – be it social, professional, personal or even about her love life – it made me think, "Oh my god, same here".
The way Imtiaz referenced Pakistani trends in almost every situation was extremely relatable and amusing. When she described fashion week turning into a disaster by cashing in the current political turmoil, I believed it. When she illustrated the models dressed up as suicide bombers to boost lawn sales, I could see it. From the time when Saad hits on a girl because she dances well at a mehndi to the pseudo-intellectual discussions at the Karachi Literature Festival, from petrol or CNG strikes to constant traffic jams, from 'goray' (foreign) journalists stealing the limelight to fixers working as intelligence reporters, everything came to life in my mind, all because of Imtiaz's intricate description of Ayesha's life in Karachi.
Furthermore, the book resonated with me on a deeper, personal level. As I live in Karachi, my parents are always worried about me returning home safely and not too late when I'm out with my friends. The fear and entrapment that I experience has been aptly described by Imtiaz. Moreover, since Karachi is known as the hub of organised crime, there's a bizarre mugging incident included in the novel which made me recall all the times I've been mugged on the streets of Karachi.
When it comes down to deciding what to wear, us girls have to be careful in certain parts of the city. We see Ayesha with a dupatta on her head during a religious protest. We see perverted activists constantly calling and bugging her on her cell phone, and then we see her stuck in a violent situation trying to catch a ride in a rickshaw. In Karachi, there is always this lingering danger and fear when you are a girl venturing alone and Imtiaz highlights that perfectly.
Moreover, we get to see Ayesha's insecurities as well; her character is so well-rounded that Imtiaz uses her flaws to develop her into a strong character. She has to make sure her saari is perfect when she's around Karachi's socialites, depicting the inherent judgment that exists within our society. This book invites you into the upper crust lives of Karachi's elites which are limited to attending lavish parties, wearing designer clothes, and fancy vacations. The novel also goes on to aptly portray the double standards prevalent in Karachi's society. People give Ayesha looks when she smokes yet they don't bat an eye when a man smokes. Her male counterparts label her as aggressive because she has a voice and she's opinionated. But that's Karachi for you, and fiction is the best way to bring it to life.
Imtiaz depicts all of the above through the life of a female journalist; she uncovers how everything in Karachi turns into news that Ayesha must report, constantly capturing Karachi's movement. Ayesha represents the fiercely independent women who are struggling to balance their careers and their social lives, the women who are told to be silent yet the ones who are not afraid of having their voices heard. This is why every woman living in Karachi should read this book.
When Ayesha questions her best friend, Saad, for leaving Karachi, we understand her predicament as she secretly wants to leave as well.
I would recommend the book to everyone living in Karachi as it pulls you into the Karachi's web all the while making you fall in love with it through every chapter yet secretly questioning why you haven't left. It's a refreshing read, one that everyone should explore.